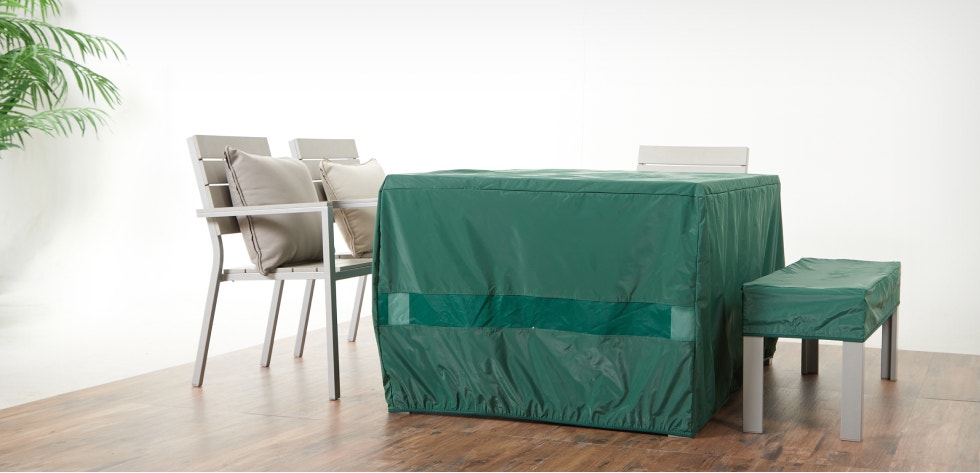 Originally posted October 2018, updated February 2022
Outdoor furniture covers extend the life of your patio furniture by protecting it from the beating sun and harsh rains. That means you can enjoy more barbeques and time lounging by the pool without having to invest in new furniture. We've put together a few tips and tricks to make sure you are getting the most out of your covers.
How to Prevent Covers from Flying off or Ballooning on a Windy Day
Even if your furniture cover is a perfect fit, it can still blow off in severe gusts of wind, leaving your furniture vulnerable to the elements.
Cover clamps are an affordable and easy solution to this problem. Clamps secure covers, keeping furniture covered in harsh conditions. In a pinch, you can try to use rocks or furniture weights to secure your cover. Of course, rocks and weights are not designed to be used to keep your cover on during windy conditions and may not work as expected.
High-quality furniture covers will stay put through all weather conditions, but using safety clips will add an extra layer of protection that some environments demand.
How to Use Cover Clamps on Your Outdoor Furniture Cover
Slip the clamps on after you place the cover on the furniture, especially if wind or rain are in the forecast. The cover clamp system uses a combination of bungee cords and clamps to keep furniture covers secure.
Follow these instructions to secure your furniture cover:
Place the cover over the piece of furniture and secure any buckle straps or drawcords.
Unlock the clamp by pressing on the center lever and sliding the crossbar towards the hook insert.
Secure the clamps to the opposite sides of the cover bottom. Place the clamp's teeth over the cover's hem. Slide the cross bar towards the teeth until the clamp locks in place.
Place a bungee cord behind the front wheel or leg of the piece of furniture. Attach the hook through the insert of the left front and right front clamps.
Place the second bungee cord behind the rear wheel or leg of the piece of furniture. Attach the hook through the insert of the clamps in the left-rear and right-rear.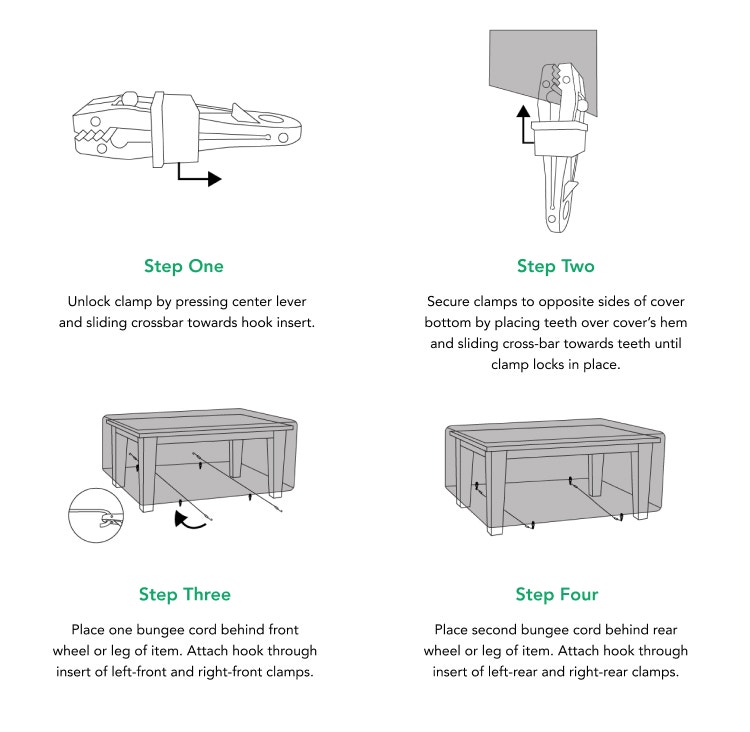 You can download and print these instructions on our How to Use Cover Clamps instruction page.
How to Prevent Pooling Water
The best solution to prevent pooling water is a high quality air bag to keep your covers performing their best. When covers sag, they create pockets where water can pool and begin to leak through, putting your investment at risk. Air bags fill the low points of your cover and promote water run off so your covers can perform as intended.
To find out more information on pooling water and how it can affect your cover and furniture, check out our blog on how to prevent pooling water.
How to Install Air Bags
Our air bags are available in square, rectangular, and round shapes to accommodate a variety of patio furniture styles.
Choose an air bag that matches the shape of your furniture. For example, a round table/chair set should use a round air bag, and a sofa should use a rectangular one.
Use an air bag that is slightly smaller than your furniture. You may need to use multiple air bags to fill the space.
If you already own an air pump, purchase air bags individually. Or, opt for an air bag and air pump set, so you're ready to go as soon as your order arrives.



How to Put on and Remove Large Covers
Luckily, furniture covers are flexible, which makes them relatively easy to put on and take off. Working with a couple of friends or family members will make tackling large covers easy as can be.
How to Put on Large Covers
Find at least one other person to help. If you have no one to help, you will need to put on the cover one side at a time.
Have everyone take a side of the cover.
With your team, hold the cover over the top of the item you want to cover.
Stretch out and roll down the sides of the cover over the piece of furniture.
Secure buckle straps and tighten the drawcord if the cover has those features.
Use cover clamps for extra security.
How to Remove Large Covers
Find at least one other person to help. If you have no one to help, you will need to remove the cover one side at a time.
Release the cover clamps, buckles, and drawcord.
Carefully roll the cover off the piece of furniture with your companion.
Clean your cover if it is dirty so it is ready for the next time you need to use it.
How to Store Your Cover When Not Using It
Covers are extremely easy to store.
Clean your cover so it is ready for when you need it next.
Make sure your cover is completely dry.
Fold the cover.
Place it in a cover storage bag.
Store in a garage or outdoor storage chest.
Outdoor Cover Cleaning Tips
Clean furniture covers help keep your patio furniture spick and span. Never machine wash or use harsh chemicals on your patio cover. Hand wash covers with a mild soap and garden hose. Use a soft-bristled brush and scrub as needed. Allow your cover to air dry completely before placing it on furniture or storing it. We have various cleaning sprays and protectants designed to keep your covers working like new for years.
Multi-Surface Cleaner: Use this spray to brighten and rejuvenate the surface of your outdoor furniture covers. This cleaner can remove stubborn stains and spots from coffee, oil, grease, and ink. Spray, scrub with a soft brush or wet cloth, wipe it up, and let the cover dry. Repeat as necessary and increase scrubbing and soak time for heavy stains.
Fabric Cleaner: Designed to lift stains from any outdoor fabric including cushions, umbrellas, covers, and curtains. To use, thoroughly wet the area with water and then spray the cleaner onto the wet, stained area. Most stains take 3-10 minutes to lift depending on the severity. Then, use a sponge or cloth to remove the stain and rinse the area with clean water. Allow to air dry and repeat the process if needed.
Vinyl Protective Cleaner: Use this powerful spray to prevent fading, cracking, and premature aging on your Vinyl furniture covers. This cleaner also restores lost color and luster and dries to a clear matte finish. Plus, it adds superior protection against UV rays, meaning your cover will continue to look great throughout the summer. To use, spray and wipe.
Fabric Guard: This spray strengthens and restores lost water repellency while also protecting against both water-based and oil-based stains. This cleaner is safe for synthetic and natural fibers. To use, spray with cleaner and let dry, keeping away from heat, sparks, open flames, and moisture.
Fabric Nanoprotector: Prevent stains from every occurring with this protective spray. This nanoprotector spray creates an invisible barrier on your outdoor cushions, umbrellas, and covers to resist dirt and stains. Before applying, use a stain remover to remove any existing stains. Then, apply the nanoprotector to the desired area in an even coat. Allow the item to completely dry before using it.
With a little care here and there, you can keep your cover looking and working great for years. If you need instructions on cleaning your vehicle cover, check out our Vehicle Cover Care instructions.
---
Want updates on new blog posts, current sales, new product releases, and more? Stay in touch! Like our Facebook page, follow us on Instagram (@thecoverstore) and Pinterest, and join Cover Club!