Air Conditioner Covers
An uncovered AC unit can result in poor efficiency or permanent damage. Protect your AC unit from snow, rain, ice, leaves, and more with one of our high-quality air conditioner covers.
The Coverstore Difference
At Coverstore, we believe in protecting what you love. With innovative design and high-quality materials, we're excited to provide you with your next air conditioner cover.
30-Day Returns
Up to a 10-Year Warranty
Family-Owned Since 2005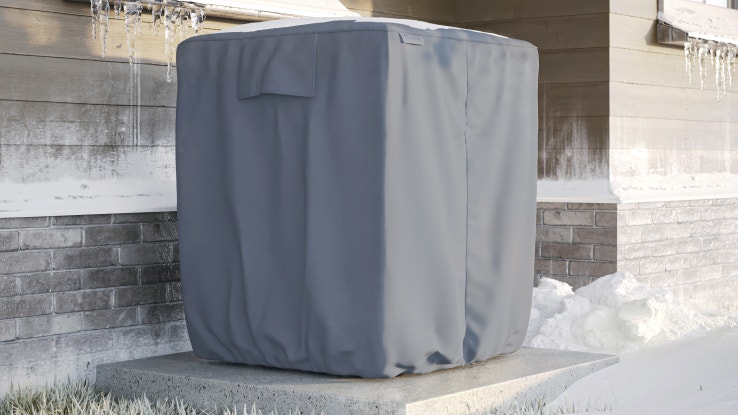 Learn More About Covermates AC Covers
Curious about which type of outdoor air conditioner cover is right for you? Watch our video to learn the key features of each type of AC cover.
Air Conditioner Cover Reviews
Air Conditioner Cover Frequently Asked Questions
What Types of Air Conditioner Covers Are There?

Coverstore provides four types of air conditioner covers to meet your AC protection needs. Full AC Covers provide coverage for the entire air conditioning unit. These covers are designed to be used during the winter months when you are not using your AC. Armor Top AC Covers provide top-only coverage with four durable plates sewn in for impact protection. If your AC is under an area that frequently forms icicles, this is a great option for you. Mesh Top AC Covers provide top-only coverage with a breathable panel on the top. These covers can be used year-round, even when the unit is running. Mesh air conditioner covers provide protection from leaves, acorns, twigs, and other falling debris that you want to be kept out of your unit. Indoor Air Conditioner Covers are designed to fit over your window or wall AC unit to help keep out drafts during winter. These covers should not be used while the unit is running.

Should You Cover Your Air Conditioner In The Winter?

Covering your AC unit in the winter can help prolong the life of your air conditioner, keep it efficient, and save you money on maintenance. The key to a high-performing air conditioner cover is breathability. Air conditioner covers for winter should have vents to allow any condensation that forms inside the unit to quickly evaporate. To learn more about covering air conditioners in winter, check out our blog debating the necessity of outdoor AC covers.

Can I Use an A/C Cover All Year?

The Covermates Mesh Top AC Cover is a great year-round AC cover option. This breathable air conditioner cover is designed to cover only the top of your AC unit with a mesh panel. This prevents debris like leaves, acorns, and twigs from getting inside.

The Armor Top AC Cover and Full AC Cover should only be used when you are not using your air conditioner. While the materials are still breathable, these covers would prevent your unit from sucking in air and should never be on the unit while operating.

Do You Have Heat Pump Covers?

Any of our air conditioner covers can be used as a heat pump cover. Simply measure your heat pump and match it with the closest size cover, or choose a Custom AC Cover.

Please note: covers for heat pumps are typically not advised as heat pumps perform both cooling and heating and stay on year-round. Our Full and Armor Top AC Covers cannot be used while ACs or heat pumps are in use. Only use a Full or Armor Top cover for your heat pump if the heat pump is completely turned off.

What AC Brands Do You Have Covers For?

Our air conditioning covers are designed to fit a range of AC brands and models. However, we've made shopping easy for you by matching popular AC brands and models to our cover sizes. Explore all of our Air Conditioner Cover Brands, or jump straight to the top brands here:

Lennox Air Conditioner Covers
Carrier Air Conditioner Covers
Trane Air Conditioner Covers
Bryant Air Conditioner Covers
Goodman Air Conditioner Covers

How Do I Find the Right Size Air Conditioner Cover?

Follow our illustrated how to measure guide to find the perfect size AC cover for you! You can also shop by your AC brand if you know your brand and model information.

Can't find your size? Check out our Custom Air Conditioner Covers to create a cover to your specifications.

Where Can I Buy Air Conditioner Covers in Canada?

Coverstore is proud to ship around the world, Canada included! We have a great selection of high-quality AC covers that perform no matter where in the world you use them. From Canada to the United Kingdom to Australia, we are happy to ship outdoor covers worldwide!