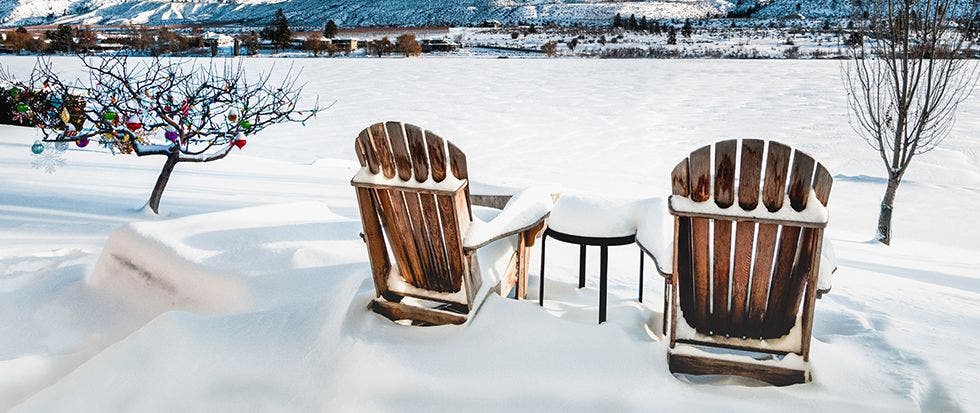 Originally Posted: September 2019, Updated October 2022
As the leaves start changing colors, it's time to start thinking about winterizing your outdoor furniture. Cold weather, freezing rain, and snow all affect your outdoor chairs, tables, fire pits, and more. Prep now so everything is ready to go when the warm weather is back.
Can I Leave my Patio Furniture Outside in the Winter?
Yes! Patio furniture is designed to be outdoors. However, fall and winter weather can damage your furniture if you don't take the proper precautions. Always clean and apply protective sealants to your furniture before storing or covering it for winter. While it may take a bit of time now, you won't regret it when it's springtime. Plus, protecting your outdoor furniture during the winter will save you money. Patio furniture sets are expensive and leaving one unprotected during just one bad snowstorm can cause irreversible damage.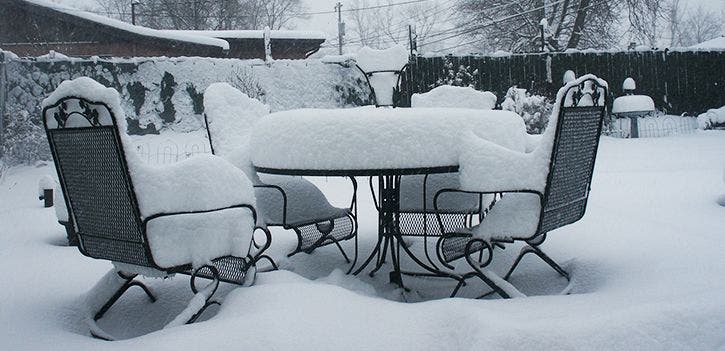 How to Prepare Outdoor Furniture for Winter Storage
The first thing you need to do is clean your furniture. Your method depends on the type of material your furniture is made of. Use the guides below to learn how to properly clean your patio furniture based on material type.
Moisture is the biggest enemy of wood furniture. If left unsealed, moisture will seep into the cracks and ridges. When the temperature drops, the moisture will freeze which can cause the wood to crack. You can prevent this with furniture oil and protective sealants.
Before applying any sealants, thoroughly clean your furniture. Mix warm water and a couple of drops of an oil-based soap. Gently scrub with a soft brush or rag in the direction of the wood grain to avoid scratching it.
Fight tough stains with:
1 cup of ammonia
1/2 cup of vinegar
1/4 cup of baking soda
1 gallon of warm water
Use a soft brush to scrub the stain and rinse. Avoid getting it too wet (don't use a hose) so it has time to dry completely before storage. Dry with a towel or allow to air dry.
After the furniture is dry, complete any sanding, painting, or staining. Do this now so you can focus on enjoying your time outside instead of refinishing your furniture in spring.
Rub furniture oil onto the surface to keep the furniture from splitting or getting brittle. This is especially important if you live in an area with cold, dry winters. Apply a sealant to prevent moisture from seeping into the wood. In the North, this water will freeze and may crack your furniture. In the South, it could cause mold and mildew. Sealants will also protect from fungi and parasites to help make your furniture last for years.
Teak is a beautiful wood for outdoor furniture but requires some extra care. While it is a more weather-resistant and durable wood, it tends to attract mold and mildew due to containing more natural oils than other woods.
To clean, combine:
1 cup of vinegar
1 gallon of warm water
For tougher stains, use the following mixture:
1/4 cup of bleach
3/4 cup of a mild laundry detergent
1 gallon of warm water
Use a soft brush to scrub the wood. Allow it to sit on the wood for 15 minutes and then rinse. Dry with a towel or allow to air dry. If your furniture is left unprotected for a long time, you may need to use a more concentrated store-bought cleaning solution. After the furniture is dry, apply Linseed or Tung oil.
Freezing temperatures will make plastic furniture brittle. Repeated changes in temperature will wear down the integrity of the plastic, causing cracking and breaking.
Rinse off your plastic furniture with a hose. Mix ¼ cup of mild laundry detergent in a gallon of warm water. Scrub the furniture with a soft brush or sponge. Rinse and leave to dry before storing.
Check to see if your wicker furniture is natural rattan or synthetic (also called resin wicker). Natural wicker furniture will chip over time and needs extra care when washing. Wash true rattan as infrequently as possible to avoid splintering.
To clean natural wicker, mix a few drops of mild oil-based soap in a gallon of warm water. Dampen a soft cloth and gently scrub. Use a spray bottle to lightly mist your furniture to rinse the soap off. Dry immediately with a soft towel or place in the sun to air dry.
Synthetic or resin wicker usually has UV and weather-resistant coatings to make it more durable. If your furniture isn't very dirty, simply spray it down with a hose and let it dry. Use the same mixture as for authentic wicker furniture if spraying it down isn't enough. Dry completely with a towel or place in the sun to air dry.
Aluminum is nearly rustproof, so rain itself won't cause too many issues. However, most aluminum patio furniture frames include holes to help drain water, but these also let water in. As winter temperatures fluctuate above and below freezing, the water will freeze and melt, potentially weakening the frames. Be sure your aluminum furniture is completely dry before storage to avoid this.
Scrub your furniture with a few drops of mild laundry detergent and warm water. After drying, look for any scratches and touch them up with paint as needed. You can also apply a coat of car wax for extra protection.
Wrought iron tends to rust, so it should not be left exposed during winter. Some iron furniture sets have a rust-resistant coating. However, bird droppings can damage the coating due to their acidic properties. Wash off any droppings as soon as you see them.
Before cleaning your furniture for winter, use fine-grit sandpaper to remove any rust. Wipe it clean with a mixture of mild soap and warm water. Touch up any paint scratches after letting the furniture dry. You can also treat your furniture with a rust-neutralizer and then apply a thin coat of car wax for extra protection.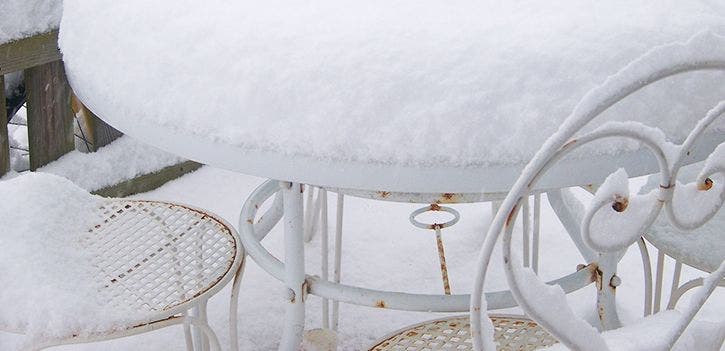 Wrought iron furniture is prone to rusting when left exposed during the winter.
Stone tables and fire pits add a sense of rustic elegance to your patio. Most stones are porous, meaning water can seep in. When temperatures freeze, the frozen water can cause cracks and fractures.
Rinse your stone furniture with water to remove dirt. Mix a few drops of mild laundry detergent with water and scrub with a soft cloth or sponge to remove tougher stains.
After the stone is dry, apply a stone sealer to protect against stains, salt, and moisture seeping into the pores and freezing. This is especially important if you live in a coastal area or have a saltwater swimming pool. Salt will get into the air and can get ingrained in any small ridges or cracks in the stone.
Clean outdoor fabrics like curtains, pillows, cushions, and umbrellas before storage so they're ready to go for spring. Outdoor fabrics are designed to be weather-resistant and much stronger than those made for the inside. Rain, snow, and ice can still damage your outdoor décor if you aren't careful.
Deep clean outdoor cushions and cushion covers and then store in your home. If you don't have room inside, place them in a cushion storage bag and store in your shed, garage, or attic.
To clean your patio umbrella, move it to a shady area and brush off any loose dirt. Mix ¼ cup of mild detergent with 1 gallon of lukewarm water. Use a soft brush or rag to get out tough stains. Let the solution sit for 15 minutes before rinsing with a hose. Allow to air dry in the sun and do not close until completely dry.
For outdoor curtains, check with the manufacturer's instructions. Outdoor curtains are often machine washable in cold water but should not be placed in the dryer. If you need to hand wash your curtains, follow the same instructions above for umbrellas.
If your outdoor pillows have removable covers, you can typically machine wash these as well. Use cold water and do not place in the dryer.
How to Store Patio Furniture for the Winter
After your patio furniture and outdoor fabrics are clean, it's time to figure out how to keep them protected. While it may be tempting to leave durable items, like metal furniture, exposed, it's best to play it safe.
Plastic Wrap or Tarps
Using plastic shrink wrap is a relatively easy way to protect your outdoor furniture. You can buy the plastic wrap yourself or hire a team to come out and cover it for you. This type of protection is popular in the Northeast where high-wind snowstorms are common.
However, plastic isn't breathable. If water gets through it won't be able to escape, resulting in mold and mildew. The likelihood of water creeping in rises if you have furniture with pointy edges. Furniture can tear through the plastic if you purchase cheap plastic or it is wrapped incorrectly.
This cost for this service typically starts around $200 and goes up from there based on how many pieces you own. While that may seem affordable compared to buying several covers, you will have to pay $200+ yearly.
A tarp faces the same breathability issue as shrink wrap. Any water that gets in won't be able to evaporate. You will need to secure the tarp with multiple bungee cords or rope to ensure it doesn't fly off during high winds. A tarp that is too large can still catch air and blow off or knock your furniture over.
Covers
Using winter patio furniture covers will protect your outdoor investments from rain, snow, ice, road salt, debris, and more. This means your outdoor furniture will be clean when you're ready to use it again and will have a longer life.
A cover also allows you to leave your patio furniture in your yard. This makes winterizing your backyard easier and getting ready for spring faster.
Mold and mildew development on covered wood furniture is a common worry. Choose a cover made of a breathable fabric that includes mesh vents. You should also select a cover with 1-2 inches of space between the bottom hem and the ground. This will promote airflow and allow moisture to evaporate quickly. If possible, occasionally brush off any snow or water build-up on your cover. Pooled water may cause result in moisture on the inside, and it will have a harder time evaporating.
Use an umbrella cover to store your outdoor umbrellas and place any outdoor curtains, pillows, and cushions in cushion storage bags and place in your garage, shed, attic, or basement.
Indoors, Garage, or Shed
If you have the space to store your patio furniture in a garage or shed, you should still consider using a lightweight cover to protect it from water leaks and dust. You should always try to bring in plastic furniture if you live in an area that frequently faces freezing weather. Plastic will get brittle during long exposure to cold temperatures.
While it may take an afternoon or two to winterize patio furniture, it's well worth it. Keeping it clean and protected with a durable cover while not in use will prolong the life of your furniture so you can rest easy during the winter months knowing your outdoor investments are safe and sound.
---
Want updates on new blog posts, current sales, new product releases, and more? Stay in touch! Like our Facebook page, follow us on Instagram (@thecoverstore) and Pinterest, and join Cover Club!