Patio Furniture Covers
Shop our wide selection of outdoor furniture covers where functionality meets design. You've invested in your outdoor space, and now it's time to protect what you love with high-quality patio furniture covers designed to last.
The Coverstore Difference
At Coverstore, we believe in protecting what you love. With innovative design and high-quality materials, we're excited to be your preferred outdoor cover provider.
30-Day Returns
Up to a 10-Year Warranty
Family-Owned Since 2005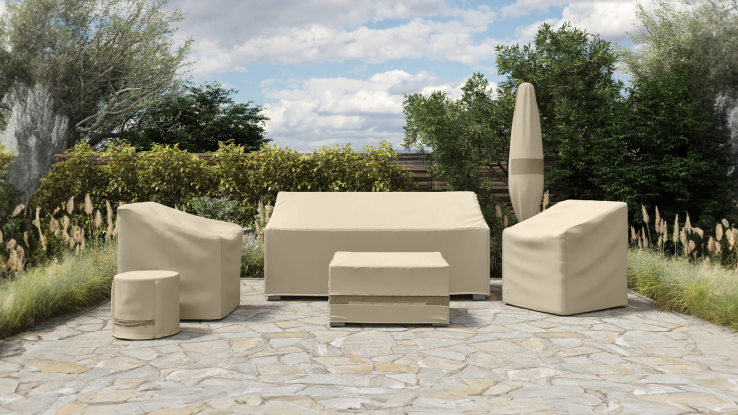 All-Weather Outdoor Furniture Covers
From rain and snow to debris and bird droppings, Covermates patio furniture covers are your solution to clean, ready-to-use outdoor furniture.
Patio Furniture Cover Reviews
Outdoor Cover Frequently Asked Questions
Why Should I Cover my Outdoor Furniture?

Using covers for patio furniture helps prolong its lifespan by preventing damage from weather conditions, saving you money on replacement and repair costs in the long run. Outdoor covers also help keep your furniture clean so your furniture is ready to be used whenever you like. With protective covers, you no longer have to worry about wet seat cushions, dirt, and other debris.

Are Patio Furniture Covers Necessary for All Seasons?

Yes! Outdoor covers for patio furniture are important to use year-round and provide a variety of benefits. In the warmer spring and summer months, covered patio furniture will be protected from the sun's UV rays, pollen, bird droppings, water from nearby lawn sprinklers, and more. The result is your outdoor furniture will not fade in the sun and stay clean and free of mold. Using covers for lawn furniture in the fall and winter months will protect from leaves, tree sap, rain, snow, ice, and more. If you live in a cold area, this means your furniture will be ready to go once you uncover it come spring.

Do You Have Waterproof Patio Furniture Covers?

Covermates outdoor furniture covers are highly water-resistant and breathable. Waterproof patio furniture covers are not ideal for outdoor furniture due to their non-breathable properties. If any condensation or moisture gets beneath a waterproof cover, it will not be able to evaporate, which can lead to mold and mildew developing on the furniture. Conversely, water-resistant and breathable outdoor covers will allow condensation to quickly evaporate. Along with using industry-leading materials, we've also equipped our covers with breathable mesh vents for optimal ventilation and airflow.

For more information on waterproof covers for outdoor furniture, check out our blog post on Dispelling the Myths of Waterproof Covers.

How Can I Find the Right Size Outdoor Furniture Cover?

The first step is to identify what style of cover you need. From outdoor chair covers and patio table covers to fire pit covers and heater covers, we have a wide selection to choose from. After you've selected your style, follow our illustrated how to measure guides to get the dimensions of your furniture. Match your furniture dimensions to our cover sizes, and select the option that provides the closest fit.

Can't find what you need? We also offer custom sizing for a variety of styles. Explore our custom patio furniture covers to find what you need.

What Types of Lawn Furniture Covers Do You Have?

Coverstore provides a variety of lawn and deck furniture covers. Whether you need large patio furniture covers or something custom-made, we can get your outdoor furniture protected! No matter what type of lawn furniture you have, always choose a cover that fits well and is both breathable and water-resistant. This will provide the best protection for your outdoor furniture all year long.

What Outdoor Furniture Covers Should I Use For Winter?

The best outdoor furniture covers for winter are ones that are breathable, water-resistant, and highly durable. If you get regular snow during the winter months, opt for an outdoor cover that is made of 600 to 900 denier polyester. This grade of material will offer the best protection from rain, snow, and ice. The Covermates Ultima and Prestige collections are excellent options for winter patio furniture covers. Both collections are made of durable materials designed to withstand severe weather conditions. The best patio furniture covers for winter are ones that fit well and have multiple securing options. With Covermates covers, you have easy-to-use features like adjustable buckle straps and auto-locking drawcords, ensuring your furniture stays protected no matter the weather.

Where Can I Find Garden Furniture Covers?

Any Covermates outdoor covers will work for your garden furniture! To find the best covers for garden furniture, first select the style you need and then find the closest size to your outdoor furniture. Our covers are available in a variety of colors, making it easy for you to match your new covers with your existing garden decor and style. Find durable covers for garden furniture, outdoor heaters, fire pits, and more, and enjoy up to a 10-year warranty.

Where Can I Buy Outdoor Furniture Covers in Canada?

Coverstore is proud to ship around the world, Canada included! We have a great selection of high-quality patio furniture covers that perform no matter where in the world you use them. From Canada to the United Kingdom to Australia, we are happy to ship outdoor covers worldwide!