Vehicle & Powersport Covers
If you want to keep your car, truck, golf cart, or jet ski looking their best, a weatherproof vehicle cover is a way to go. From rain and snow to tree sap and pollen, our heavy-duty vehicle covers can keep your investment protected year-round.
The Coverstore Difference
At Coverstore, we believe in protecting what you love. With innovative design and high-quality materials, we're excited to provide you with your next vehicle, powersports, or recreation cover.
30-Day Returns
Up to a 7-Year Warranty
Family-Owned Since 2005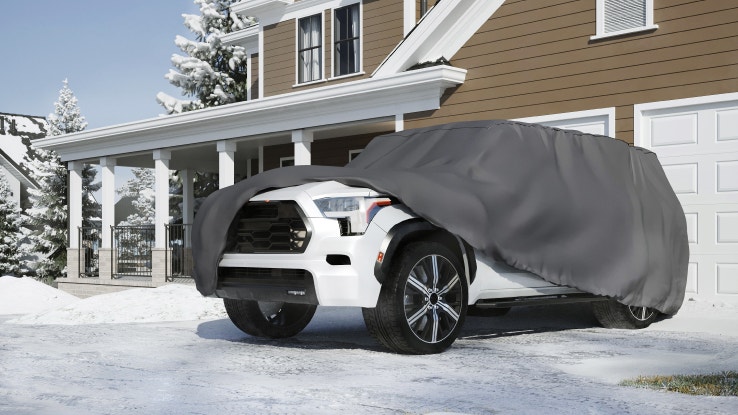 All-Weather Vehicle Protection
While your vehicles are designed for the outdoors, that doesn't mean they should be left unprotected while stored. When you choose a Covermates vehicle cover, you can rest assured that you are investing in a high-quality, long-lasting protection solution.
Vehicle & Recreation Cover Reviews
Vehicle Cover Frequently Asked Questions
What is the Best Car Cover Material?

Car covers are typically available in multi-layered or woven polyester materials. Each has unique benefits and features that will appeal to you based on your location and protection needs.

View our Vehicle Material Comparison Chart to help pick the right cover for you.

Do You Have Waterproof Car Covers?

Covermates vehicle, recreation, and powersport covers are highly water-resistant and breathable. Covers promoted as being waterproof are typically constructed from inexpensive nylon, PVC, or polyethylene. You may find inexpensive waterproof automobile covers available, but steer clear of these as they can cause more damage than benefit.

A breathable vehicle cover is important to ensure that any condensation that develops beneath the cover due to humidity can quickly evaporate. Learn more about breathable car covers in our comprehensive article.

What Type of Auto Covers Do You Have?

Coverstore offers a wide range of automobile covers, from pickup truck covers to ATV covers and more. We've made shopping easy by mapping our car cover sizes to a specific vehicle's year, make, model, and submodel. Simply select your vehicle details and you'll be shown your cover options.

If you don't see your vehicle's information in our lookup tool, you can also browse based on your vehicle's size. Measure the length, width, and height of your vehicle to see what options we have available.

When Should I Cover My Vehicle?

Whenever you aren't using it! Covering your car, truck, SUV, and other vehicles will keep everything clean and protected from the weather. Even if you store your vehicle in a garage, a cover can help protect it from accidental scratches and act as a dust cover.

What's the Difference Between Indoor Car Covers and Outdoor Car Covers?

Indoor car covers are typically less durable than outdoor car covers. You can always use an outdoor cover indoors, but you should never use an indoor cover outside. Indoor car covers typically have less water and UV resistance and are not designed to hold up to the elements as well as outdoor vehicle covers.

Can I Cover My Car with a Tarp?

We don't recommend using a car tarp to protect your vehicle. Instead, invest in a high-quality cover. Covers provide many benefits over tarps, including mirror pockets, antenna grommets, elastic hems, and buckle straps. Covers designed specifically for cars also will be softer on your vehicle's paint, unlike a rougher car tarp.

Will Covermates Bike Covers Fit My Mountain Bike or E-Bike?

While we don't specifically make mountain bike covers or e-bike covers, our standard bicycle covers will likely fit. We recommend measuring your bike and comparing this to the available bike cover sizes to ensure a proper fit.

What Jet Ski Brands Can You Cover?

Covermates jet ski covers are designed to work with a variety of jet ski brands! Our most popular brands include Sea-Doo jet ski covers, Yamaha jet ski covers, and Kawasaki jet ski covers.

What Golf Cart Brands Can You Cover?

Covermates golf cart covers are designed to work with a variety of golf cart brands! Our most popular brands include Club Car golf cart covers, EZGo golf cart covers, and Yamaha golf cart covers.

Do You Have Moped Covers?

We do not offer covers specifically designed for mopeds at this time. However, one of our sizes of Motorcycle Covers or Mobility Scooter Covers may fit your moped.