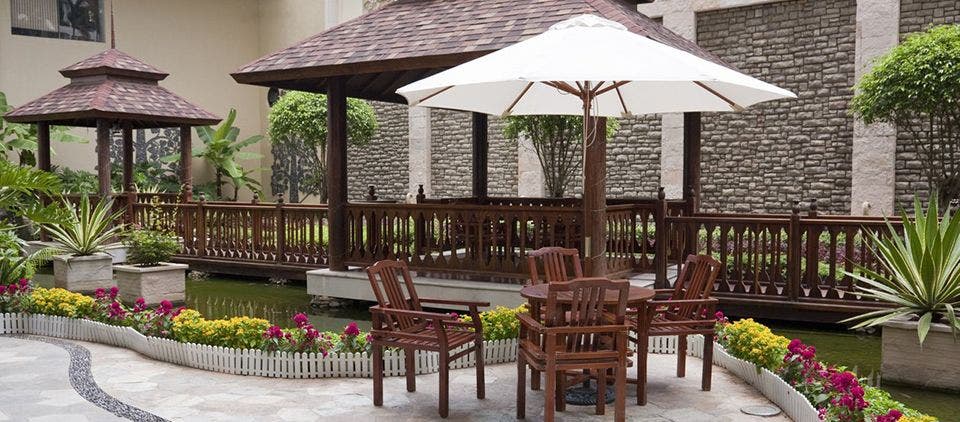 Whether you like to relax by the pool or enjoy brunch on the patio, outdoor umbrellas provide much needed shade to your backyard. What you might not consider is that this investment needs protection from the sun while not in use, humidity, tears, and other potential damages. Your patio umbrella might come with an umbrella cover, but this cover won't last.
When to Use Your Umbrella Cover
To help your umbrella last for years to come, use a weatherproof cover whenever your umbrella is not in use. Here is how covers protect patio umbrellas:
Sun: UV rays make umbrella fabric fade and cause it to deteriorate over time. Especially in the summer, put a cover on when you are not using the umbrella to protect it from unnecessary sun exposure.
Moisture: Dew and other moisture can cause mildew and mold to grow on your umbrella. A cover keeps this moisture out. Before you close and cover your umbrella, make sure that it is completely dry.
Rain: When the rainy season comes, put your umbrella in its cover and store it indoors for maximum protection. But if you forget your umbrella outside, the cover will keep it nice and dry.
During the off season: Any season when you are not using your umbrella, place it in the cover to keep it protected from the elements.
How to Measure for Your Umbrella Cover
Carefully measure your umbrella to find the best fitting cover:
Height: Close your umbrella. Measure from the lowest part of the fabric to the very top of the umbrella.
Circumference: Keep the umbrella closed. Measure around the circumference of the widest point.
Tip: Choose a cover that is the same size or slightly larger than the dimensions you find.
Check out our downloadable guide to learn more.
Types of Umbrella Covers
We have umbrella covers for a variety of sizes and in all of our material collections. Whether you have a smaller 8 foot umbrella or a larger 13 footer, we have the cover you need to keep it safe. Explore our entire collection of umbrella covers.
Material Types
Classic Umbrella Covers
Made with lightweight, weather-proof 12mm vinyl, Classic umbrella covers are our most affordable option. These covers protect against dust, rain, wind, UV rays, and more. These covers include breathable mesh vents, a locking zipper, and a strong elastic bottom. Enjoy the shade for years to come with our 2-year warranty.
Recommended for areas with:
Minimal to moderate wind gusts
Moderate to high rainfall
Moderate to direct sunlight
Moderate to high snowfall
Low humidity
Elite Umbrella Covers
Protect your umbrella all year round with our #1 best-selling material. With a rust-proof zipper and wand to lift the top of the cover over the umbrella, Elite umbrella covers are easy to install and remove. Mesh vents let air circulate while keeping your umbrella clean and ready to go. Plus, these covers come with a 3-year warranty.
Recommended for areas with:
Moderate to high wind gusts
Moderate to high rainfall
Moderate direct sunlight
Moderate snowfall
Low to moderate humidity
Ultima Umbrella Covers
Ultima umbrella covers are made of 600 denier polyester ripstop fabric. This fabric protects your umbrella from tearing, ripping, cracking, and fading. The covered vent allows air to flow and prevents mildew and mold. The rust-proof zipper and drawcord keep your umbrella secure. Make sure your umbrella stays protected with our 7-year warranty.
Recommended for areas with:
Moderate to extreme wind gusts
Moderate to high rainfall
Moderate to high direct sunlight
Heavy to extreme snowfall
Moderate to high humidity
Prestige Umbrella Covers
Constructed with our strongest material, Prestige umbrella covers protect your umbrella from whatever life throws at it. This cover prevents fading and wicks away moisture. The drawcord keeps your umbrella from flying away on windy days. Ensure stylish protection with our 7-year warranty.
Recommended for areas with:
Heavy to extreme wind gusts
Heavy to extreme rainfall
Heavy to extreme direct sunlight
Heavy to extreme snowfall
Heavy to extreme humidity
Table Covers with an Umbrella Hole
Want to keep both your table and umbrella protected? We have many options for tables with umbrella holes. Get matching table and umbrella covers to provide stylish consistency. Explore our table covers to find what you need. We have options for round tables, square tables, rectangular tables, and table/chair sets.
---
Want updates on new blog posts, current sales, new product releases, and more? Stay in touch! Like our Facebook page, follow us on Instagram (@thecoverstore), and join Cover Club!