Do you love crafting but struggle to keep your craft room and supplies organized? If so, you're not alone. Crafting can be a messy hobby, and it's easy to accumulate a lot of clutter in the process. But don't let a disorganized craft space hold you back from creating your next masterpiece. The good news is that we have plenty of valuable tips and storage solutions available to help keep your crafting supplies organized and protected. Keep everything from your sewing machine to your Cricut protected and their accessories organized so you can spend less time searching and more time creating!
1. Take Inventory
Before you begin organizing, take some time to review your crafting supplies and make a list of what you have. From machines to cutting mats, you'll have a better idea of what must be stored and protected once it has been accounted for.
2. Declutter
Now that you've taken note of all the craft supplies you have, we are sure you've seen a few items that you no longer need or use. Donate any usable items or properly dispose of them in the trash or recycling bin. This step will leave your space feeling new and ready for your new storage solutions.
3. Cover your Craft Machines
Dirt, dust, and debris from other projects can pile up on your sewing machine or Cricut surface, leading to a messy work environment and possibly hindering performance and life span. Keep your crafting machines clean and protected with a Covermates sewing machine cover or Cricut cover. These washable covers come equipped with convenient pockets that allow storage of accessories like power cables, peddles, and more. Our easy-to-use covers will keep your craft machines clean and perform their best for years to come.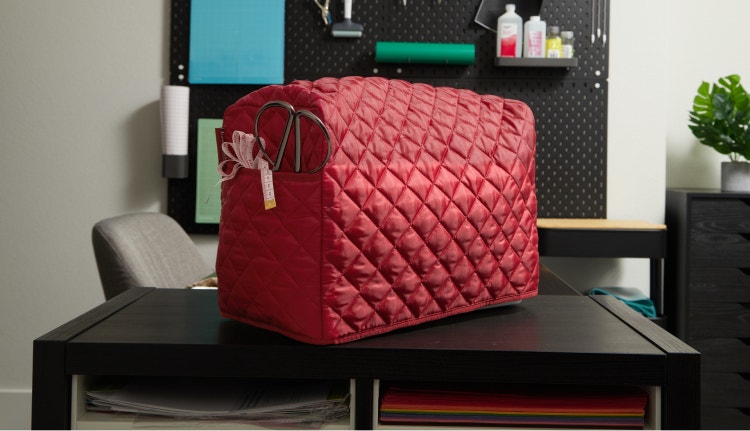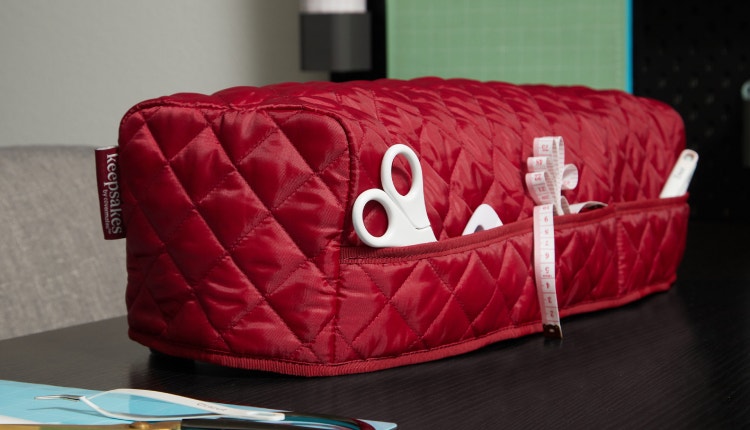 4. Accessory Storage
Now that your sewing machine and Cricut are protected, it's time to find storage options for the other accessories that don't fit in your cover pockets. We recommend using configurable zip-top storage boxes along with cube storage bins to provide versatile storage for any supplies you have. Our storage is designed with high-quality polyester that is tough enough to stand up to everyday use, and ID windows make organization a breeze.
The configurable boxes & bins include adjustable compartments to accommodate any accessories or materials, like rolls of vinyl paper, paint brushes, scissors, scraps of fabric, and more. You can mix and match the size of your storage boxes to ensure you have the perfect amount of space for existing and new additions to your craft arsenal.
5. Keep your workspace clean.
Finally, it's essential to keep your workspace clean and tidy. This will make it easier to find what you need when you need it and make your crafting experience more enjoyable. Take a few minutes at the end of each crafting session to clean up your workspace. Put away tools and supplies and wipe down your surfaces to keep them free of dust and debris.
Organizing your craft room doesn't have to be a daunting task. By using covers and storage boxes for your sewing machine, Cricut machine, and accessories, you can keep everything in order and easily accessible. So, get started today and enjoy a more organized and efficient crafting experience!
---
Want updates on new blog posts, current sales, new product releases, and more? Stay in touch! Like our Facebook page, follow us on Instagram (@thecoverstore) and Pinterest, and join Cover Club!