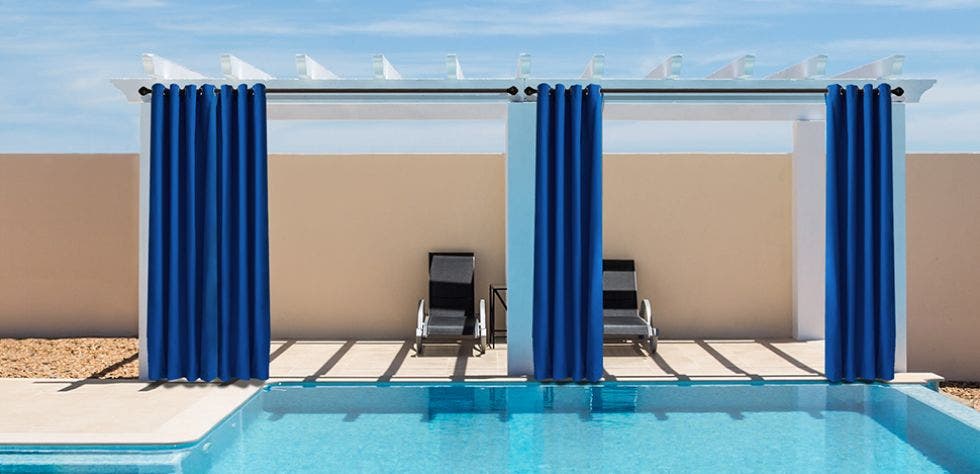 Originally posted July 2020, updated May 2022
Decorating your patio with outdoor curtains is an easy way to add comfort and style to your backyard. Plus, outdoor curtains offer a great way to keep your porch cool in the summer while also adding color and personality to your outdoor oasis. Curtains will also soften outdoor noise from nearby roads and neighbors, giving you privacy and calmness.
While adding outdoor décor livens up your space, you have to be careful with what you choose. It's crucial to opt for outdoor materials that are fade and water-resistant, else you'll be left with an eyesore once the summer is over. It would be best if you also looked for specific features when choosing curtains, like grommets, tab tops, and weighted hems, to ensure they hang correctly.
We've put together a few different ideas on how to hang outdoor curtains to get you one step closer to achieving the patio of your dreams.
Identify Your Curtain Type
The biggest determining factor on how to install your new curtains will be the type of curtains you choose. The most common type that resembles indoor drapes is known as grommet top curtains . They function exactly like indoor drapes but have a few added features to help them stand up to the elements. Tab top curtains can be hung just like grommets top curtains but have heavy-duty touch fastener tabs, allowing easier installation and removal. Last but not least, there are top and bottom grommet curtains, which utilize two curtains rods for added stability and a unique look to any space.
How to Hang Curtains with a Rod
A classic curtain rod is the easiest method if your patio or pergola has wood columns or posts to allow you to drill into it. Make sure you pick an outdoor curtain rod, which will be more durable than indoor rods and treated to be fade and rust-resistant. To create a cohesive outdoor space, match the rod style and color to your outdoor door handles and patio furniture.
You can also use curtain rods that work through tension, but these will only work if your drapery is lightweight. If you want to hang outdoor curtains without drilling holes, tension rods are the way to go. This method is especially helpful for patios with columns made of stone or brick.
You can also use ceiling-mounted hardware for brick or stone patio walls. These will screw into your patio ceiling or beams and extend down with a loop to put the curtain rod or wire through.
Connecting Curtain Rods
Use corner joints to connect curtain rods around corners and create a continuous flow of the drapes. This continuity enables you to pull curtain panels together so you can keep out sunlight on bright days. Clip your curtains together using safety pins or clothespins to keep them from blowing apart.
How to Hang Curtains with Wire
Setting up your outdoor curtains with wire can be an inexpensive way to decorate your backyard. For this method, you will need heavy-gauge steel wire rope, eye hooks, and wall anchors.
First, use the eye hooks and wall anchors to secure one end of the wire to a nearby structure, such as a beam or post of your patio or the exterior of your house. Keep the wire taut as you secure it to an opposing structure. Before securing it, run the wire through the curtain grommets or panel.
If you are using steel wire or rope to mount your curtains across a large space, you may want to add additional supports; otherwise, it could droop in the middle.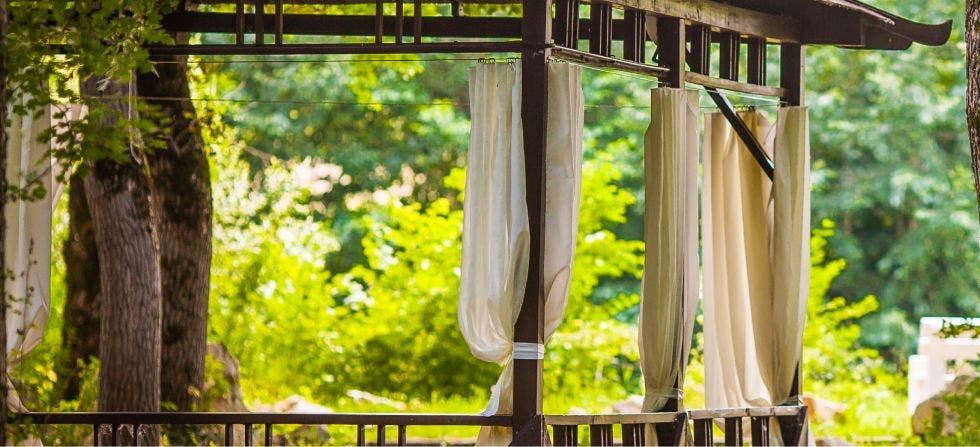 How to Hang Outdoor Curtains Across Large Spaces
As mentioned previously, rods and wires can droop in the center if holding several curtain panels. Adding center supports is the most commonly used option, but what if you don't want curtain panels lumped in the center of your space?
A conduit tube may be the answer to your problems. Conduit tubing, also known as electric metallic tubing, will provide a sturdy outdoor curtain rod. However, you will need some DIY experience and tools. You can view full instructions at this blog post.
You can also look into curtain tracks, available for ceiling and wall mounting.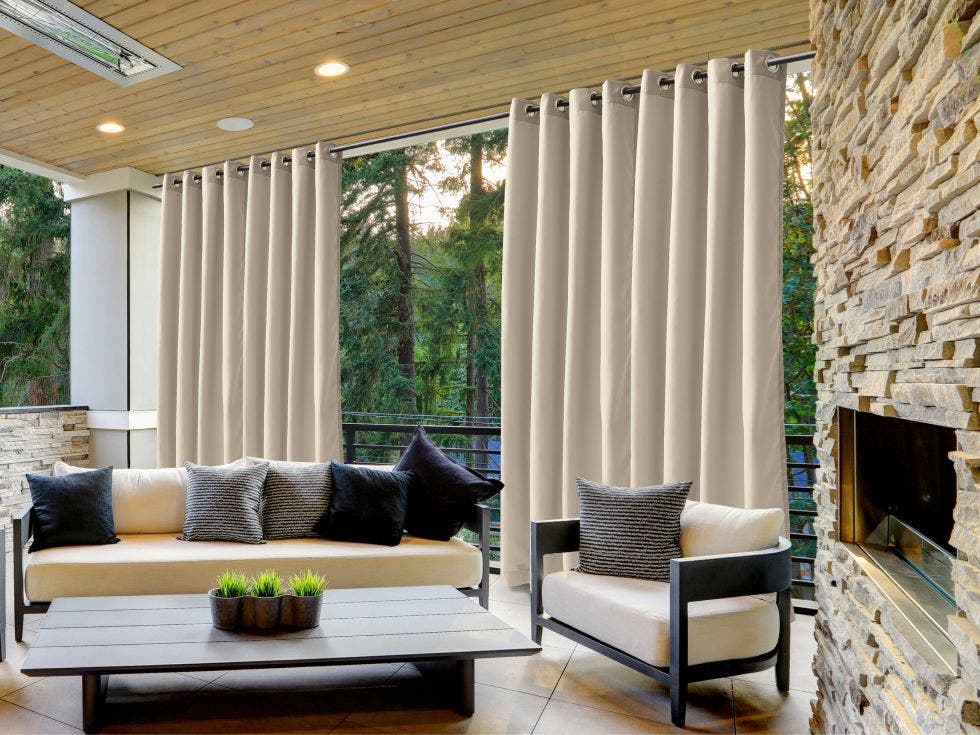 How to Hang Curtains on Your Deck or Balcony
An open-air deck or balcony creates comfort in both small and large spaces. However, hanging outdoor drapes can be a challenge if you lack outdoor support beams. As long as your deck or balcony has a short fence or wall, you can build a custom setup.
First, find a wooden beam that is tall enough to carry the length of curtains you want. Paint the wood a bright color using outdoor paint for an eclectic vibe, or stain it to match the rest of your deck for a more traditional look.
Screw the wooden beams at either end of your deck or balcony. Attach eye hooks near the top of each post (be sure to measure carefully so the hooks all align). Slide your curtains onto an outdoor curtain rod or conduit tubing and then slide the rod into the eye hooks. Make sure the rod is long enough so it doesn't slip out of the eye hooks.
If you don't want to screw posts into your deck walls or don't have deck walls, you can easily create standalone posts with concrete and a bucket. Gather the following supplies:
5-gallon buckets
WD-40
Fast-setting cement
Tall wooden beams
Purchase as many buckets as you will have beams - you can either leave the buckets in place or remove them for a more polished look.
Spray the inside of the buckets with the WD-40, completely coating the inside. Follow the mixing instructions for your quick-setting concrete in one of the 5-gallon buckets. Be sure not to fill it up as inserting the beam will raise the cement level. Shake the bucket to make air bubbles in the mix rise to the top. Next, center the post in the bucket. Support it with scrap wood to hold it in position while the cement sets. Repeat with the other buckets and beams.
Wait at least 12 hours before attempting to remove the buckets. To remove the buckets, gently hammer the sides to loosen the edges. If this doesn't work, use a utility knife to cut the bucket off.
Alternatively, you can leave the buckets in place and paint them. Another option is to purchase a large flower pot in which to place the buckets. Fill the pot with potting soil around the cement bucket and plant with flowers or succulents to brighten up your patio.
Important Patio Curtain Features
Tiebacks
Tiebacks allow you to choose the amount of sunshine you want to let in and add additional color and flair to your patio.
Most curtain panels come with matching tiebacks. However, you can also use pieces of brightly colored ribbon to complement and match your existing decor. Buy your ribbon in bulk so you can replace it if it doesn't hold up to the weather. Ribbons are a fun option if you like to switch your decor out based on the season. For an elegant look, try using tassels as your curtain tiebacks.
If your patio has large columns, you will want to attach a hook for the curtain pullback. For thinner posts, you can either attach a hook or tie the ribbon or rope around the beam.
Grommets
We recommend finding a curtain with anti-rust grommets. Grommets make opening and closing your curtain easy and less likely to get stuck on any hardware that sticks out. Pull-through curtains with fabric tops can snag and be challenging to maneuver.
Tab Tops
If you are the type of person who likes a change of scenery, tab tops are the way to go. The convenient touch fasteners allow you to quickly remove and install curtains without taking down the curtain rod.
Weighted Hems
If you're worried about your outdoor curtain panels blowing around, weighted hems are a must. These can make a big difference if you live in a windy area. However, if you are expecting high winds, we recommend tying the curtains back just in case.
Curtain Size
Choose a curtain that will fall a couple of inches off of the ground. A dragging curtain will soak up water and collect dirt quickly. Opt for custom-length curtains if your space is not a standard size.
When measuring your space for curtains, be sure to consider where the curtains will be mounted. You should always mount your curtain rod 2-3 inches above the opening, so you will need to take this into account when determining the proper size.
Also, keep in mind the width and desired fullness. When ordering custom curtains, many companies will add 200-300% to the width dimension to achieve this look. Standard size curtain panels typically are 50 inches across. If this is what you are ordering, purchase 2-3 more panels than the width of your space to give full coverage without pulling the curtains tight.
Outdoor curtains can transform your space, add much-needed shade, and make your house feel more like home. Try them out on your back patio, deck by the pool, balcony, front porch, or all of the above!
---
Want updates on new blog posts, current sales, new product releases, and more? Stay in touch! Like our Facebook page, follow us on Instagram (@thecoverstore) and Pinterest, and join Cover Club!