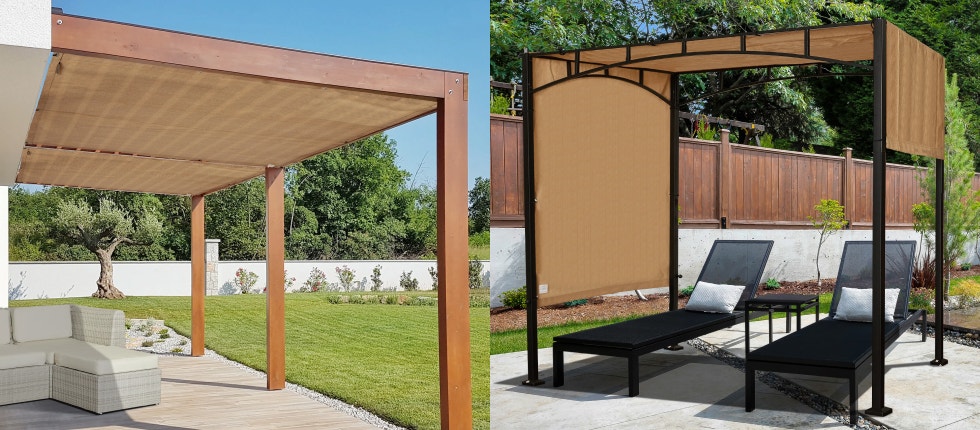 Our new Custom Size Pergola Shades are finally here! With summer in full swing, we know how important it is to find or create shade, especially if you plan to have family and friends over for events in your backyard or patio. Though pergolas, gazebos, and canopies offer some relief from the heat, the gaps offer no protection from the piercing sun and ruin what could be a relaxing day. With a versatile and durable design, our Custom Size Pergola Shades are sure to keep you and your loved ones cool all summer.
Behind the Design
After spending substantial time and money installing a pergola or canopy, not using the space because of the sweltering heat can be frustrating. Whether it's coming through the top of the open pergola design or just the side where the afternoon sun hits most, a pergola shade can help.
Shade fabric is a common solution to create a cooler and welcoming atmosphere. After surveying the current market, many online retailers and big-box stores offer pergola shades made from cheap fabric that break down quickly. Better alternatives made from high-quality fabrics often have an outrageous price to go along with them.
Here at Coverstore, our goal is to marry form and function. We want to help build a relaxing space where you and your loved ones can create new memories for years to come. We designed high-quality pergola shades that will stand up to the elements year after year. As a family-owned company with control over all facets of production, we can pass on the savings to you.
Pergola Shade Material
Each pergola shade is made with durability and longevity in mind. We know your pergola shade is the difference between an unbearable afternoon and a relaxing get-together with your loved ones. Each shade is made with rot-resistant thread and a high-density woven fabric designed to block 95% of sunlight so you can stay cool all year long.
Material Benefits
Blocks 95% of Sunlight
340 GSM Knitted Fabric
Heavy-Duty
Breathable
UV-Resistant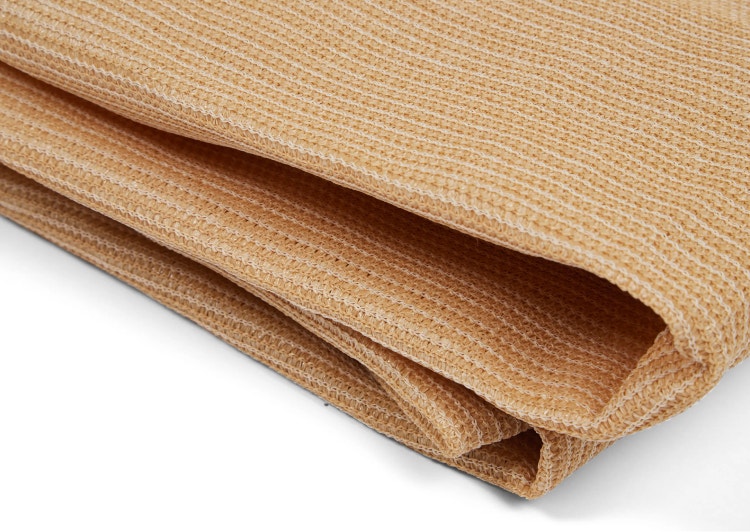 Types of Pergola Shades
Pergola Grommet Shade
Pergola Grommet Shades are a versatile shade option with rust-free grommets spaced 15-25 inches apart on all four sides of the shade. The carefully spaced copper grommets make affixing the shade to other surfaces besides your pergola effortless. This added versatility allows the shade to be used on patios, balcony railing, and even covering windows; the options are limitless. The rust-free grommets and rot-resistant thread ensure your pergola shade stands up to any weather condition.
Features
Rust-Free Copper Grommets
Rot-Resistant Thread
Multiple Applications
Easy to Move
Pergola Drop Shade
Keep your pergola, canopy or gazebo shaded year-round with an easy-to-install Pergola Drop Shade. Each shade comes equipped with copper grommets spaced 15-25 inches apart along two sides. The remaining ends sport a 2 ½ inch channel opening to accommodate a weighted bar or a curtain rod that ensures the shade is stable during breezy days. With rust-free grommets and rot-resistant thread, your space will be shaded and cool all year long.
Features
Rust-Free Copper Grommets
Rot-Resistant Thread
2 ½ inch Channel
Multiple Applications
Easy to Move
Custom Sizing
We know pergolas and canopies come in just about every size imaginable, that's why our shades are made to your desired dimensions. No more shopping online trying to find the closest fit and hoping it works. With our easy-to-use ordering process, you can shop with confidence knowing your custom pergola grommet or drop shade will be the perfect fit.
Warranty
Each of our Custom Pergola Shades comes with a three-year warranty from the date of purchase. We've built our products to withstand just about anything, but we know life happens, and we are here when it does.
It's time to say goodbye to the blistering summer heat that keeps us inside all summer long. With Custom Pergola Shades, you can stay cool and relax year-round.
Learn more about our design process with our newest outdoor decor arrivals: Behind the Design Curtains, Cushions, & Pergola Shades.
---
Want updates on new blog posts, current sales, new product releases, and more? Stay in touch! Like our Facebook page, follow us on Instagram (@thecoverstore) and Pinterest, and join Cover Club!