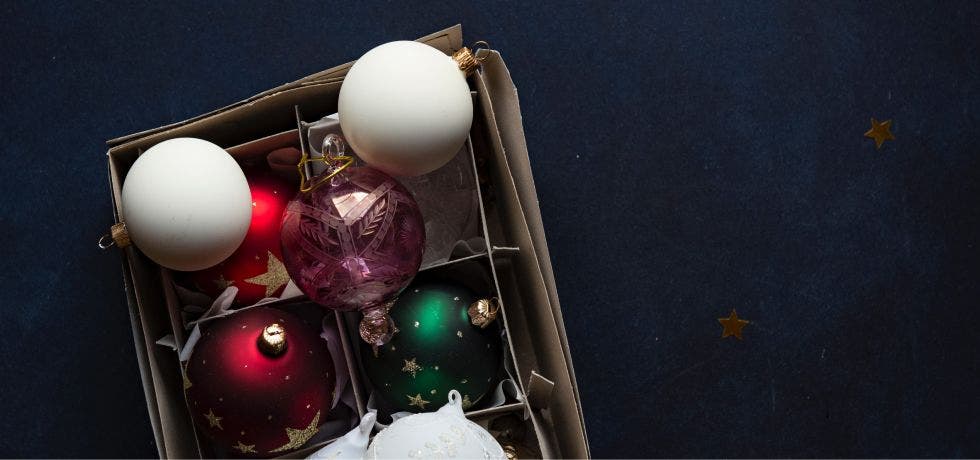 Originally posted January 2020, updated December 2021
Holiday ornaments can be tricky to store due to the variety of sizes and shapes. But there are also tons of options for storage, ranging from quick DIY solutions to specialty boxes and bags. Use the ideas below to get started on ornament organization. If you're looking for help putting away your Christmas tree, read our post on How to Store Christmas Trees.
1. Build Your Box
Turn two cardboard boxes into a layered ornament storage box. First, cut one box so you have two pieces the same size as the base of the second box. If your boxes are different sizes, cut up the larger one to make the pieces to fit inside the smaller one.
Next, make dividers. Cut pieces of cardboard the length of the storage box and about 2-3 inches high. Cut notches into each divider (about halfway through the divider) so you can create a grid.
Start with the heaviest ornaments and place them at the bottom of the box inside the grid. If you have large or odd-shaped ornaments, don't use a grid for the bottom of the box. You can also use this space to store figurines, such as nutcrackers, Santas, and nativity sets. Wrap the items with tissue paper or felt scraps to protect them from the cardboard (and from each other).
Stack one of the cardboard sheets you cut earlier on top of the ornaments. Fit the dividers together and place ornaments inside each spot. Keep ornaments from scratching and breaking by wrapping them in tissue paper, paper towels, or fabric scraps.
2. Use Boxes You Already Have
If you have spare plastic containers sitting around your house or garage, you can use these for ornament storage. Follow the same steps as above to create layers and dividers to separate your ornaments.
You can also use other decorations as layers within plastic boxes. Wrap ornaments in protective materials and place them in a single layer at the bottom of the box. Place a soft decoration, such as a tree skirt or stockings, on top and add another layer of wrapped ornaments.
3. Think About Holiday Storage in Advance
If you know you'll be needing supplies for ornament storage, don't throw away your egg cartons. Place the cartons at the bottom of a storage box and fill with small ornaments. Close the lid and stack other cartons or lightweight decorations on top. Re-use holiday tin boxes for a festive storage option (plus, it gives you a reason to buy more Christmas cookies and candies).
Don't throw out used water or soda bottles from your holiday parties – use them to store strings of beads. Wash the bottles with soap and water and let dry. Sort the beads based on which tree or garland they decorate. Fill up the bottles and label with a marker which tree it goes to. If you have the room, place the bottles in the tree storage bag or box so you can easily find it next year.
4. Organize by Tree
If you have many trees, sort your ornaments into separate boxes or bags based on which tree they belong to. Label the box on the outside to make next year's setup easier than ever. Store the boxes in the order in which you set the trees up. If you like to put up the tree upstairs in your bedroom first, store that ornament box in front of the other boxes. This will save time and effort.
5. Try the Cup Method
This storage method has become popular among DIYers for being easy to make with items you already have in your house (or can get for cheap). However, this method can also end up leaving a lot of unused space and doesn't work well with large or odd-shaped ornaments.
All you need is a hot glue gun, cardboard, a box, and plastic drink cups. Cut the cardboard into pieces that will fit inside the storage box. Glue the bottom of the cups to the cardboard and let dry. Place one of the cardboard pieces with cups in the box and fill with ornaments. Fill empty space with strings of beads and lightweight, non-breakable decorations. Continue to stack and fill layers until your box is full. Avoid overfilling each layer so the next has a flat surface to rest on.
6. Use the Space Beneath Your Bed
Don't let that free space go ignored. If you have a bed raised at least 6-7 inches off the ground, you have space to slide some ornament boxes beneath. Use the boxes they came from or buy a narrow, long box. Outfit the box with dividers, or purchase an underbed ornament storage box.
7. Purchase an Ornament Box or Bag
If all that sounds like too much work, you can always buy a high-quality bag or box designed to store ornaments. While the initial investment may be higher, these options will last longer than handmade cardboard storage. Plus, it's worth investing in a durable organization solution when you have fragile holiday pieces. When using an ornament storage container, you still need to be careful when placing ornaments inside by wrapping them with tissue paper, felt scraps, or paper towels.
When deciding on what ornament bag or box to purchase, look for these four things:
Acid-free lining: Acidic materials will cause tarnishing and color loss over time. If using a hard-sided plastic box, wrap your ornaments in acid-free tissue paper or other packing material.
Built-in labels: Find a storage solution with a built-in ID window that you can slip a piece of paper into. Label your boxes with the type of decoration or what the decorations are for.
Dividers: Sectioning off each ornament is key in storage. Look for firm, non-scratch dividers to keep your Christmas ornaments from sliding around. If you find a box you love that doesn't include dividers, you can always make your own out of cardboard.
Carrying handles: Check that your chosen container will be easy to move around.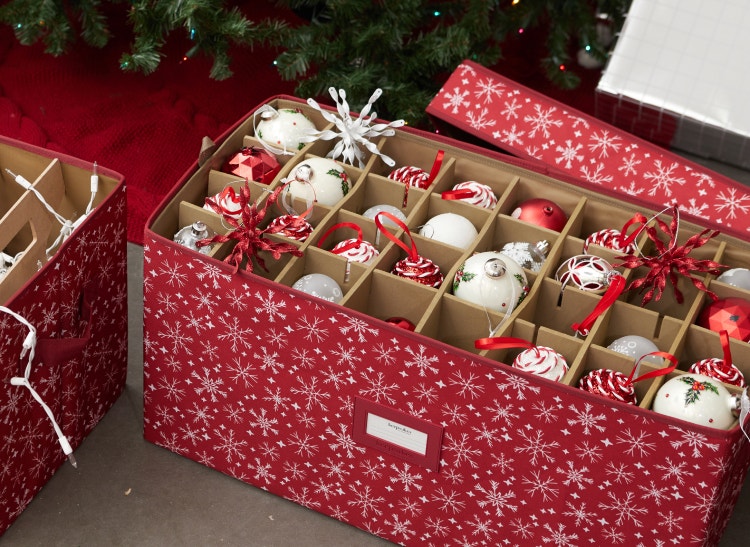 Putting away your Christmas tree ornaments doesn't have to be a pain. By following a combination of the DIY methods above, you'll be able to create an organizational structure that fits just what you need.
Infographic courtesy of Christmas Trees and Lights
---
Want updates on new blog posts, current sales, new product releases, and more? Stay in touch! Like our Facebook page, follow us on Instagram (@thecoverstore) and Pinterest, and join Cover Club!