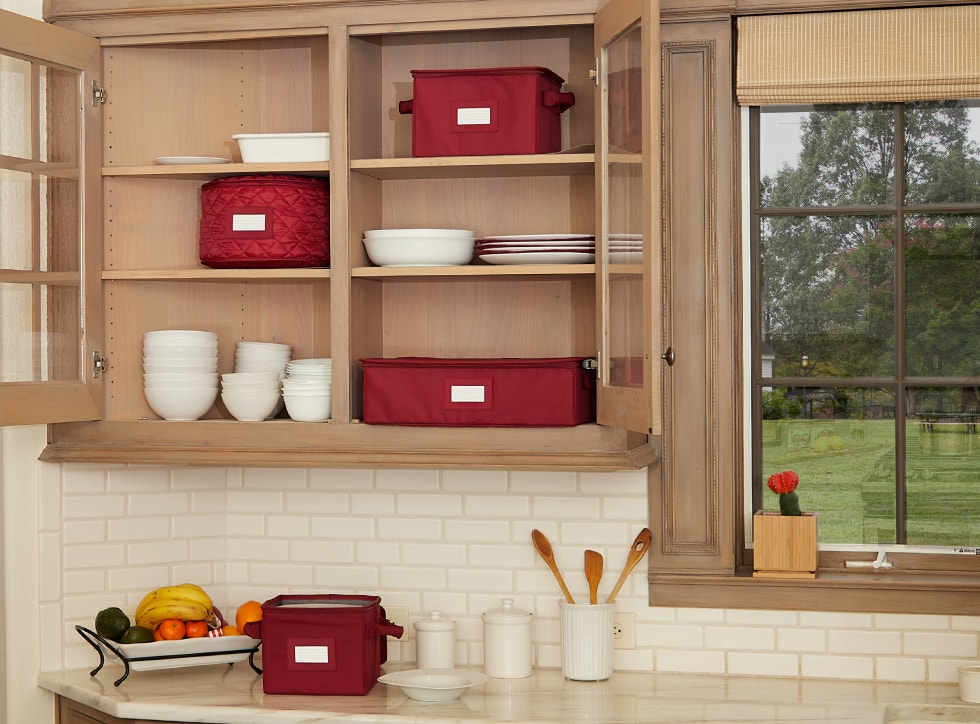 Shuffling through drawers and cabinets to find what you need can feel like a real chore when your kitchen is cluttered and unorganized. Even worse is bringing a new counter appliance or dish set home only to find no space to store it properly. Getting your kitchen back on track doesn't have to be a massive project. Make a weekend out of it or execute it in stages. In this guide, we will share a few tips and tricks to organize and protect your kitchen so it can look like the ones you see on your Pinterest feed.
Preparation
The first step is to tidy up your kitchen. The secret to success is always in preparation. Wipe down the counters, wash and put away any dishes, and throw out the takeout bag from last night. You want to start with a clean working space to make the process as smooth as possible.
Sort & Store
Now it's time for the fun to begin! Starting with your dishes, sort them by how often they are used. For example, separate your fine china, holiday/seasonal dishes, and glasses from your everyday dishes. If some items are only used a couple of times a year, they may not be worth the valuable kitchen space you need day-to-day. Carefully pack and store seasonal dish sets in a closet, attic, or garage.
By storing away seasonal glasses and dishes, you'll notice the kitchen will already feel a little less cluttered. Small changes make a big difference when organizing. Use a sturdy storage box with dividers and an ID window for reliable protection and effortless organization. This will not only keep your dishes safe but will allow you to label and sort each box by the contents quickly. A couple of great options are Covermates Dish Storage Boxes and Glassware Storage Boxes, available in various sizes and sets. With structured walls, you can stack your dishes without the worry of breaks, scratches, or cracks.
Repeat this step throughout your cupboards for coffee mugs, platters, utensils, and more. You'll be amazed by how much space you save.
Evaluate & Eliminate
Now that you've gone through all your cabinets and cupboards, you've inevitably run into a few things that you don't need or no longer want. If not, consider taking another look. It can sometimes be hard to part with items we've had for so long, but clearing out unneeded items will clear space for you and can be of use to the next owner. Consider donating to a secondhand store or giving them to a friend who could make good use out of them.
If something is broken or just plain worn out, feel free to toss it. Again, continue this process throughout your kitchen and remove unneeded plastic containers, pots, and anything else taking up space.
How to Store Small Appliances
Small appliances like coffee makers, toasters, and the newly beloved air fryer are staples in almost every home, but they can be as inconvenient as they are helpful at times. Having one or two can be harmless, but these are the first to take over your counter space. First, look at the appliances you seldom use and consider if it's worth the space it occupies. We are referring to the George Forman Grills of every home - not every kitchen appliance is a lifelong need.
Once you've weeded unnecessary items, try allocating some cabinet space to the small appliances. Your kitchen will feel bigger and cleaner after you empty your countertops of bulky items. Now, we know some things like coffee makers are used daily and that taking them in and out of a cabinet can sound tedious, but that doesn't mean you and your guests must constantly look at them. An appliance cover offers a simple to use storage solution that will keep your appliances protected, no matter where you store them.
Drawer Organization
From a drawer full of forks and knives to another full of chopsticks and sauce packets, a little organization can go a long way. Storage trays are a great way to separate drawer contents while remaining removable with convenient pull tabs. The sturdy wall will keep your favorite cutlery protected, even if stacked inside deeper drawers.
Cabinet Organization
An excellent example of wasted space is a cabinet with a single row of cups, mugs, and bottles. There isn't much room for anything else once you set down a row of odd-sized cups. To take full advantage of any cabinet space, try using expandable shelves. Often made of wire, these underutilized shelves can more than double the available space without spending more than $5. As a complementary tool, under cabinet mug hooks can be installed to not only save space but show off your favorite mug set.
One bonus tip, if you have way too many pots and pans and find yourself running out of space, why not try a hanging pot rack? There's a ton of options, from those hanging from the ceiling over your island counter to other simple on-the-wall models. No matter what your budget and style dictate, you'll be able to find one to suit you.
Pantry Organization
The pantry can be somewhat intimidating depending on the size and how full it is, but it is undoubtedly one of the more satisfying transformations you'll experience. Start by simply throwing away expired, unneeded, or just plain old items. Once you've cleaned out your pantry, it's time to add some much-needed accessories that will make your cooking experience so much easier.
First, get some tiered shelves for your cans so you can read the labels without picking each one up. They will typically be made of plastic and closely resemble a flight of stairs. Next, transfer all your bulk items into individual containers, including cereal, rice, beans, and coffee. Containers won't only look better but will also keep your goods fresher. Instead of purchasing new plastic or glass containers, consider re-purposing empty food containers like plastic peanut butter jars and glass juice containers.
For items like packs of popcorn, fruit snacks, and other snacks, try using storage bins with labels to keep everything organized and easy to find. If you like to stock up on bulk items, invest in a few larger bins to keep on the top shelves in your pantry. Replenish the easily reachable shelves in your pantry as needed.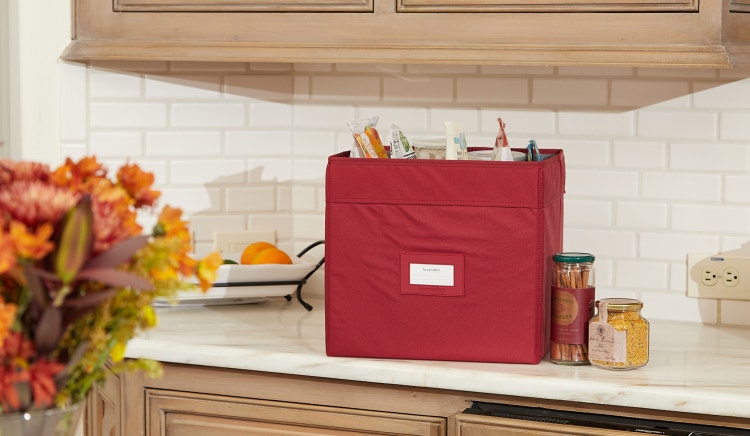 Congrats, you're done! With a few steps, you've managed to overhaul your kitchen, and it's time to enjoy your clean, big kitchen! If you're looking to extend your organization adventure, check out our organization solutions by room.
---
Want updates on new blog posts, current sales, new product releases, and more? Stay in touch! Like our Facebook page, follow us on Instagram (@thecoverstore) and Pinterest, and join Cover Club!