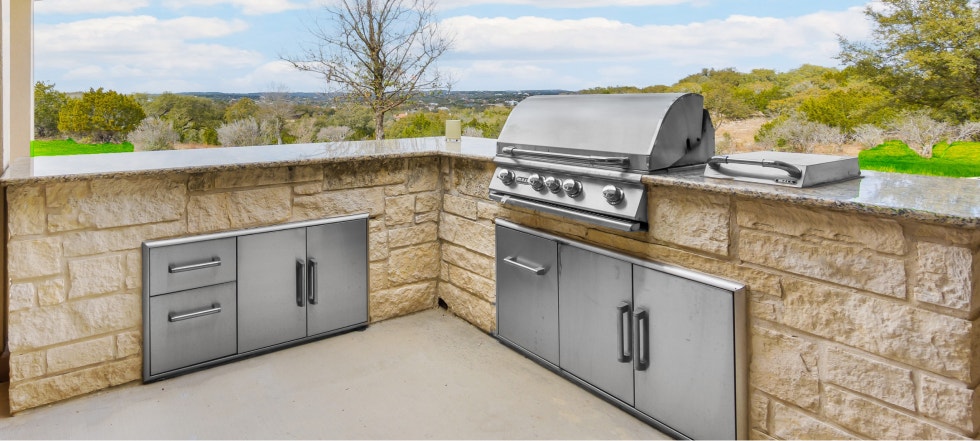 From cooking dinner for your loved ones to hosting a BBQ for neighbors, an outdoor kitchen is a valuable addition to your home. Whether you're cooking on a standalone kettle grill or have an all-in-one patio island, providing your investment with reliable protection is crucial to maintaining its appearance and performance. Although backyard grills, smokers, and other kitchen essentials are designed to remain outdoors, the elements can quickly take their toll if left uncovered. Our guide will help you find convenient and reliable protection to ensure your backyard kitchen is always clean and ready to use for any event.
Unmatched Protection
When protecting your outdoor kitchen equipment, you must ensure your protection method is durable, weather-resistant, and convenient. With that in mind, we suggest utilizing weather-resistant outdoor covers to meet all of those needs. Our lightweight covers are designed to withstand rain, snow, dirt, and more while remaining lightweight and durable. Our high-quality covers serve as a reliable barrier between your investment and the harsh elements. With our covers backed by an up to 10-year warranty, you can rest assured your outdoor kitchen will be protected for years.
Complete Outdoor Kitchen Coverage
No matter how minimal or vast your backyard kitchen is, there is a cover(s) to fit your needs. Our constantly growing assortment of standard and custom size covers make it easy to mix and match styles or find an all-encompassing cover to fit your needs.
Grill Covers
To accommodate your unique outdoor kitchen, we pride ourselves on being able to cover almost any brand, size, or type of grill you may have. For inset island configurations, we offer built-in grill covers and side burner covers so you can protect what matters most without unwanted coverage. Our standalone cart grill covers provide full coverage and are equipped with intuitively designed features like 360 drawcords and adjustable buckle straps to ensure your grill stays secure regardless of the weather.
Island Covers
An often-forgotten feature of an outdoor kitchen is the island. Although they are usually made of granite, tile, or cement, they can be susceptible to the elements and a pain to clean off dirt, water, and other debris constantly. Our island covers are available in multiple shapes, including curved, round, oval, and more, to offer a convenient way to cover your island countertop and cabinets with one lightweight solution. Spend less time cleaning and more time relaxing with loved ones.
Island Grill Covers
Finding a single cover to provide complete protection can be challenging for those with an L-shaped outdoor kitchen or an island with a built-in grill. Luckily, our extensive collection of styles and options makes finding a cover that fits your needs effortless. We've got you covered, from a simple island grill cover to more complex L-shape island grill configurations sporting a grill, faucet, and sink. We understand you've spent your hard-earned money on your outdoor kitchen, and we want to help you protect your investment.
More Outdoor Kitchen Protection
For those with more unique additions to their backyard kitchen, we didn't forget about you. Whether making pizzas for the kids or smoking a brisket for a company potluck, we know you want to protect your outdoor appliances. Explore our expansive collection of outdoor grill covers to find high-quality protection for your kamado, pizza oven, smoker, and more.
Now you have the tools to ensure your outdoor kitchen is clean and protected from the elements year-round. No matter how big or small your station is, we've got you covered!
---
Want updates on new blog posts, current sales, new product releases, and more? Stay in touch! Like our Facebook page, follow us on Instagram (@thecoverstore) and Pinterest, and join Cover Club!