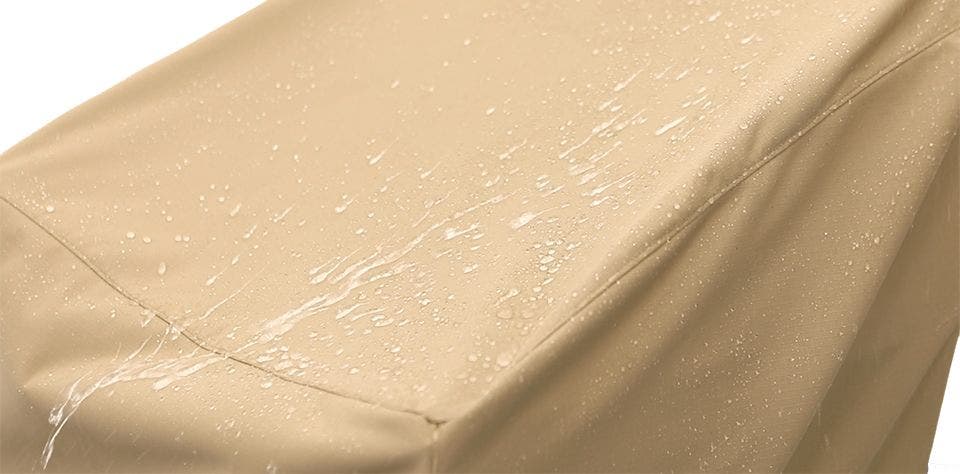 Whether it's summer, winter, fall, or spring, having the proper cover for your outdoor furniture is essential. However, knowing which one to pick can be difficult, especially since some of the terms used to describe the covers seem to have similar meanings.
We've found that one of the biggest misconceptions surrounding cover usage is whether they are "waterproof" or not. You may think that finding a waterproof cover is the perfect solution to protect your furniture or vehicle, but this is neither realistic nor ideal. Always look for a cover that is breathable and water-resistant; these are the ones that offer the best and safest protection.
Waterproof Covers
Waterproof covers are advertised as being able to completely block moisture from passing through the material and getting on what it is covering. They're typically made of a plastic film or a plastic-coated fabric. The problem with this type of cover is that condensation and dew can still form beneath the cover. This results in mold or mildew forming on your furniture's cushions and pillows and water stains or rust on the finish.
Be wary of any covers that are advertised as "waterproof" rather than "water-resistant". Waterproof covers are usually cheaply made and may end up damaging what they are meant to protect.
Do Waterproof Covers Exist?
We may not be official Myth Busters, but we were able to solve this mystery – waterproof covers are a myth. Covers that claim to be waterproof will not allow the moisture to evaporate, since the moisture isn't supposed to be there.
Breathable and water-resistant covers block most of the moisture but allows for any that gets through to evaporate quickly.
Water-Resistant Covers
Breathable and water-resistant covers are the way to go. Water-resistant covers repel most water, but still allow for air to circulate. Unlike waterproof covers, this allows moisture in the cover to evaporate quickly. Quick evaporation provides the following advantages:
Prevents paint damage and rust
Prevents mildew and mold resistant
Prevents water stains on furniture's finish
What Should You Look For?
Seek out a cover that promotes its water-resistant and breathable fabric. The best covers will have water-resistant seam binding and built-in mesh vents. Mesh vents promote air flow, which will help prevent mold and mildew.
When we were designing and constructing our products, we kept all of these necessary features in mind. We are dedicated to providing you the highest quality product, so we spent the time to research and fully understand how our covers needed to react in every weather condition.
All Coverstore collections are water-resistant and come with breathable mesh vents to ensure the safety for whatever you are covering. We've outlined the key features of each of our collections below to help you pick the cover that's right for you. You can also view our material comparison chart for more information.
*The collections listed above may not be available for all products and features may vary based on product type and style.
---
Want updates on new blog posts, current sales, new product releases, and more? Stay in touch! Like our Facebook page, follow us on Instagram (@thecoverstore), and join Cover Club!