Your outdoor sofa is often the heart of your patio and the design focal point of your outdoor living space. Whether you are hosting a birthday party or a summer barbeque, your guests will always end up gathering on the sofa or sectional to share stories, enjoy food, or even play games.
Finding the right sectional or sofa to fit your outdoor living space will also set the tone for the rest of your outdoor décor serving as a focal point that brings the look together. This guide will walk you through all the questions you need to consider to find the right patio sofa or sectional that fulfills your vision of an outside oasis.
Location
The first step you need to consider when purchasing an outdoor sectional sofa is the location you plan to keep it. This is important because the location will determine the size and shape of the furniture. Once you find the spot you think works best, use a measuring tape, and note the size of the space. You will want to keep your measurements handy when shopping so you can quickly compare them to the dimensions of the furniture. Noting your desired maximum and minimum furniture dimensions will also help you judge how to best use the available space and coordinate the position of various pieces. Keep in mind that if you want any accent tables, ottomans, or large planters, you will need to leave some extra space to accommodate them.
Fabric & Material
The location of your patio sofa will greatly determine how often it is exposed to the elements which can lead to damage over time. You may want to consider surrounding elements like trees, walls, or fully roofed porches that may partially shield your furniture from damage. Placement of your sectional in the vicinity of sprinklers or under an open-top veranda may leave your furniture more frequently exposed to water or powerful gusts of wind.
Overall, you will want to select fabric and material that will stand up against the environment you live in. This may seem pointless because all outdoor furniture is designed to be exposed to the elements, right? Not quite. Though patio furniture is intended to be outdoors, the degree of durability will significantly differ from sofa to sofa depending on the materials the manufacturer decided to use. Despite a more enticing price, a lower-cost sofa made from untreated wood and with vinyl fabric will most likely require constant repair and, ultimately, will need to be replaced sooner than you think. Learn Why Patio Furniture is Expensive and why it's worth the investment.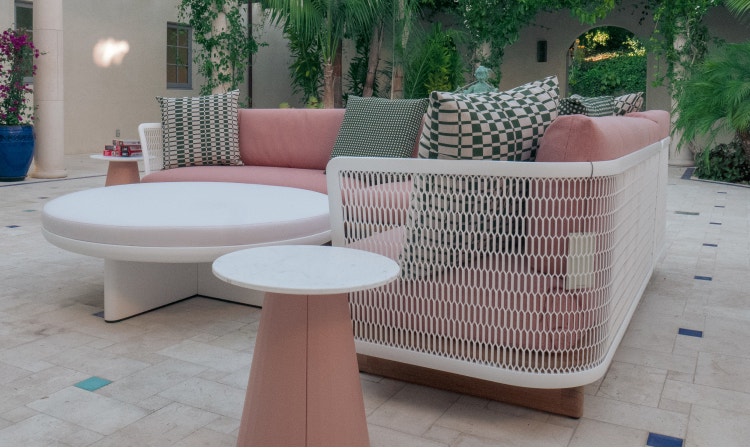 The initial investment may be higher but more durable fabric and materials will save you time and money in the long run. Fabrics like Sunbrella or solution-dyed polyester offer more durability due to high water and UV resistance. When it comes to the materials used to build your furniture, teak wood is an option that stands above the rest in resistance to rain. With rich tones and an elegant look, teak wood will drive the cost of furniture up drastically. Other cost-effective wood alternatives include cedar which fades beautifully, or acacia, which is commonly used in place of teak. If you are more interested in furniture with a metal structure, there are various dependable options, including aluminum, cast iron, and of course, stainless steel.
A Touch of Comfort: Outdoor Pillows & Cushions
Some low-quality fabrics feel great at first but only last a season or two before they are less than desirable to use. Low-cost cushions and pillows will need to be replaced quickly from everyday wear and tear. Having durable cushions and pillows does not mean sacrificing comfort or style. When opting for a fabric like solution-dyed polyester, you can have the best of both worlds without an outrageous price. A great tip is to get cushions and pillows that have removable covers. Not only is cleaning or replacing a cover easier, but interchangeable covers allow you to easily mix and match colors and patterns to compliment any season or event.
Sofa or Sectional
Once you've figured out the size of your space and the fabric and material that works best for you, it's time to select the type of outdoor seating. When it comes to picking between standard sofas and sectionals sofas, the determining factors are the look you envision and the extent to which you would like to customize your space.
Since a traditional sofa is a single piece of furniture and a sectional includes two or more parts, sectionals are far more customizable to fit your needs. If you are the type of person who likes to change things up every few months, sectionals are the way to go! If you know what you want and tend to keep things simple, traditional outdoor sofas may fit your needs better.
Sofa & Sectional Shape
Sofas and sectionals come in all shapes and sizes, but which one is the best for you and your space? The most common sectional you'll see when shopping is an L-shaped sectional. These are great options for maximizing the use of space in corners and accentuating linear structures. U-shaped and curved sectionals offer a unique look to any space for people wanting something a little different. You may have to sacrifice more space because of the curved shape, but facing everyone creates a far more welcoming environment that can make a curved sectional completely worth it. The unused corner may serve as an inconspicuous hiding space for storage or space for a tall planter that offers contrast.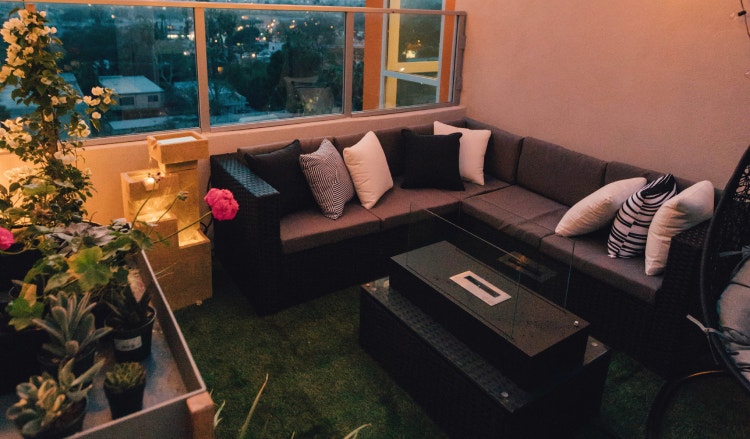 Styles
Now that you have all the complicated steps out of the way, it's time to start the easy part, picking the style you want! You may already have an idea of precisely what you want. But, if you don't, a quick online image search will show you a multitude of options. You can also check out one of our favorite furniture brands, Neighbor. The modular design of their outdoor sectionals allows you to configure it to fit in any space.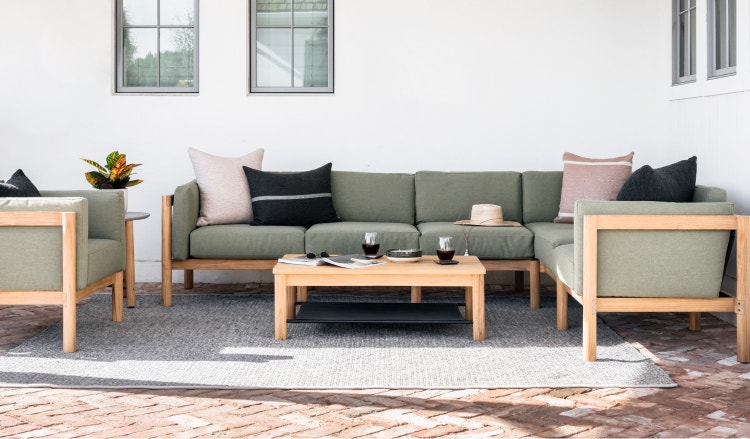 Protecting Your Investment
After you've put together your ultimate backyard retreat, you'll want to take a few extra steps to ensure it stays clean and protected from the elements. Just like any other piece of furniture, outdoor sofas will begin to accumulate stains without consistent cleaning and protection.
Using a reliable fabric cleaner will do wonders at keeping those pesky stains at bay without damaging the fabric of your outdoor sectional. To fight stains, follow up with a fabric protector that repels moisture, dirt, and more. These two simple steps will save you time and money while making your sofa look new for years to come. To read a more in-depth cleaning guide, check out our blog on How to Take Care of Your Outdoor Furniture.
For those looking for a more dependable form of protection, a high-quality outdoor furniture cover is the way to go. They not only protect the fabric but the furniture piece as a whole by forming a barrier between the elements and your sofa. No more coming out to find your couch covered in dirt, pollen, water, snow, and much more. The added protection will extend the life of your outdoor furniture and keep it looking its best all year long. For those with oversized sofas or uniquely shaped sectionals, you may want to go with a custom-sized cover to ensure a proper fit.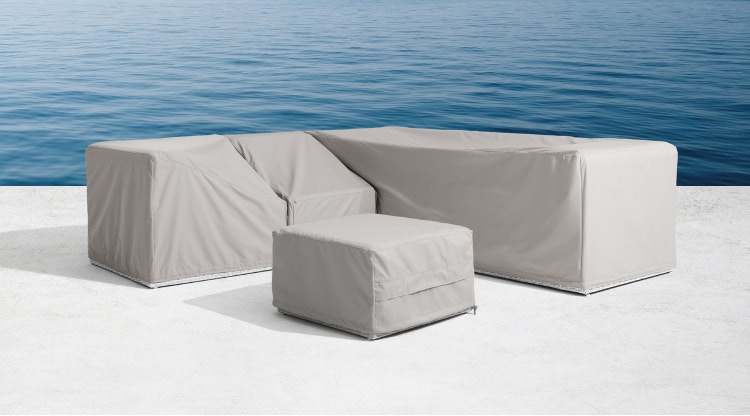 ---
Want updates on new blog posts, current sales, new product releases, and more? Stay in touch! Like our Facebook page, follow us on Instagram (@thecoverstore) and Pinterest, and join Cover Club!