Originally published March 2019, updated July 2021
Not finding what you need when you need it most is the first signal to knowing it is time to organize. While this can quickly turn into an overwhelming whole-house cleaning effort, prioritize which rooms you would like to organize first. This guide will give you ideas and tips on how to take advantage of each space in your home to achieve a clean and organized feel. After all, you want to spend less time searching and more time doing what you love!
Kitchen
We all seem to have more glasses and china than we know what to do with. They tend to get stuffed into cupboards or in boxes in the garage, running the risk of getting damaged. Dish storage boxes are a great way to store holiday cups, stemware, and fine china to keep them clean and ready to use for any special occasion. Each storage box comes with a clear ID window to easily label the contents for easy organization.
For more frequently used counter appliances, our kitchen appliance covers keep them clean and protected from scratches and give your kitchen a cleaner look. From toasters, blenders, coffee makers, and more, we have you covered. You can also get a custom-size appliance cover for more uniquely sized kitchen appliances.
Bedroom
Don't waste the area under your bed — use it for storage! Store extra linens, seasonal clothing, and shoes in one of our underbed storage boxes to keep them organized and clean.
For bedrooms that double up as playrooms, storage bins are a practical solution to keep toys off the ground while creating a visually pleasing organization solution that seamlessly blends into the room. Plus, you can label each bin or box with the type of toy or your kid's name to make cleaning easy and fun for the whole family.
Closet
Make the most out of your closet by creating an organizational system that works for you. Arrange your clothes by how often you wear them, season, or even color. Take this opportunity to rotate your clothes so you can wear pieces you have neglected and put those you would like to donate in a separate bin.
During the warm months, you don't need bulky sweaters and jackets hogging room in your closet. Canvas sweater storage bags store away about two thick cardigans or four thin sweaters so you can fill your wardrobe with summer clothing.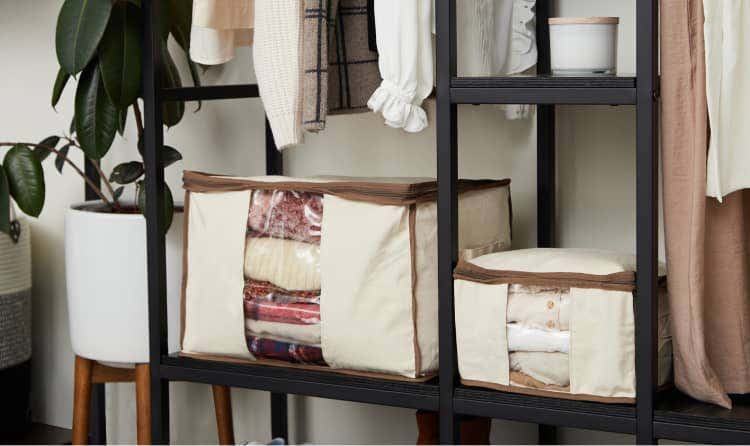 Adding extra protection to expensive items like fancy shoes, suits, or nice dresses can help you keep them in pristine condition. Shoe bags are an easy solution that prevents shoes from getting separated, scratched, and scuffed. They have drawstrings that also let you hang them alongside your special outfit. For unique clothing items, keep them clean and protected by investing in a garment bag that can also come in handy during travel.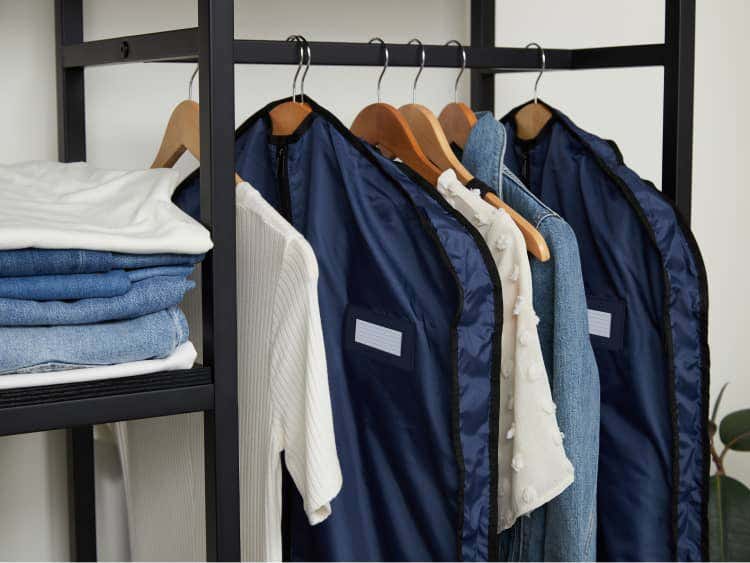 Your closet is also a common dumping ground for random things. You may frequently find yourself rummaging through broken items and what you thought you had "lost" for what you need. Hanging storage organizers are the perfect solution to keep odds and ends in an easy-to-find place. With a structured frame, they are a versatile option to store curtains, purses, pillows, or blankets without the risk of sagging. Use canvas blanket storage bags to store extra sheets, blankets, and bedding until you need them.
Gift wrapping can be complicated with scissors and tape hidden in your desk and rolls of wrapping paper scattered around the closet. Hanging gift wrap bags can hold up to 20 standard rolls of gift wrap and have plenty of space for gift tags, gift bags, ribbons, tape, and all your other gift wrapping essentials. Don't have anywhere to hang it? Choose a gift wrap box that can easily slide under a bed.
Bathroom
The medicine cabinet can get chaotic and out of hand. Group medicines by type (allergy, cold, pain relief) and place them in small bins. If several people in your family have different medications, have individual containers for everyone to keep things organized and avoid confusion.
You can also purchase pill organizers to manage medications by week. Place pill bottles in the bottom of the bin and stack the organizer on top. Refill at the end of each week so you're ready for the next. Storage bins can also be used underneath the sink to organize cotton swabs, brushes, combs, makeup, and other bathroom essentials.
Use a peg rack, hooks, or back-of-the-door organizers to hang towels, brushes, and everything else you need to get out of the way.
Living Area
The coffee table often becomes a cluttered home for magazines, papers, and books. Keep everything off the table unless you're using it with storage boxes. You can easily slide these beneath the table or off to the side of a couch.
Behind the sofa is an ideal space for storage. Tuck a canvas blanket storage bag behind the couch for easy accessibility to blankets and pillows while keeping them out of the way when guests are over.
If you have kids, the living room can quickly become a playroom. Assign a specific corner of the living room for toys. Add bookshelves and a large storage bin to keep toys out of sight when company comes over. For families with multiple kids, try assigning each child's toys to a separate basket.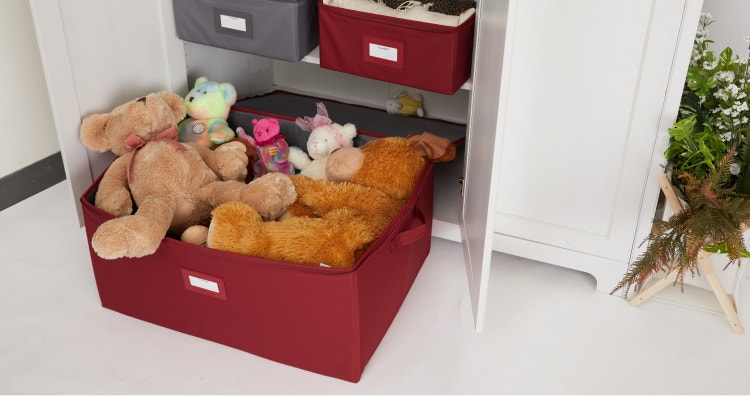 Office
Your office is a space that demands organization. However, it often gets cluttered with papers, notebooks, pens, and miscellaneous office supplies.
Declutter your desk and make sure that everything is where you need it. Position the supplies you use most often closest to your chair so you aren't constantly reaching for it. Use a small storage bin to organize note cards, post-its, and more. Label storage bins so you know where to find your items.
When you can, use digital documents instead of paper to cut down on clutter. For those must-have paper documents, use file folders, binders, and dividers to keep your papers from becoming mountains on your desk. If you are overloaded with papers or surrounded by a sea of post-it reminders, create a "to file" folder or a folder for each month to keep important to-do's in check.
Game Room
Keep the party rolling by having your games clean and ready whenever you need them. Cover your ping pong table, pool table, air hockey table, and Foosball table with one of our durable game table covers.
Store board games in a zip-top storage box. Stack the boxes in a closet and label them so you can easily pull out the box containing the right games.

Garage/Attic
You can't fit everything in your house, so some cherished items end up in the garage or attic. Use storage bins and boxes to keep your valuables clean and unbroken. If your garage tends to get humid or bugs frequently sneak in, you may want to use plastic storage bins instead of fabric ones.
Install a pegboard to store all your sports gear from baseball helmets to hockey sticks. Find an old mesh laundry bag to store footballs, volleyballs, and basketballs.
Keep all your holiday storage items clean, organized, and ready for the most wonderful time of the year. Use holiday storage for everything from ornament storage to wreath storage to Christmas tree storage. Dedicate a space in your garage or attic exclusively for holiday decorations so it's easy to take them out and put them away.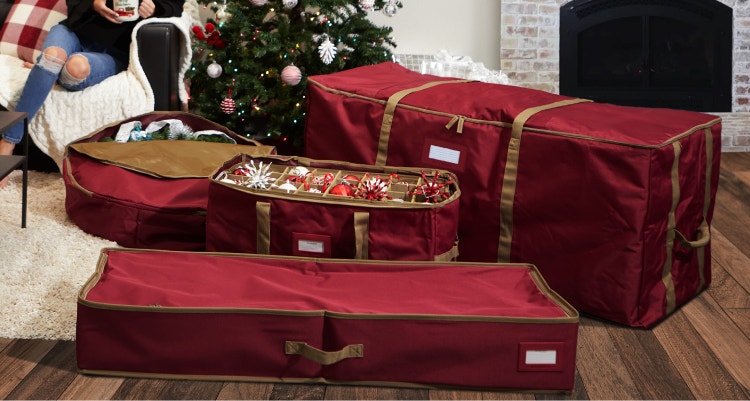 To find the products you need based on the room, explore our Solutions by Room to see the organization and storage solutions that will work for you.
---
Want updates on new blog posts, current sales, new product releases, and more? Stay in touch! Like our Facebook page, follow us on Instagram (@thecoverstore) and Pinterest, and join Cover Club!