Summer is here again, and you might be thinking of taking yourself and your family to sunny beaches or lakeside sojourns. But with the pandemic still underway, it might be a good idea to play it safe and stay home.
But another year of vacationing at home doesn't have to be dull — and it doesn't have to be uncomfortable, either. Here are a few things that can help get your home ready to go for any serious staycation activities you've got in mind.
Deep Clean Your Home
If you haven't done your spring cleaning this year, settle for summer cleaning instead. This will eliminate all the debris built up over the winter and is an excellent opportunity to free your house of anything you don't need. So, get ready to dust and scrub everything down, from your bathroom and kitchen fixtures (dishwasher and exhaust vent included) to your garbage disposal and even the screens on your windows.
Do Some Pest Control
One common summer irritant is pests, so ensure that your home is free from any spots that bugs can claim as their own. A good spray should have you covered, as well as clean and well-fastened window screens. And, of course, you can always opt to have a professional come over and bug-proof your house for you.
Clean Your Baseboards
As you work towards a dust and bug-free home, check on your baseboards, too, as they're often neglected. If you're allergic to dust, you'll find that taking the time to get on your knees and wipe down that trim even just once a year will be worth the effort. And if there's a gap between it and the wall, re-caulking it will help prevent future dust build-up, too.
Ensure Proper Ventilation
The summer heat is another thing that can exacerbate allergies and cause a surge in your electricity bills. That's why it's crucial to conduct seasonal maintenance tasks in time for summer, such as replacing your air conditioner's filter and cleaning out your kitchen exhaust filter. By making sure your heating, ventilation, and air conditioning (HVAC) systems are clean and fully functional, you get optimal performance while keeping energy costs down — and lower your risk of fire hazards, as well.
Speaking of fire hazards, make sure to check on your smoke and carbon monoxide detectors. Dust can accumulate there, too, which can also impact their sensitivity.
And while you're at it, you might want to consider switching to a smart thermostat and detector system. These automatically let you know when maintenance is needed, can be controlled remotely, and are more energy-efficient, keeping your bills down no matter the season.
Clean Your Gutters
Another essential task is to clear your gutters and downspouts of any debris. This prevents them from turning into breeding grounds for mosquitoes and can also increase your home's lifespan. If your gutters direct water toward your home's foundation, you may later experience expensive leakage and foundation problems.
Set Up Outdoors
Finally, you can easily prep your lawn and backyard for extensive summer use with a bit of tidying up. Power-washing your pavements, for instance, can get rid of any grime and make your driveway and sidewalks look good as new. You can also do some simple landscaping by ridding your garden of dead plants, planting some in-season blooms, and mowing your lawn to a consistent blade length.
But, of course, no summer setup would be complete without the proper furniture. Get out your pool chairs and inflatables, set your grill up for barbecues, and buy (or build) a fire pit for evening festivities. Break out the patio furniture — sofas, tables, you name it — and set them up for optimal use. And you don't even need to worry about them getting ruined by summer showers: our outdoor furniture covers have your back!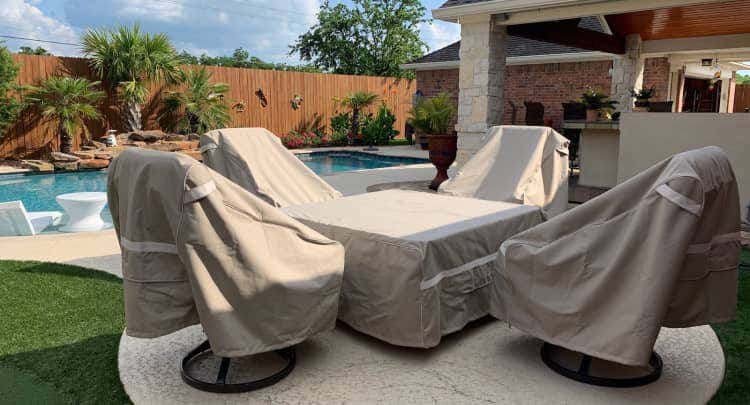 Ultimately, with a little hard work and elbow grease, you can have a fresh and vibrant summer, even if you're just at home.
Guest post by Allie Cooper
---
Want updates on new blog posts, current sales, new product releases, and more? Stay in touch! Like our Facebook page, follow us on Instagram (@thecoverstore) and Pinterest, and join Cover Club!