Originally posted July 2017, updated May 2021
When the sun is shining and the sky is clear, it's easy to forget that outdoor protection is still necessary during the summer. Just because it's not raining or snowing doesn't mean that your patio furniture is immune to damage. Leaving your backyard items exposed all summer long could mean you'll be buying more when spring rolls around.
Should I Cover My Patio Furniture During the Summer?
Yes! Understanding the potential harm your patio set could experience this summer is key to choosing the patio protection that's perfect for you. Let's take a look at some of the top risks facing your furniture during the summer (and year-round!).
Aesthetic Damage
Fading is the number one issue your outdoor furniture will face this summer. Any upholstery that's overly exposed could quickly lose its color, along with certain metals and woods becoming oxidized and acquiring blemishes.
Wood furniture will quickly fade and become water-damaged unless it is adequately protected. If you anticipate extreme temperatures, move your furniture under a covered patio, garage, or use a patio furniture cover.
For more information on caring for your outdoor furniture, read our post on How to Take Care of Outdoor Furniture. Many aesthetic damages can be corrected, but, as always, it's best to prevent the damage from happening in the first place.
Structural Damage
The heat of summer can cause structural weakness in your patio furniture. The expanding and contracting of woods and metals can mean your items lose quality over time.
While you may not notice the effects of this after one summer of use, structural damage in your outdoor furniture will begin to show itself over time. If left unprotected for long periods, the summer heat will leave you with broken furniture after a couple of seasons.
Damage from Nature
While damage from rodents and other animals is a year-round concern, the summer brings many other insects and critters that cause additional headaches. You can save them from nests, bird and rodent droppings, and dead insects by covering your belongings. Have problems with squirrels chewing up your furniture? Check out these tips on how to humanely keep squirrels away from your patio furniture.
Dust and dirt are a persistent, unavoidable issue in the dry heat of summer. Utilizing a cover can at least mean you get to relax without having to wipe down your cushions first.
Furniture Warranty
If your outdoor furniture has a warranty, there's a good chance it won't cover the damages we mentioned above. By using a cover, you can ensure your warranty is there for when you need it.
The Best Cover for Your Climate
All of our outdoor covers provide excellent protection against all types of weather, but some are better suited to specific climates. Find your geographic region below to see which of our cover collections is right for you.
Northeast
The Northeast typically gets precipitation year-round. With snowy winters, rainy springs, and humid summers, it's crucial to have a water-resistant and breathable cover.
If snow and rain are your primary concerns, our Ultima or Prestige collection is the way to go. These covers have top-rated water resistance and durability, meaning they can stand up to the harsh northern storms. Ultima and Prestige are also solution-dyed, making them fade-resistant through hot summers.
Ultima covers are perfect for areas with moderate to high rain and snow, moderate to high direct sunlight, and moderate to high humidity.
Prestige covers are ideal for areas with heavy to extreme rain and snow, heavy to extreme direct sunlight, and heavy to extreme humidity.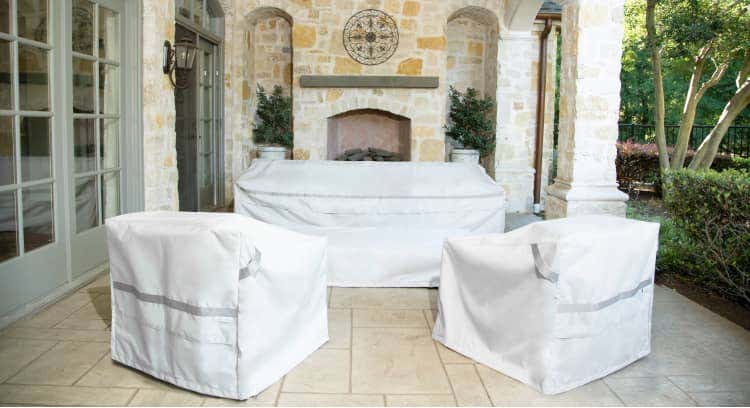 West
If you live on the coast, you most likely face cool, wet winters with dry, cool summers. Those living more inland will face cool and dry temperatures year-round. While the mountains typically have cool and dry summers, winters bring heavy snows and cold weather.
For coastal dwellers, you'll need to have a cover that is breathable for the winter weather and UV-resistant for the summertime. Our Elite collection is perfect for areas with moderate direct sunlight, low to moderate humidity, and moderate to high rain and snow.
If you live more inland, a cover from our Classic collection will offer you the protection you need. These covers are ideal for moderate to high rain and snow, low humidity, and moderate to direct sunlight.
Since living in the mountains brings heavy snow in the winter, we recommend using one of our heavier-duty Ultima or Prestige covers. These collections are great for areas with heavy rain, snow, and humidity.
Southeast
Humid and sub-tropical, the Southeast has short and mild winters with hot and humid summers. It typically rains throughout the year, so water resistance and breathability are must-haves.
If humidity and sun are your primary concerns, we recommend our Ultima collection. These covers will offer you excellent protection throughout summer and winter weather, as they are fade-resistant, water-resistant, and UV-resistant.
Southwest
Similar to the Southeast, the Southwest has mild winters and hot summers. However, the Southwest has less precipitation than the Southeast, so summers tend to be more dry than humid.
Our Elite and Classic collections are great for areas with mild to moderate conditions. If you live in an area that regularly faces intense direct sunlight, you may want to consider our Ultima collection to minimize any potential cover fading.
Midwest
With humid summers and cold, snowy winters, your furniture cover needs to be breathable and durable.
If you live in the Midwest, you probably spend as much time as possible outdoors in the summer before having to lock yourself away for the winter. With that in mind, you'll want a cover that can easily be taken on and off during the summer yet still holds up to the harsh winter storms. Our Elite or Ultima covers will do the job for you.
Elite is lightweight while still being durable and is great for areas with moderate to high rain and snow, moderate direct sunlight, and low to moderate humidity. Ultima is constructed of a heavier material than Elite, making it more challenging for quick application and removal. However, if you are concerned about the heavy snow and potential water damage to your furniture, Ultima covers are the way to go.
Patio furniture and grills are typically used the most in the summer, making protecting them feel like a pain. But by investing in a cover, you will end up saving yourself time and money in the long run by avoiding intense cleaning and repair costs.
---
Want updates on new blog posts, current sales, new product releases, and more? Stay in touch! Like our Facebook page, follow us on Instagram (@thecoverstore) and Pinterest, and join Cover Club!