Having friends and family gathered around the fire pit is always a great time. What's not fun is having to constantly clean debris like fallen leaves or water-soaked wood out of your pit. A fire pit cover can step in to save you cleaning time and help protect your fire pit from the elements. With a broad range of fire pit styles – stone, gas, or metal – this guide aims to help you determine your top priorities in fire pit protection so you can spend more time enjoying the outdoors.
Do Fire Pits Need Covers?
The simple answer is "Yes!" No matter where you live, it is crucial to keep your fire pit covered when not in use. A cover not only extends the longevity of your fire pit but also saves you time and money. The weather can take a toll on your fire pit in many ways, from water and sun damage to your fire pit filling with debris.
Gas Fire Pits
Gas-powered fire pits are especially susceptible to rain damage due to valves and internal electronic components. Moisture seeping into your gas-powered fire pit can result in costly repairs or even complete replacement in extreme cases. Structural damage due to rust will also eventually occur with prolonged exposure to water and moisture.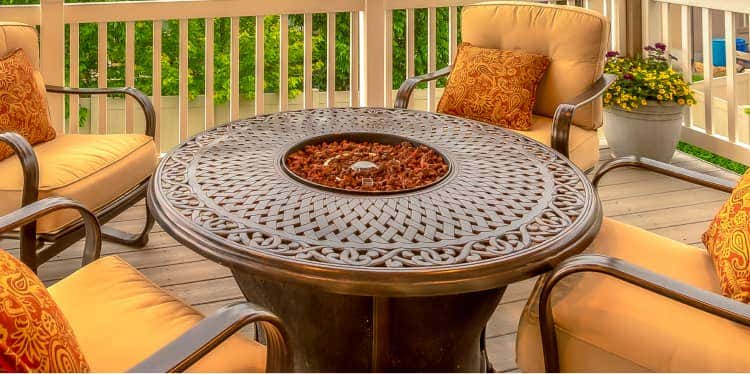 Metal Fire Pits
When you think of metal fire pits, you may think they are tough enough to withstand the outdoors without any worry. However, water and moisture will inevitably lead to rust. The question is not if, but when? Keep your fire pit covered when not in use to keep it looking and performing its best.
Stone Fire Pits
Though rust is not a concern for stone fire pits, they can still become dirty with algae and dirt if not covered. Keeping your pit protected will also prevent any falling debris and water from filling the inside. Spend more time relaxing outside and less time cleaning up your fire pit.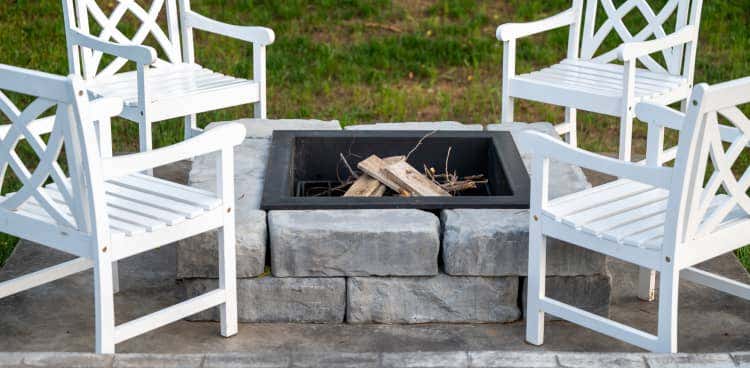 Protective covers are also key for the winter when you may not be using your fire pit as much. Follow our tips on winterizing patio furniture so your fire pit is protected all year long.
Now, how do you find the right cover for you?
What to Consider when Choosing a Fire Pit Cover
When choosing a fire pit cover, a few key factors to consider are the type of fire pit, your local weather conditions, and what kind of cover you want.
Types of Fire Pits
The two general types of fire pits are above-ground and in-ground. Although both types need protection, they each have unique needs and caveats to consider.
Above-ground fire pits are the most common and share the same basic shape and design. These include gas, metal, and stone firepits. Though stone pits are usually connected to the ground or built right on top of it, they still fall into this category.
In-ground fire pits will usually be homemade and dug a couple of feet into the ground with very little, if any, exposure.
Types of Covers
After determining whether your fire pit is above ground or in-ground, you can more easily judge between the features of metal and fabric fire pit covers.
Metal Screen Covers
When people think about metal covers, an image of a mesh dome that sits on top of the pit usually comes to mind. Fire pit sets sold at big-box retailers commonly include these metal covers. While they offer protection from flying embers or sparks of wood, they do little to protect your fire pit from the weather.
Metal Snuffer Lids
Solid metal covers without the mesh or any holes, often referred to as fire snuffers, offer more protection but are only intended to cut off airflow to put out your fire safely. While steel covers are useful and necessary, they aren't intended to serve as a long-term storage and protection solution. One exception is in-ground fire pits that have no exposed or protruding structures from the ground. In this case, a solid metal cover protects the only opening through which water, leaves, or other debris may enter your fire pit.
However, fire pit snuffer lids are prone to rust. You can use a fabric or canvas fire pit cover along with a snuffer lid to protect your fire pit along with its lid.
Fabric Covers
The most common, practical, and cost-effective covers are fabric covers. They are lightweight, easy to store, and are much cheaper than solid metal covers. Fabric fire pit covers are made from weather-resistant outdoor materials, usually polyester blends or vinyl. Another perk of fabric covers is that they are available in various fabrics and colors to fit your outdoor style.
When shopping for fire pit covers, you'll typically see two options — full-length covers or ones that only cover the top of the fire pit. Each kind serves its own purpose depending on your needs.
Full-length fire pit covers protect your entire fire pit, including the leg base and any electronic parts, making them ideal for gas-powered pits. You should also opt for full coverage if your fire pit is in a spot that is regularly exposed to intense weather conditions. Full covers are also great for keeping fire pit legs free from rust and lurking spider webs or insects.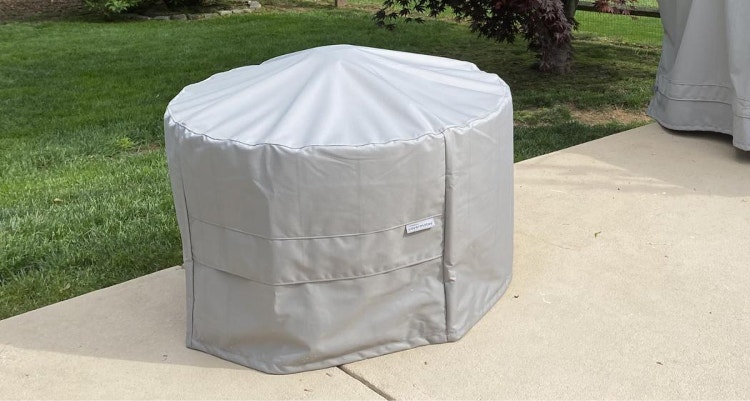 Top-only fire pit covers are ideal for metal or stone fire pits. While this type of cover offers less protection, it is easier to pull on and off and will still keep water and debris out of your pit.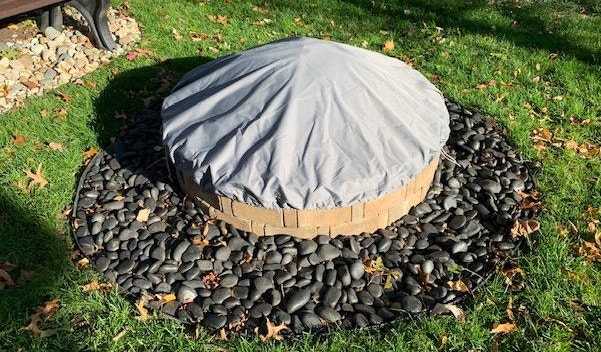 Weather
Before you choose which material is best for you, consider your local weather conditions. The people that live in California will have drastically different needs than someone in Michigan. The elements can take their toll on the cover, affecting its performance and longevity.
For more rainy or wet climates, fabric covers with bottom ventilation openings prevent the accumulation of condensation, a key feature to keep in mind if you have gas fire puts with electronic parts. If sunlight is your primary concern, look for a cover that is fade and UV resistant.
Material Choice
Finding the best material to suit your needs can feel overwhelming. You want to find a balance between price, durability, and performance.
If budget is your primary concern, a vinyl fire pit cover will be your best option. Vinyl covers are cost-effective while still offering excellent water resistance. Look for a cover made of thick, commercial-grade vinyl to make sure you are getting the best value.
Polyester covers last longer than vinyl covers but are more expensive. Luckily, polyester covers come in various grades, meaning you can choose the right one to fit your needs and budget. One key element to look for is fabric denier. The higher the denier, the stronger the fabric. If you live in an area with intense weather conditions, opt for a cover with at least a 600 denier rating.
We offer four materials for our fire pit covers — one vinyl and three polyester. Use our material comparison chart to see the differences and help you pick the right one for you.
Preparing Your Fire Pit for a Cover: How to Clean Your Fire Pit
1. Clean Out Debris
The first step to getting your fire pit clean and ready to cover is removing all debris. Remove burned remnants of wood, coal, leaves, ash, and anything else that may have fallen in.
Tip: To avoid getting too messy and save some time and effort, you may want to use a shovel to get debris out from in-ground and stone fire pits.
2. Clean the Surface
Stone
Mix water and hydrochloric acid in a large container with a 1:9 ratio.
Use rubber gloves and a durable scrub brush to clean the interior and exterior.
Use a garden hose to spray down the fire pit and let it completely dry.
Metal
Use mild dish soap, hot water, and a scrub brush to clean the inside and outside of the fire pit.
Wash off any remaining soap with a hose and thoroughly dry with a rag. Any standing water left behind can result in rust.
Gas
Use a cloth with mild dish soap and water to wipe down the interior and exterior of your fire pit.
Immediately use a dry rag to remove moisture.
Note: Never use a hose on a gas fire pit.
3. Storage
Ensure your fire pit is clean and fully dry.
Place your cover on your fire pit and securely fasten any drawstring or straps.
How to Clean Your Fire Pit Cover
Some simple steps will ensure your cover looks and performs its best year after year.
Use a rag or soft bristle brush to remove any dirt or debris from the surface.
Spot clean soiled portions of the cover with a fabric cleaner designed for patio furniture covers.
Let the cover completely dry before putting it on your fire pit.
For added security, put your cover in a storage bag while not in use to prevent damage or accidental stains.
Note: Use a fabric protector for older covers that may lose some of their water-resistance. This will restore the lost protection and keep the cover like new.
Remember that regardless of the cover, the perfect fire pit cover will be the one that best fits your needs based on climate and your fire pit style. Use our how to measure guides to learn how to pick the right sized cover for you.
---
Want updates on new blog posts, current sales, new product releases, and more? Stay in touch! Like our Facebook page, follow us on Instagram (@thecoverstore) and Pinterest, and join Cover Club!