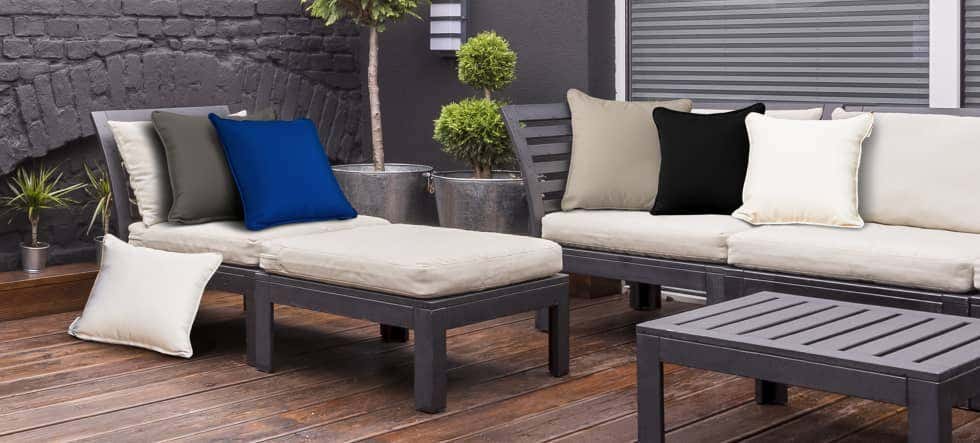 When it comes to picking the right outdoor pillows for your patio or deck, it can almost be as important as the furniture itself. It needs to be durable, stylish, and, of course, comfortable! This guide will show you the ins and outs of shopping for the perfect outdoor pillows to fit your needs.
What to Consider When Buying Outdoor Pillows
Weather
The weather conditions you live in cannot be overlooked. This will largely dictate the wear and tear your pillows can withstand. Suppose you live in a rainier, humid climate. In that case, a water-resistant material is crucial to preserve your pillows dry and ready to use. On the other hand, sunny places like Arizona need high UV resistance to prevent deterioration and brittleness, a common issue with cheaper fabrics like vinyl.
Price
When it comes to choosing outdoor decor, you tend to get what you pay for. The quality of the pillow will largely determine its comfort, durability, and longevity. Now we're not saying you need to break the bank, but just keep in mind that if a pillow is cheap, there might be a reason why. Inexpensive pillows may deteriorate faster and need replacing more often, leading to a higher cost in the long run due to constant repair and replacement.
Upkeep
Something else to consider is how much time you're willing to spend cleaning and maintaining your pillows. Dirt, pollen, and other debris can build up to make your pillows look like the last thing you want to relax on. Will you keep a schedule of a weekly wipe down with a mild cleaner, or are you more of an "I'll get around to it someday" type of a person? If you lean towards the latter, we know the answer to your next question: Yes, you can machine wash select outdoor pillow materials. However, you shouldn't throw the pillow insert into the washing machine, only the cover. Keep in mind that not all outdoor fabrics are washing machine safe, so you'll want to check the tags to make sure. (Look no further for a machine-washable outdoor pillow, we have exactly what you need.)
Warranty
Now we all know accidents happen, and we never know when they will occur. That's why it's so important for your outdoor pillows and patio furniture to have warranties. We think it's a good idea to have at least a two-year warranty just to give yourself some extra protection because chances are, the first signs of wear and tear won't start occurring until after the first year.
Color & Design
While we tend to focus on more functional details of your outdoor décor, don't forget to consider how it compliments your outdoor furniture. Many companies will have a wide variety of colors and patterns, so you need to consider the type of aesthetic you are going for. If your furniture is bright and bold, maybe it's best to go with a more subtle pillow to act as an accent. Try keeping a photo of your existing patio décor on hand as an easy reference point when shopping.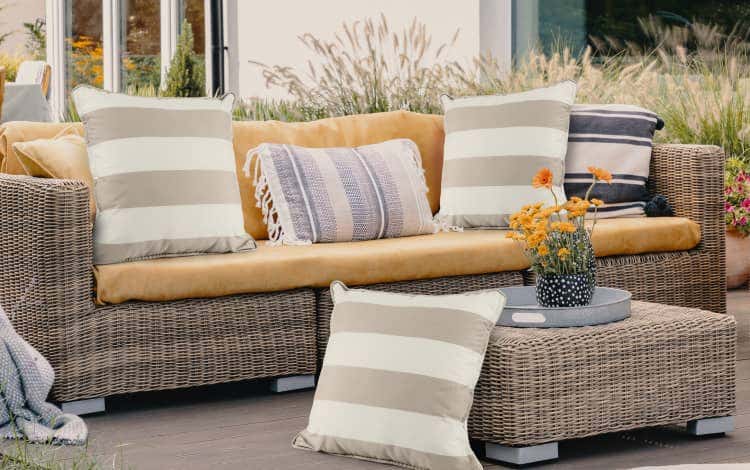 Material & Benefits
Identifying the right material to fit your needs is the single most important aspect to consider when shopping for an outdoor pillow. It determines durability, longevity, comfort, cost, and so much more. There is a multitude of options, and each has its pros and cons for your lifestyle. Try to find the balance between durability, comfort, and price.
What are outdoor pillows made of? There are infinite fabrics and blends, which might make finding the right match feel overwhelming. The most common are vinyl, polyester, and cotton canvas. Each offers specific benefits that may help determine the right material for your needs. As you review your options, keep a physical or mental list of your priorities. These might include water or fade resistance. Compare your priorities with your budget to evaluate each fabric and pick the pillows that give you the best value.
Overall, the most common fabric of choice is polyester due to a well-balanced list of features. Polyester offers a soft and stylish look without sacrificing performance. Due to its durability, you'll even see it used for outdoor patio furniture cushions, outdoor furniture covers, and more.
Benefits of Polyester Pillows
Water-resistant
Scratch-resistant
Easy to clean
Mold and rot-resistant
Lightweight
UV & fade resistant
Benefits of Vinyl Pillows
Water-resistant
Inexpensive
Easy to clean
Lightweight
Easy to find at most retailers
Benefits of Cotton/Canvas Pillows
Softest material
Breathable
Widest variety of colors and patterns
Note: cotton or canvas pillows are not water-resistant, so they need to be taken indoors or stored in a storage bag during inclement weather.
How to Clean Outdoor Pillows
How do you clean outdoor pillows? Preventing them from getting dirty or damaged in the first place, of course! Now we know they are designed to be outdoors, and things happen, but it just helps to take a few extra steps to keep your pillows looking and feeling their best for as long as possible. Here are a few proactive measures you can take:
Protect Your Pillows from the Elements
I know you're wondering, "Why? Aren't these pillows meant to be outside ? This is the exact reason I bought them". Look at it this way, yes, the pillows are going to be exposed to the elements in your yard, but they aren't invincible. Though they can be water-resistant, stain-resistant, and fade-resistant, it doesn't mean they can last forever. Even the most fade-resistant fabric will eventually lose its battle with the sun. Suppose you frequently use your backyard as your relaxation oasis or love to entertain guests during BBQs. In that case, it certainly makes sense to leave them out and available. But, if you know you're taking an extended break for a vacation or the off-season, it's always a good idea to put them away. Putting them in a storage bag during extended periods of non-use will do wonders to keep your pillows protected from the sun, water, dirt, snow, and more. Also, keep in mind, you want to make sure your covers are clean and completely dry before storing them to prevent any mold or mildew growth.
Regularly Clean Your Outdoor Pillows
Keeping a regular cleaning routine will make your pillows fresh and ready to use. There's no need to deep clean your pillows every time you use them. Simply dusting your pillows with a soft bristle brush to keep leaves and debris from becoming embedded into the fabric can have a great impact on preserving your pillows. (You should also do this with your patio furniture.) Another practical option that saves time is using a reliable cleaner monthly to keep your pillows from becoming soiled from continued use and exposure. A more frequent cleaning schedule may be required if your pillows are continuously exposed to the environment.
When it comes to a deeper clean, nothing is more effective than throwing your pillows into the washer. This feature isn't available with all pillows, but it's something to look for if you are interested in the lowest time and effort option. Materials like polyester, cotton, and canvas can generally be machine washed. When it comes to vinyl, it's best to use spot cleaners to avoid any damage like cracking or peeling. The setting required for each fabric will vary, so you will need to follow the manufacturer's care instructions. These are usually located on the tag inside your pillow cover.
Unfortunately, we have to accept that not all plans go exactly as intended. Even with a diligent cleaning regimen and safe storing, your pillows may still be damaged past the point of repair. Not to worry! The most common damage tends to be only surface deep. That means you can simply buy a replacement pillow cover from the manufacturer or any other company as long as the size matches your pillow insert.
With these tips, you should be able to find the perfect outdoor pillow that goes with your patio bench and relax all year long.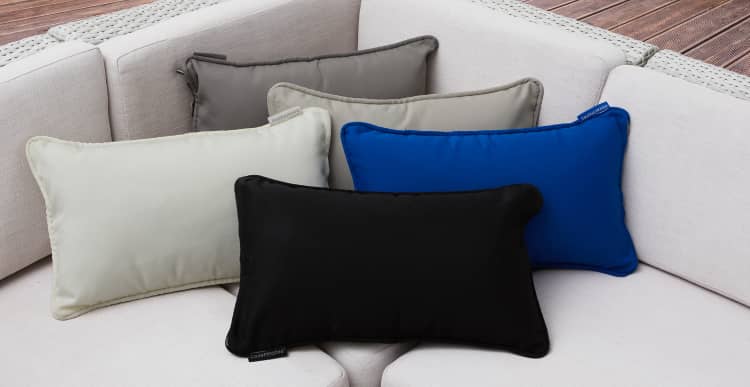 ---
Want updates on new blog posts, current sales, new product releases, and more? Stay in touch! Like our Facebook page, follow us on Instagram (@thecoverstore) and Pinterest, and join Cover Club!