Patio furniture is an investment you want to enjoy for years to come. Some sets can cost thousands of dollars, so you need to make sure it stays protected from the weather.
Our Prestige Collection covers are made of our strongest, most protective material — 900-denier Polyester. These covers are rated 5/5 for water resistance, UV resistance, wind resistance, durability, and fade resistance. They provide protection for your furniture in even the harshest conditions. No matter what climate you live in, it is worth it to invest a little extra in our highest rated covers, especially if you've already invested thousands of dollars in a new patio furniture set.
Prestige covers are available for seating and chairs, tables, fire pits, and select outdoor living items.
Prestige Features & Benefits
Breathability
You might think you need a waterproof cover to best protect your furniture. However, when water condenses under your cover, a waterproof cover keeps moisture trapped, leading to paint damage from rust, mold, and mildew. Breathable covers allow the water to evaporate through the cover.
All of our Prestige covers include covered mesh vents, which assists with airflow and ensures any water that gets through the cover quickly evaporates. Vents also prevent the cover from ballooning and blowing off in high winds.
Draw Cord Locking System and Buckle Straps
This adjustable system tightly draws around the cover to prevent ballooning and blowing off during high winds. Buckle straps add additional security during intense storms.
Dirt and Dust Resistance
A good cover keeps dirt, dust, pollen, and other debris off your furniture. Our Prestige covers offer superior protection in this realm, and are also easy to clean if they get dirty.
UV-Ray Resistance
UV-rays and heat can cause your patio furniture's paint job to crack and fade, which damages not only the aesthetic appeal, but also the structural integrity.
900-Denier Solution-Dyed Polyester
This tough material shields your patio furniture from harsh UV-rays, and is also highly fade-resistant.
Eco-Friendly Backing
All Prestige covers include a PVC-free waterproof backing. By not including chemical additives, the backing is both eco-friendly and highly water-resistant.
Built-In Handles
Handles make it easy to put on and take off your cover, and add a unique element of design.
Fits Well
While your cover is supposed to protect your valuables, ill-fitting covers can scratch against your furniture in the wind, or even blow off if not properly secured. Make sure there are no gaps between the cover and the item it is protecting or else pests can sneak in and make their nests in the cover. Choose a cover that fits snugly but not too tightly. A cover that is too tight can also damage the paint job and structural integrity.
To find the perfect fitting cover, be sure to accurately and carefully measure your furniture by following our how to measure guides before purchasing.
Aesthetically Pleasing
You want your covers to be protective, but you don't want them to be an eyesore. Luckily, the Prestige Collection is crafted for customers who value style as much as protection. These covers feature an elegant design with contrast piping and webbing and superior color fastness to reduce fading, keeping your covers looking fresh all year long.
7-Year Warranty
All of our Prestige covers come with a 7-year warranty so you can purchase with confidence.
Climates Where You Need Prestige Covers
The Prestige Collection offers industry-leading protection, so these covers are great in any climate. But these covers are especially important in harsh climates.
Prestige Covers are Recommended for Climates with:
Heavy to extreme wind
Heavy to extreme rainfall
Heavy to extreme direct sunlight
Heavy to extreme snowfall
Heavy to extreme humidity
Cases You Need Prestige Covers
You need Prestige covers in harsh environments, but here are some of the specific cases where Prestige covers are the best option.
Desert Sun
Do you live somewhere where the sun beats down all summer long? You want to use your patio furniture when it cools off in the evenings, but heat and UV-rays can cause the paint job on your furniture to crack. That's where Prestige Covers come in to offer excellent UV-resistance and prevent fading and cracking of your outdoor furniture.
Snow Storms
Wintertime can be dangerous for outdoor patio furniture. High winds, intense snowstorms, and ice can wreak havoc on your furniture. If you have space, it's always a good option to store your valuables inside. However, that is often not a viable option. Prestige covers offer the best protection available for your outdoor furniture. Plus, with top-rated features such as buckle straps and a draw cord locking system, these covers are sure to stay on during extreme weather conditions.
Thunderstorms
Prestige covers provide optimal protection during heavy rain by having features specifically designed to resist water damage. If you leave your outdoor furniture uncovered during thunderstorms, it can result in rust, mold, mildew, and even worse damages.
From Our Customers
"This is a superb product and I know for sure it will protect my furniture for years to come because of the incredibly protective fabric. It's not until you actually receive the product that you realize how sturdy, protective, and well-made it is. Plus it looks very handsome on my deck!"
Claire, New York
"Excellent material and workmanship. Never before have we been able to find a cover that lasted through one season. This one should last for years!"
Ann, Michigan
"I am using this product in Seattle, the cover is made out of heavy material, fits well, and repels water (no puddling of water). AND looks great!"
Lewis, Washington
"The Prestige outdoor chair covers are high quality, fit my chairs perfectly and secure to the chairs very well so that even a very strong wind will not blow them off the chairs."
Jim, New Jersey
"Exceptional quality and beautiful. Secured readily to my Adirondack chairs. Has withstood severe winds and gusts without budging!"
Gail, Massachusetts
Customer Photos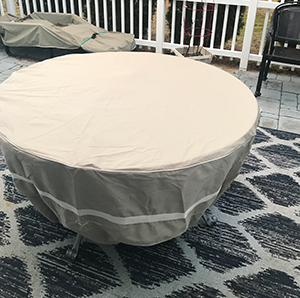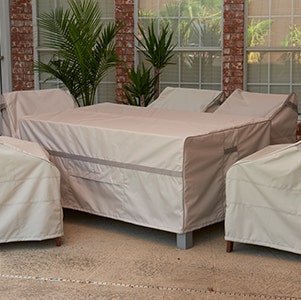 ---
Want updates on new blog posts, current sales, new product releases, and more? Stay in touch! Like our Facebook page, follow us on Instagram (@thecoverstore) and Pinterest, and join Cover Club!