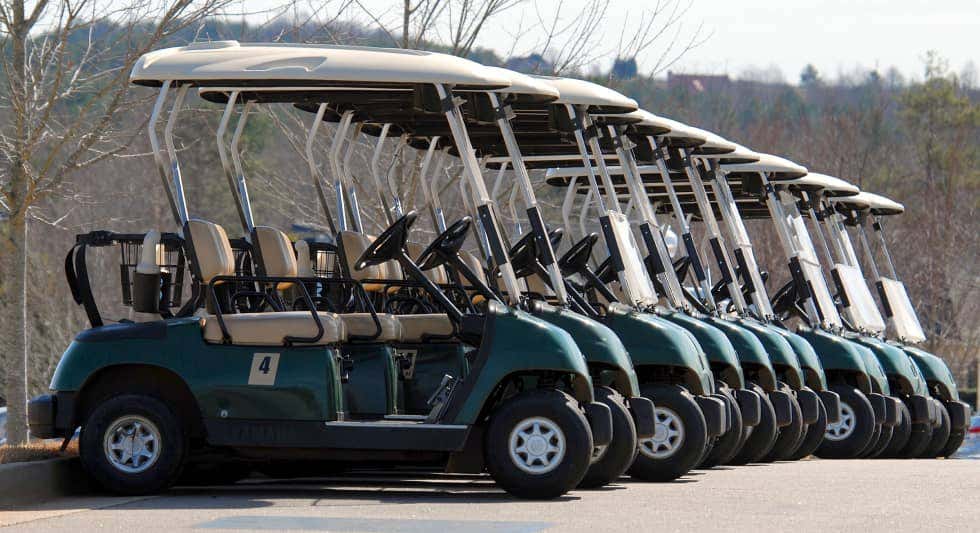 Dusting, removing insects, and drying puddles of accumulated moisture every time you wish to use your golf cart can turn any evening of fun into a cumbersome experience. Whether you store your golf cart outside or inside, a cover can help protect it from simple things like dust build-up to more costly damages like scratches. With several types of covers in the market, this guide will help you determine which golf cart cover is ideal based on your preferred features for fabric, resistance from the elements, and ease of use.
Do Golf Carts Really Need a Cover?
Just like cars, golf cars are a hefty investment and need to be treated as such. The elements can take their toll on an uncovered golf cart, even more so than a car or truck. Due to the absence of doors and side windows, the interior of golf carts suffers more exposure to the weather. If you outfitted your golf cart with custom premium detailing, you would benefit from protecting the upholstery and the steering wheel with a weather-resistant cover. If you want your golf cart to last and look its best, you need to cover it.
Golf cart covers are also helpful during winter when you aren't using your cart as much. A protective cover can keep your cart ready for springtime golf games and summer joyrides.
When Should I Cover My Golf Cart?
You can cover your golf cart 24/7 if you want. If the weather is unpleasant, use a golf cart enclosure while you're driving to keep out rain and bugs.
When it comes to storage, you should always keep your golf cart covered, even if it's inside a garage. A high-quality cover will save you time and money so that you can spend less time cleaning and more time on the golf course or driving around your neighborhood.
Types of Golf Cart Covers
Golf cart covers are primarily divided into those designed for when your golf cart is in use and when your golf cart is in storage.
Enclosures are a preferred option when you seek to have a more pleasant experience for yourself and your guests while out riding. Sitting on wet upholstery, having your hat blown off with a gust of wind, or slapping away a cluster of bees is a highly uncomfortable riding experience for you and your guests.
Therefore, enclosures help maintain the comfort of the riders in the interior by combining dark mesh, plastic, and fabric partially surrounding the golf cart. Clear covers help deter pests from lurking near seats and reduce direct exposure to the elements. Because enclosures are intended for when the cart is in use, they usually require exact sizing and careful installation of flaps or doors.
When storing your golf cart, you will want to use a more traditional cover that provides full protection. Unlike enclosures, they surround both the interior and exterior of the cart to protect it from elements, scratches, or pests. Some covers, if long enough, will also protect your tires from the brutal sun. This prevents discoloration and dry rotting, so your cart is always ready to use.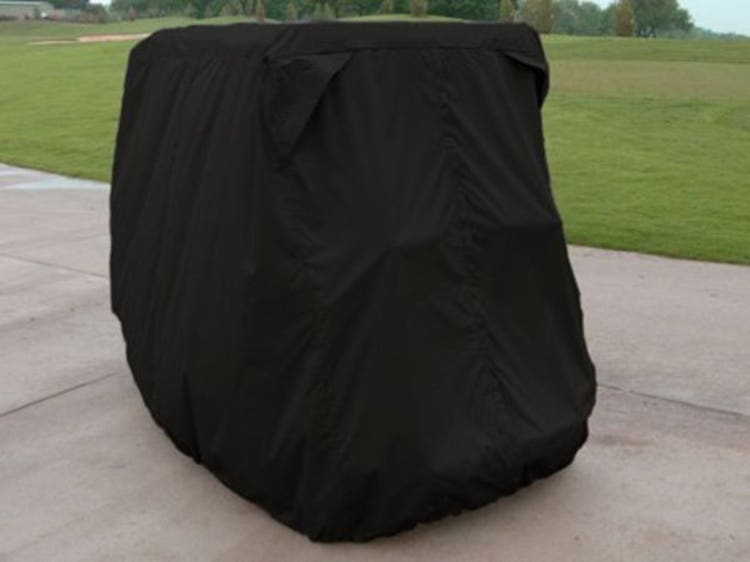 How to Choose Your Golf Cart Cover
After choosing the style(s) of cover that best fits your needs, there will be a few factors to consider – size, material, and climate needs.
Size
When picking the right size storage cover for your golf cart cover, it's crucial to get the closest size to maintain a nice look and ensure the cover can perform at its best. A loose-fitting cover can be filled with pockets of water on rainy days and allow for water to penetrate the material. On top of that, extra fabric can blow around on windy days and cause the cover to rub excessively against the paint.
As mentioned, clear plastic or mesh covers require a closer fit than a storage cover. Check with the manufacturer of your golf cart to see if they have any recommendations, or find a site that allows you to search by your brand and model.
Visit How To Measure Your Golf Cart for an easy-to-follow measuring guide.
Material
Choosing between all of the available fabric types can be a confusing mess. To simplify the process, you can look at the two most popular material choices: vinyl and polyester. We will go over a few pros and cons of each to help you decide which is best for your situation.
Vinyl
Vinyl is a convenient choice since it is lightweight and easy to take on and off your golf cart. This fabric is also great for areas with light to moderate rain. One of the most significant drawbacks to vinyl is its lack of UV resistance. In hotter climates like Florida, Arizona, and California, vinyl lacks the durability to be used consistently.
Vinyl covers are best used for indoor storage in areas that get a lot of sunlight. If you plan to park your golf cart in a garage, shed, or shade, you can save some money by opting for a vinyl golf cart cover. Just keep in mind that you may have to replace it sooner than you would with a polyester cover.
Polyester or Canvas
Polyester and canvas are versatile materials that come in various colors and weights, so you never have to settle. With that being said, the thicker the fabric, the more durable it tends to be. Unlike vinyl, polyester has a much higher UV resistance, resulting in longer and more dependable protection regardless of the climate.
Polyester also outperforms other fabrics in water resistance and wind resistance. One con for polyester can be the price compared to other cheaper vinyl options. Considering the added protection and longevity, in addition to the investment you made on your cart, we encourage you to go with a polyester cover.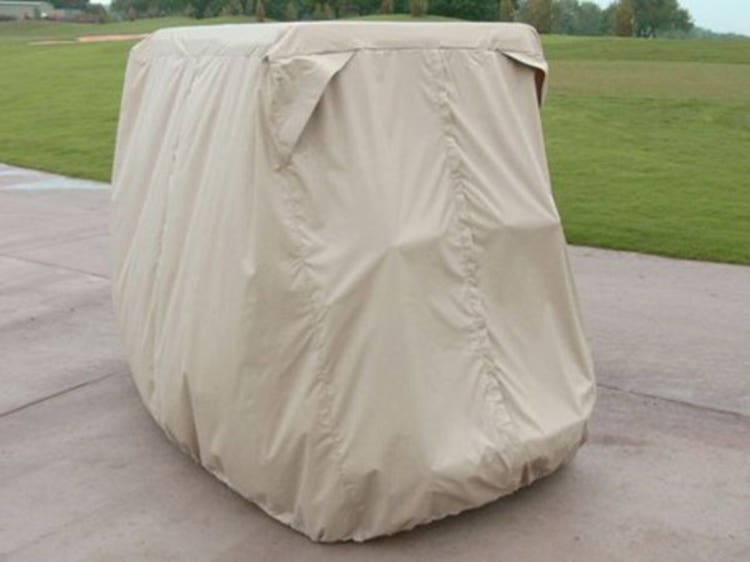 How to Install a Golf Cart Outdoor Cover
The ease you put on and remove the cover helps make it easier to protect your golf cart. After all, if the cover is hard to use, you will likely not feel inspired to use it. A golf cart storage cover is the simplest to install, with enclosure covers requiring detailed installation directions for various attachments.
Using Golf Cart Storage Covers:
Identify the front of your cover. There should be a label for the front and rear of the cover on the inside seam.
Unzip the cover.
Pull the cover over the roof of the golf cart from front to back.
Pull down any remaining fabric on all sides to ensure your cart is fully protected.
Once fully on, zip the cover back up and use any drawcords to keep the cover secure.
For enclosure covers, check with the manufacturer for installation directions.
Storing Your Golf Cart Cover
Keeping your cover in a handy storage bag will not only save space but will keep your cover clean and performing its best. Bags provide a practical solution to carry your cover with you if you are among the many who forget or lose the cover after returning from a ride. For added protection, use a weather-resistant storage bag to prevent any accidents.
In Summary:
Use an enclosure cover for comfort and protection while riding.
Use a weather-resistant storage cover to protect the interior and exterior of your cart while not in use.
Consider the size of your cart, the climate you live in, and the material type that fits your budget and needs.
Shopping for a golf cart must have been a headache, but there is no reason why choosing a cover should too. Protect your investment and costly custom detailing with a cover that fits your lifestyle and needs.
---
Want updates on new blog posts, current sales, new product releases, and more? Stay in touch! Like our Facebook page, follow us on Instagram (@thecoverstore) and Pinterest, and join Cover Club!