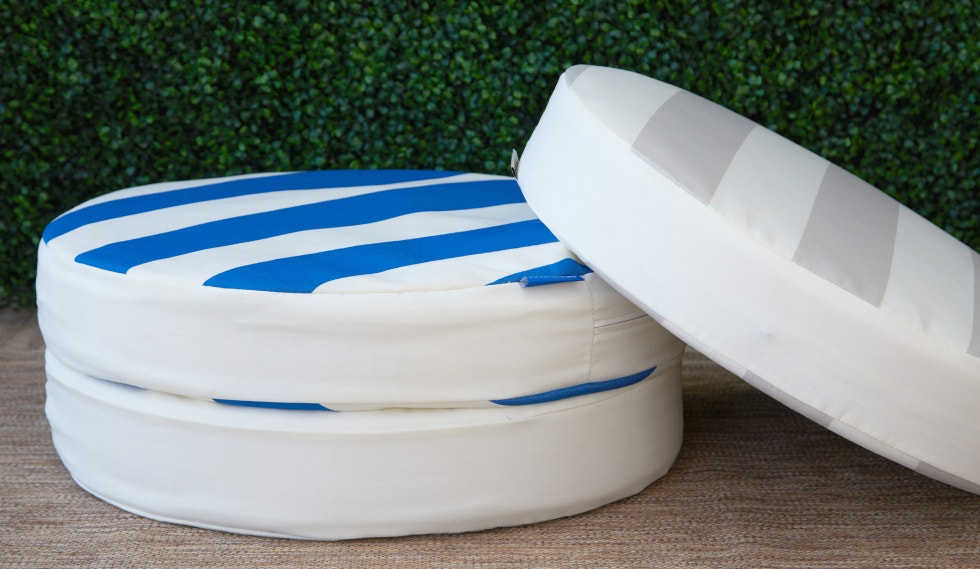 As the seasons change, so do our outdoor activities and living spaces. Whether you have a cozy outdoor lounge area or a charming patio, you likely have outdoor cushions and pillows that enhance the comfort and aesthetics of your outdoor furniture. However, when the off-season arrives, it's essential to properly store these items to protect them from the elements so they are clean and ready to enjoy. We'll discuss why storing your cushions and pillows is important and explore pillow and cushion storage ideas.
Why Should You Store Outdoor Pillows & Cushions?
Storing your cushions and pillows during the off-season offers several benefits:
Protects Against the Elements: Exposure to rain, snow, and sunlight can cause cushions and pillows to deteriorate quickly. Storing them away safeguards them from weather-related damage and ensures you can comfortably relax on your patio at a moment's notice.


Prevents Mold and Mildew: If left exposed to the elements, mold and mildew can develop due to excess moisture trapped in your patio cushions and outdoor pillows. The stains left behind will make your cushions look weathered and need a deep cleaning.


Save Time and Money: Over time, unprotected cushions and pillows will show signs of wear and tear due to UV rays, water, dirt, and more. Eliminate wasted time on repeated cleaning and money spent on replacement cushions and pillows with weather-resistant cushion storage.


How to Store Outdoor Pillows and Cushions
Now that you understand the importance of storing your cushions and pillows, let's discuss how to do it effectively using pillow storage bags and cushion storage solutions:
Gather Your Supplies: You'll need weather-resistant storage bags designed specifically for pillow and cushion storage. If you struggle to find storage bags to fit your cushions or pillows, try out custom size cushion storage bags to ensure you get the best fit.


Clean and Dry: Before storing, make sure your cushions and pillows are clean and completely dry. Remove any dirt, dust, or stains by spot cleaning or following the manufacturer's cleaning instructions.


Arrange Neatly: Organize your cushions and pillows neatly, placing them inside the weather-resistant storage bags. You can also store any additional pillow covers or cushion covers to ensure they all stay clean, protected, and organized.


Store Away: With your outdoor cushions and pillows safely stored inside a weather-proof storage bag, find a convenient location to keep them until spring. A few popular options include the garage, attic, shed, or patio.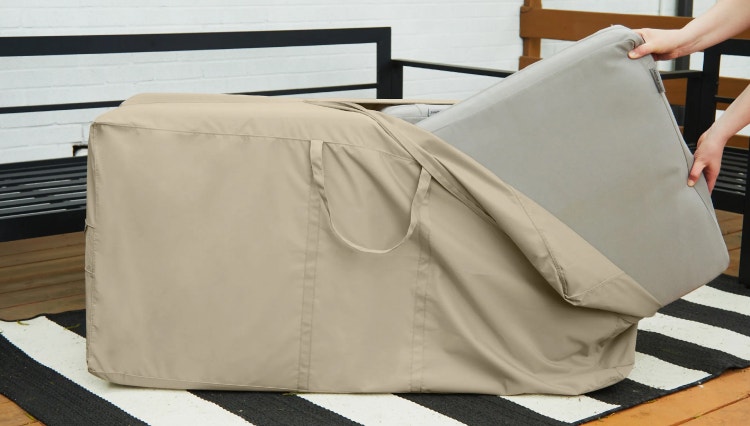 How to Clean Patio Cushions and Outdoor Pillows
Before storing your cushions and pillows, it's a good idea to give them a thorough cleaning:
Check Care Labels: Review the care labels on your cushions and pillows to determine the appropriate cleaning method.


Spot Clean: For minor stains or spills, use a mild detergent and a soft brush or cloth to clean the affected area gently.


Machine Washable: If your cushions or pillow covers are machine washable, follow the instructions on the care label. Use a gentle cycle with cold water and avoid overloading the machine.


Air Dry: Allow your cushions and pillow covers to air dry.


Properly storing your cushions and pillows during the off-season is a simple yet effective way to protect your outdoor investments. By utilizing cushion storage bags and keeping them clean, you can enjoy your outdoor cushions and pillows for years to come. Remember that the time and effort you put into storing and maintaining them now will pay off with comfortable, beautiful outdoor spaces when the warmer seasons return.
---
Want updates on new blog posts, current sales, new product releases, and more? Stay in touch! Like our Facebook page, follow us on Instagram (@thecoverstore) and Pinterest, and join Cover Club!