The Covermates Difference
---
All patio furniture covers are not created equal! Of course you already know that, but do you know why? We feel you have better things to do than to surf the Internet and compare quality, so we've listed below some of the issues we've discussed with our customers over the years. While we take a somewhat lighthearted approach to this, we do hope that you find the information valuable and use it when you make your patio furniture cover or grill cover buying decisions.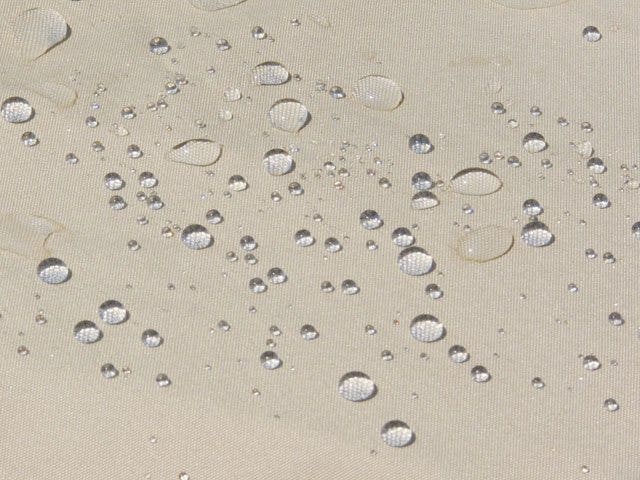 About Polyester
Properly treated polyester is the best material for furniture covers and it's our best selling fabric. It's lightweight but extremely durable, so it's used by many customers year round. Our polyester material is very unique. During production, it's treated with a special chemical that makes it highly water-resistant. This photo shows how the water just beads up on the material! We also apply two separate coats of polyurethane on the back side of the fabric. This creates a highly water-resistant barrier. Without this treatment, water will easily pass through the polyester since it's a woven product. Learn more about our Covermates Elite collection.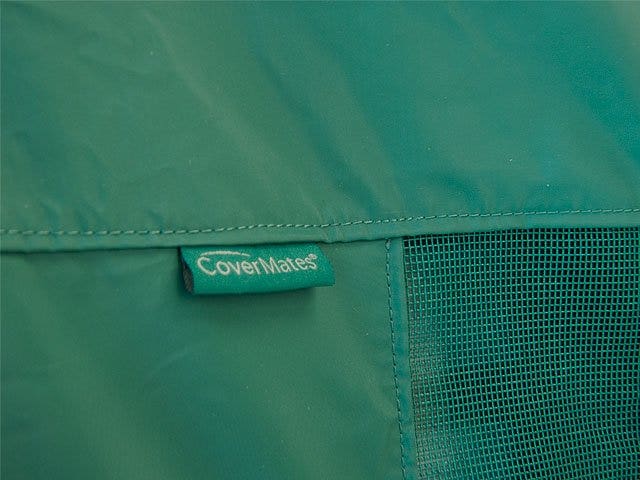 Durable 12-Gauge Vinyl
Laminated polyester lining is the best material to use for vinyl covers. Vinyl must have a laminated lining to withstand normal wear, tear, tugging, pulling and other stresses that a cover goes through during the year. Vinyl alone has no inherent strength and will puncture and tear if not laminated to a stronger material. Be aware that there are thinner 10 and even 8-gauge vinyl covers available in the marketplace. Unfortunately, our customers have told us that these thinner covers haven't held up. Our Covermates Classic vinyl patio furniture covers are a rugged, commercial quality 12-gauge vinyl with laminated polyester woven lining. Learn more about our Covermates Classic collection.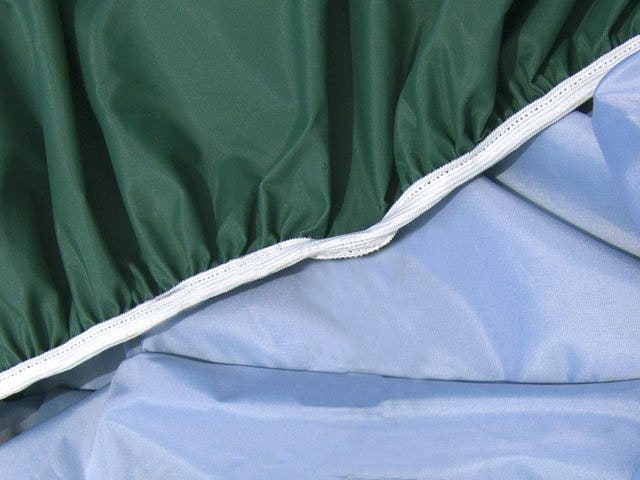 Our Lining
Lining is important because it allows the cover to be durable as well as tear and puncture-resistant. A vinyl or plastic patio furniture cover is useless without lining. Our polyester lining is laminated to the vinyl, which gives it strength and stability. It'll never fall apart and dries very quickly when it gets wet. Polyester also deters small animals from hiding under your cover. Fleece lining is not a good idea. Fleece lining, which is used used by many vinyl patio furniture covers, falls apart, leaving debris everywhere. In addition, when it gets wet, it takes forever to dry out. If it stays wet, mildew thrives. Even worse, rodents love fleece during cooler months because it's warm. And you don't want any surprises when you're pulling off your cover!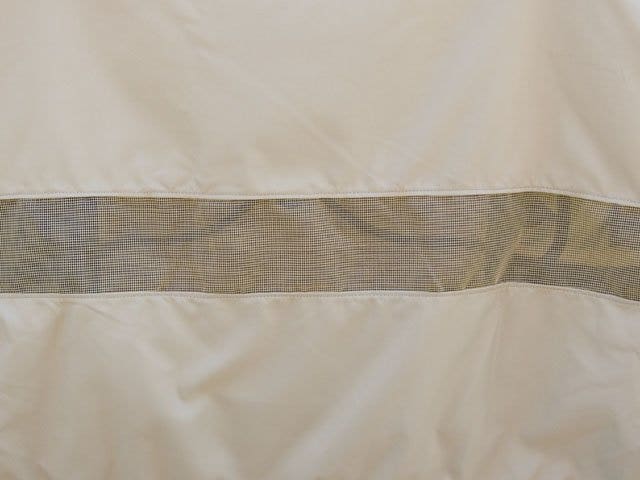 Built-In Vents
Vents are very important because they allow air to move throughout the patio furniture cover. This eliminates moisture buildup, which can cause mold and mildew, furniture rust, discoloration, and cushion damage. Vents also minimize ballooning on windy days, which can cause covers to blow away. Both our Covermates Elite and Classic lines of patio furniture covers have the built-in vent feature.
A Note About Vents
Some customers are concerned about mesh vents allowing water to pass through them. While this is possible during heavy storms, we've positioned the vents on only vertical surfaces and most moisture from normal rain, snow and dew will roll over the mesh instead of through it. Since most outdoor furniture is designed to be weatherproof, it's better to have good air circulation to prevent mold and mildew than it is to have 100% waterproof covers.
Fitting
A cover without pull cords or a strong elastic bottom is a cover that's no longer on the piece of patio furniture it's supposed to be protecting. Some patio furniture covers are designed to just drape loosely over patio furniture or barbeque grills. Others have tie downs that always come loose when it gets a little breezy. Our Covermates Elite outdoor covers feature an innovative elastic pull cord and locking system that creates a secure custom-fit.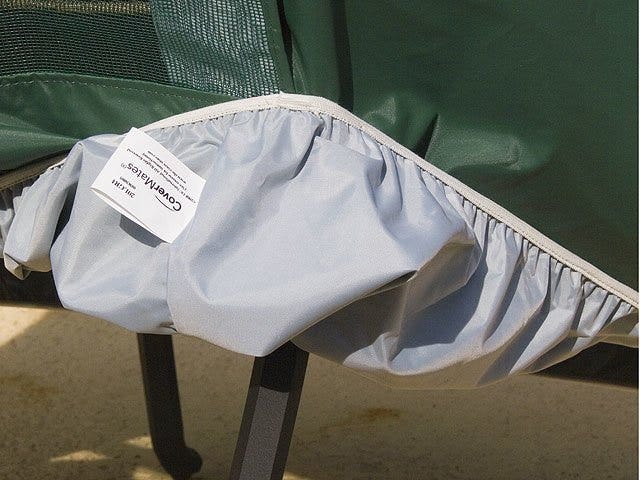 Elastic Band
Our Covermates Classic patio furniture covers feature a very strong elasticized bottom that hugs whatever it's covering. These features, along with the built-in vents, keep your cover exactly where it belongs and not in the neighbor's yard or up in a tree somewhere.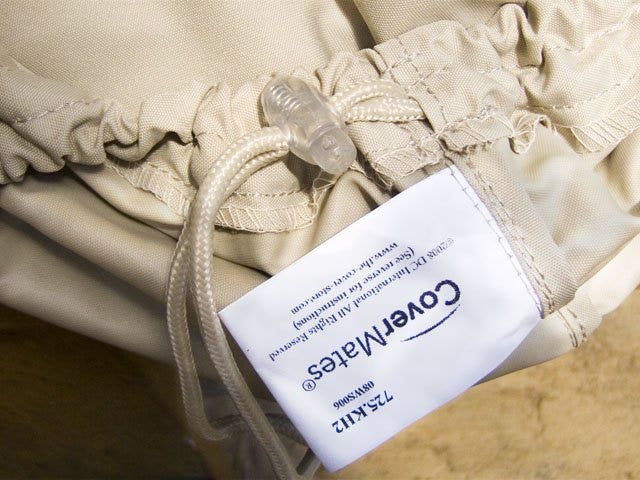 Seam Quality
Simply put, a single seam of thread is a lot faster to sew. Obviously this reduces cost, and that's why many manufacturers do it. Unfortunately, it also reduces the quality of the patio furniture cover. Our Covermates Elite outdoor covers are double-stitched with channel locking seams. One seam is visible, while the other is hidden and does a lot of the work. This results in a seam that's superior in strength. As a matter of fact, the cover material itself will tear before the seam will come apart. We take the extra time to reinforce the seams so that our satisfied customers will recommend our patio furniture covers and grill covers to their friends, neighbors, and relatives.
Surge Stitching
Surge stitching is rarely found these days in patio furniture covers. Woven fabrics, such as our Covermates Elite khaki polyester, have loose threads where the material has been cut. Left alone, the fabric will begin to unravel just like an old sock that has about a mile of thread dangling everywhere. We save you the nuisance of having to continually cut those loose threads by turning the ends of the polyester inward and stitching them down so they won't go anywhere. Why do we do it? It's because we want as many friends as possible!
Hardware
Some of our patio furniture covers are constructed with snaps and zippers (no Velcro for our customers!), and our Covermates Elite collection features drawcords and pulls that lock. To make sure that we're providing our customers with the best looking and well-constructed covers, we took the time to make sure that the color of the hardware matched the color of the fabric. While we were looking for the perfect color match, we also decided that all the hardware should be impervious to Mother Nature, so you won't find any metal hardware on our covers. Oh, and then we found auto-locking zippers and thought those were really neat, so guess what? All of our covers that have zippers have auto-locking zippers! That makes you want to buy a cover with a zipper just to see how cool it is, doesn't it?