When you purchase a Covermates product from Coverstore, you'll be receiving a product that's handcrafted from the finest quality materials available in today's marketplace. Covermates has spent the last decade developing their exclusive Classic, Elite and Ultima outdoor cover collections to suit customers whose needs depend upon price, level of protection and the product's overall aesthetic appeal.
The difference in a Covermates product versus competitors is the attention to details from the beginning idea to the end stitch.
It's all in the Details ...


Design
The creators of Covermates have over 20 years of experience designing and producing a product that protects outdoor investments in all seasonal weather conditions. Our experience is based on research and personal use of the very products we make and sell. When it comes to design, Covermates incorporates features we find necessary to "cover" your needs in outdoor protection year-round.
Materials
Each Covermates collection is crafted using the very best in fabric and hardware for the type of protection each collection offers.
Covermates uses durable fabric that's specially treated to repel moisture, rot-resistant thread and rust-free hardware, all of which keep your covers looking and performing as intended.
Craftsmanship
Covermates wouldn't be the brand it is without its team of dedicated craftsmen. Our Covermates production team is comprised of experienced individuals with qualified skillsets involving product design, pattern creation, pattern cutting, sewing and embroidery. Each detail is overseen to ensure an end product that we can stand behind.
Coverage
We believe in carrying an assortment of styles and sizes of Covermates products to ensure our customers' protection needs are "covered".
In addition, we stand behind each Covermates® collection with an exclusive warranty term so that you can make your decision to purchase online with confidence. If your expectations are not met in the receipt of our product, you have 30 days to return the item(s) for the item cost.
Covermates® Collections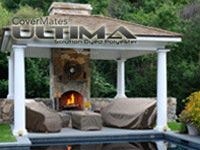 Covermates Ultima Collection is our new premium line of solution-dyed polyester outdoor patio furniture covers. Details »
✔ Solution-Dyed 300 Denier Polyester
✔

Discreet Mesh Vent

✔ 360°Elastic Drawcord Locking System
✔

2x More Fade & Water Resistant

✔ Securing Buckle Straps* (This feature varies based on product style)
✔

Rust-Free Hardware

The Covermates Elite Collection of patio furniture covers is our most popular choice for protecting your outdoor investments year-round. Details »
✔ Stock-Dyed 300-D Polyester
✔ Mesh Vent
✔ 360°Elastic Hem
✔ Treated to Repel Moisture
✔

Rust-Free Hardware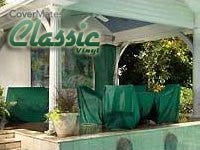 Our Covermates Classic Collection line offers quality, affordable protection for your outdoor patio furniture year-round. Details »
✔ Commerical 12-Gauge Vinyl
✔ Mesh Vent
✔ 360°Elastic Hem
✔ Polyester Lining
✔

Water Resistant