Custom Vehicle & Powersports Covers by Covercraft
Designed with premium materials and expert craftsmanship, Covercraft custom covers are made to fit your exact vehicle make, model, and year. With over 80,000 patterns available, tailored features like mirror and antenna pockets, and a best-in-class warranty package, Covercraft covers provide outstanding protection. Explore the materials we carry to find the protection you need for your vehicle.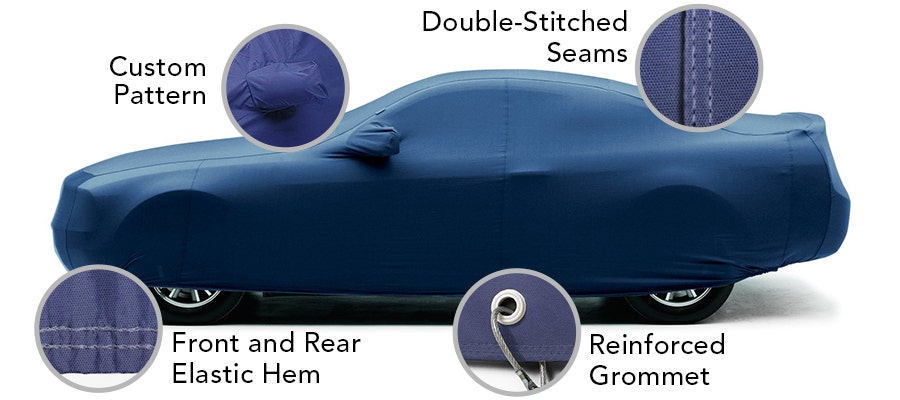 Material Details
Learn more about Covercraft's materials and the unique features and benefits each one offers.
Compare Covercraft Collections
3-Layer Moderate
3 Year Warranty
A lightweight, yet durable, 3-layer fabric designed for indoor or outdoor use to provide year-round protection.
5-Layer Heavy
4 Year Warranty
With 2 extra layers for additional UV and water resistance, this durable 5-layer cover is perfect for year-round protection.
5-Layer Indoor
4 Year Warranty
A top-layer finish to repel dust makes this mid-weight 5-layer fabric ideal for indoor use on vintage vehicles.
Reflec'tect
5 Year Warranty
Created with a UV-reflective finish, Covercraft's Reflec'tect covers are designed to be used in areas with intense sunlight.
Form-Fit
6 Year Warranty
Covercraft's Form-Fit covers hug your vehicle with super-soft layers, providing a luxurious touch to fine paint finishes.
Ultra'tect
5-7 Year Warranty
A unique HydroMax coating gives Covercraft's Ultra'tect covers excellent protection from rain, snow, and humidity.
WeatherShield HP
6 Year Warranty
Lightweight and durable, Covercraft's WeatherShield HP covers are ideal for long-term outdoor storage.
WeatherShield HD
8 Year Warranty
Made with solution-dyed material, Covercraft's WeatherShield HD covers are built to protect year-round.
Sunbrella
6 Year Warranty
Available only for jet ski covers, Covercraft's Sunbrella material is built to withstand extreme sunlight year-round.
What Customers are Saying about Covercraft
"My prized 2011 'Green With Envy' Dodge Challenger deserves the best cover money can buy & that's exactly what I got from Coverstore: perfect fit, top notch material & attention to detail. It fits like they came to my garage and built the cover around my car."
Frank, Michigan
"I don't have a garage so the cover has been exposed to weather all year round: hot summers and cold winters, ice and snow. I highly recommend this product for anyone who intends to keep the car outside. It's the second best thing to having a garage."
Jeff, Maryland
"I did my research based on material, and Noah material had all of the qualities I was looking for. The cover itself was well constructed, plenty of elastic in the front and rear and it drops down almost to ground cover. The weight is just right for one person to easily put on the cover. They even had a pocket in place for the antenna."
Robert, California
The Cover Blog
Check out our blog to learn more about the covers we sell and how to get the most out of your cover.