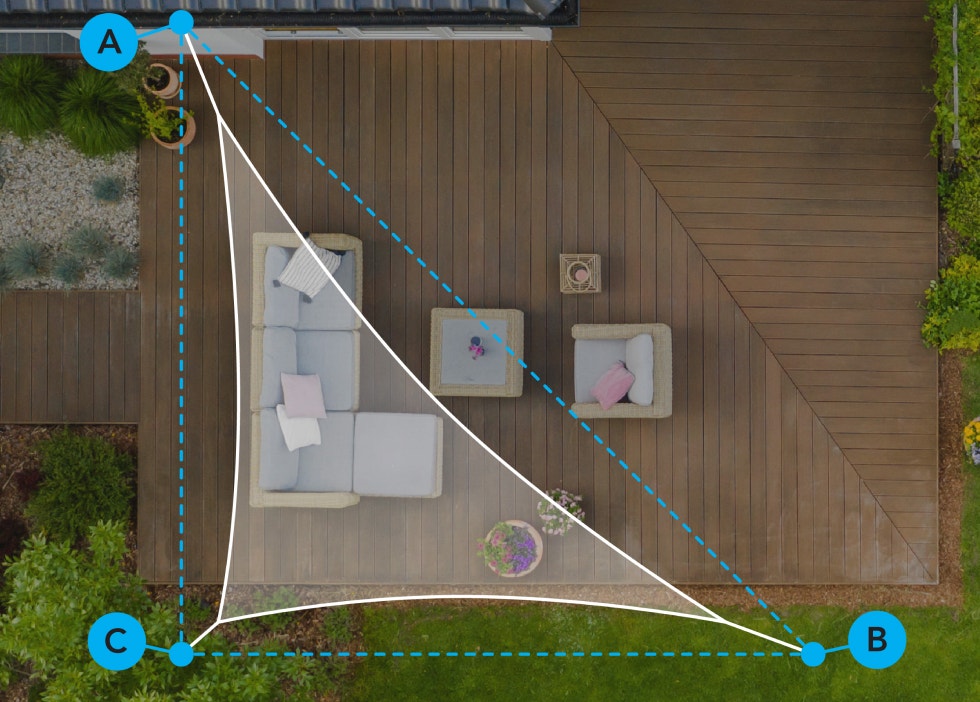 The addition of a shade sail to a backyard or a patio can transform the space into a personal getaway and instantly make your home the summertime destination for your family and friends. Whether you've decided to install the shade sail yourself or call in the help of professionals, there are a few questions you may need to consider before starting your project — like, "What size shade sail should I get?" and "How do I measure for my shade sail?". We will answer these essential questions, plus go over more tips and tricks to ensure you are ready for your new shade sail.
What Size Shade Sail Should I Order?
When it comes to determining what size shade sail is best for you, the main factor will be the space you choose to cover. Some of the most common shade sail placements will be over a deck, patio, or seating areas in the backyard. Once you've chosen the location that works best, you will now need to determine the attachment points for your sail. These can be trees, your home, posts, or any sturdy structure.
Once those points are found and marked, you can find the size shade sail that works for you and your space. You will want to order a shade sail that is slightly smaller than the area you want to cover. A smaller size prevents the sail from blowing around in windy weather and causing structural damage to the attachment points. When installing the shade sail, you will pull it taut and stretch it as far as possible.
With this in mind, we recommend a shade sail at least 12 inches smaller than the area you intend to cover. Opt for a custom shade sail if you have a non-standard size backyard or want a perfect-looking sail. Simply enter the dimensions of the space you are covering, and we'll automatically deduct the necessary amount of material to give you the perfect fit.
What Shape of Shade Sail Should I Get?
The shape you choose ultimately comes down to your preference, but you may want to consider the installation space. Triangles, squares, and rectangles are the most common shapes. You can create dimension and interest by overlapping multiple shades. The overlapping method is best for larger areas, whereas a single shade sail is recommended for small spaces.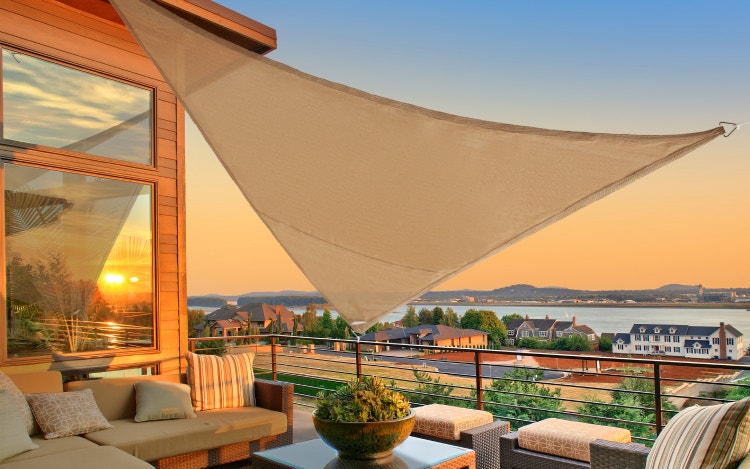 How to Measure for a Shade Sail
Once you've identified where you will attach your shade sail, you'll need to measure between those points to determine the correct size.
How to Measure for Square/Rectangular Shade Sails
Measure from attachment point A to attachment point B.
Measure from attachment point B to attachment point C.
Note: You will not need to measure from C to D or D to A as the shade sail will be a square or rectangular shape and those sides will match the A to B or B to C.
How to Measure for Triangular Shade Sails
Measure from attachment point A to attachment point B.
Measure from attachment point B to attachment point C.
Measure from attachment point C to attachment point A.

Remember that your shade sail should be slightly smaller than the dimensions you measure. Keep this in mind when you are shopping for a standard-size shade sail. If you opt for a custom one, read the manufacturer's instructions carefully to ensure you enter the correct dimensions. For Coverstore's custom shade sails, you will enter the dimensions of your space and we will take off the correct amount of material to ensure you receive the proper size.
How to Choose the Right Shade Sail Material
The most common shade sail material is a tightly woven, high-density polyethylene fabric, sometimes referred to as HDPE. This material offers high durability and sun resistance making it the top choice for many manufacturers.
When picking your shade sail material, it's always a good idea to look at the weight of the fabric, often referred to as GSM or grams per square inch. A higher GSM means the material is more durable and thick. We recommend a shade sail with 300 GSM or greater for a high-quality sail that will last for years.

How to Install a Shade Sail
Starting the process of installing your shade sail can leave you feeling excited while also a bit intimidated. If you've called in the help of a professional, it's time to sit back and wait to see the results. For those taking the DIY approach, break out the tools to bring your project to life. For an in-depth breakdown of the preparation, installation, and a list of commonly required hardware, check out our blog on how to install shade sails.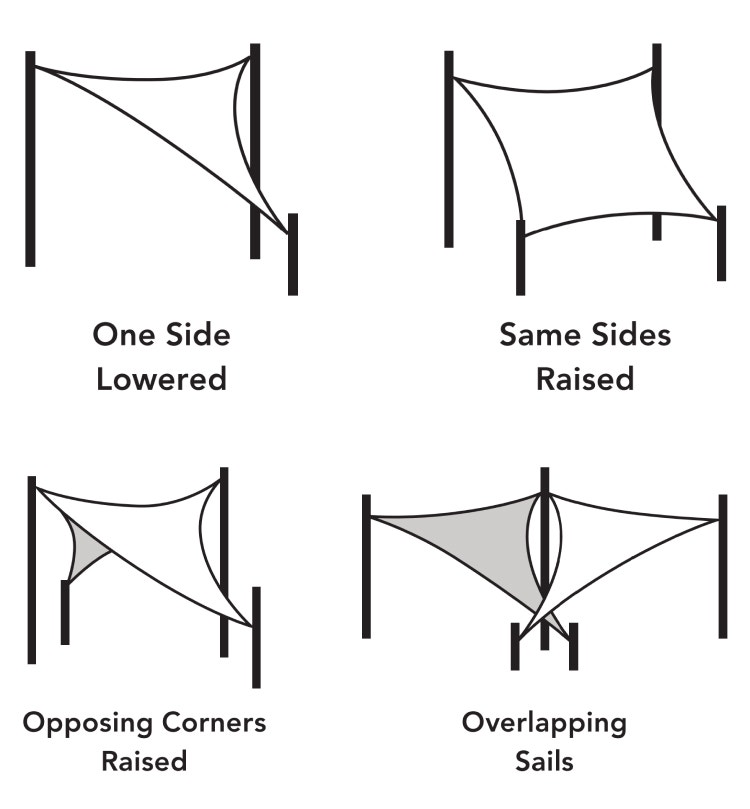 Frequently Asked Questions
Are shade sails waterproof?
The short answer is no. Shade sails are made of a woven material designed to keep out sunlight so you can relax outside all year long. Though the fabric will undoubtedly keep some water off you while seated under them, the liquid will still get through. Shade sails should also be installed at a slight pitch or angle to allow water to run off.
Can I leave my shade sails up year-round?
When you have high winds or snow in your area, it's recommended to take your shade sail down. The constant pressure from the wind or weight of the snow can lead to structural damage to your home and other attachment points.
How do I clean my shade sails?
Shade sails can, unfortunately, catch bird droppings and small debris from trees. Luckily, they are easy to clean. For light cleaning, you can leave the shade sails hanging up. Make sure you move (or cover) any furniture before cleaning.
Spray your shade sail with a garden hose to wet the surface.
Using a mop, apply mild soap to the shade sail and let it sit for at least 15 minutes.
Spray the sail with your hose until the water runs clear.
For deep cleaning, follow the same steps but take your shade sails down first. Scrub both sides of the shade sail with a mop or soft bristle brush and repeat as necessary.
To avoid damage, do not use a washing machine, dryer, stiff bristle brush, or any harsh cleaners like bleach.
Finding the right shade sail can be difficult and sometimes confusing. At Coverstore, our goal is to make custom shade sails as easy as can be. All you need to do is provide us with the dimensions of the space you wish to cover and we'll take care of the rest. Explore our custom rectangular shade sails and custom triangular shade sails today and turn your patio into a personal paradise.
---
Want updates on new blog posts, current sales, new product releases, and more? Stay in touch! Like our Facebook page, follow us on Instagram (@thecoverstore) and Pinterest, and join Cover Club!