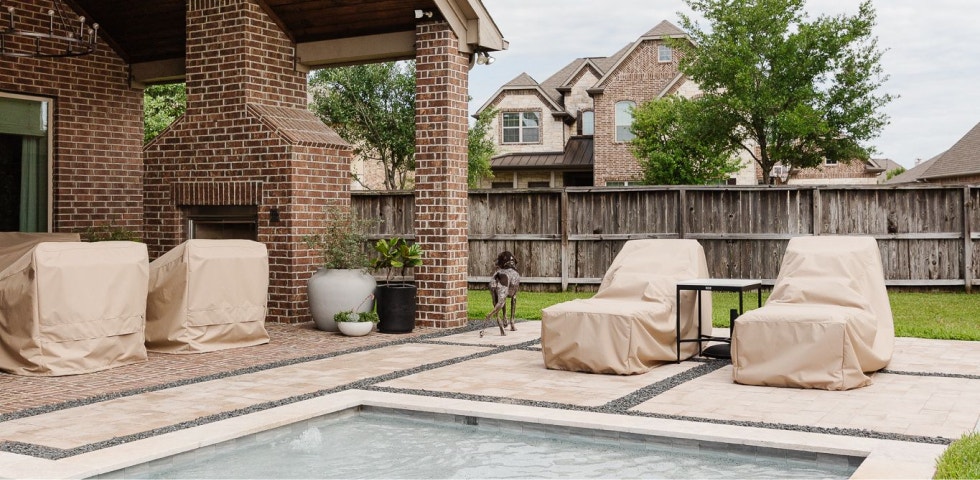 We've collaborated with Shelley over at Crazy Wonderful to help her cover her brand-new Bassett outdoor furniture.
Spring is a beautiful time of year. But it's also the time when the birds become active, sudden rainstorms pop up, and pollen begins to infiltrate everything. An early morning rain shower can soak your outdoor cushions and pillows, making your plans for a warm spring afternoon not as enjoyable.
Protecting your outdoor furniture is key. If you've spent the time and money to beautify your outdoor living space, investing in high-quality covers to keep your furniture like new is essential. Don't wait until your first rainstorm of the season to look into patio furniture covers. Invest early and be ready for any weather that Mother Nature throws your way.
While patio furniture is built for the outdoors, too much exposure to rain, wind, bird droppings, and pollen can shorten the lifespan of your furnishings. Covers not only keep your furniture clean and ready to use but also help save you money in the long run by ensuring your furniture doesn't have to be replaced every season.
What Do Patio Furniture Covers Protect From?
Outdoor covers have many use cases, including:
Bird droppings
Sun and UV rays
Rain, snow, and ice
Pollen
Wind
Dirt and grass clippings
When it comes down to it, the purpose of patio furniture covers all boils down to one thing - helping you easily enjoy your outdoor lifestyle.
What to Consider When Choosing a Cover
You'll want to answer a few different questions as you are selecting a patio furniture cover. It's crucial to get what's right for you, your furniture, and your climate so your covers perform their best.
Do you leave your furniture outside in the winter and receive lots of snow and ice?
Will your furniture be exposed to indirect or direct sunlight?
Is your patio in a windy area?
Do you live in a humid climate?
Follow our 5 Step Guide to Choose the Right Outdoor Furniture Cover and check out The Best Patio Furniture Covers to figure out how to pick the right type of cover for you.
Import Outdoor Cover Features
You have several options when it comes to picking a cover, but you should always look for features that will provide you with the best security.
Tie down methods: elastic hems, drawcords, and buckle straps are all great options
Reinforced seams - look for double-stitching and waterproof seam binding for the best quality
Vents - often an overlooked feature, vents are critical in preventing mold and mildew of both your furniture and the cover
Durable fabric: polyester materials with a rating of 600 denier or higher will have the longest life and provide the best protection
Warranty: invest in covers that are backed by a warranty so you can be confident in your purchase
Color: while less important than the others, find a cover color that complements your backyard design. We offer 16 colors for our custom covers!
Picking the Right Patio Furniture Cover Size
Size is the most important factor when selecting a cover. Many high-end furniture pieces, like the Bassett outdoor furniture pictured here, are unique sizes and shapes that typical covers won't fit. Custom Covers are an easy solution. Simply select your style, enter your furniture dimensions, and receive your cover within 1-2 weeks.
For more standard furniture styles, shapes, and sizes, check out standard-sized furniture covers. These are available in thousands of styles and sizes and typically ship within 2-3 business days.
---
Want updates on new blog posts, current sales, new product releases, and more? Stay in touch! Like our Facebook page, follow us on Instagram (@thecoverstore) and Pinterest, and join Cover Club!