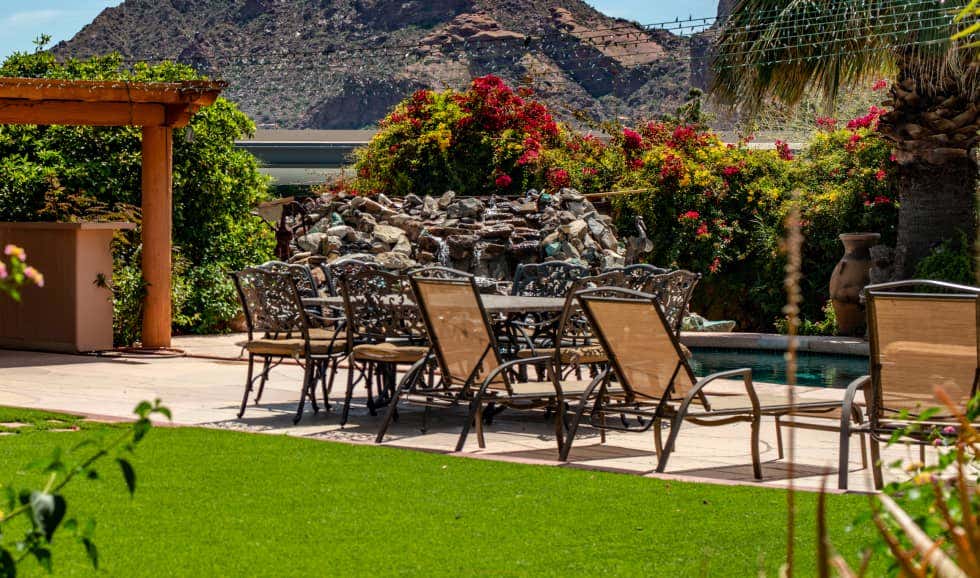 Outdoor furniture can be expensive for a variety of reasons. Many expensive, high-end sets are hand-made while cheaper furniture is produced large-scale in a factory. The cost of your patio furniture is (typically) directly proportional to how long it will last. Purchasing a pricey set now may last you for 10+ years, versus having to replace it every couple of years with inexpensive sets. If you're looking to invest in a set that will last for years, find one that has a comprehensive warranty. However, the primary determinant of price is the material. Check out the most popular materials below to figure out which one is best for you and your budget.
Patio Furniture Materials
Outdoor furniture materials are made to withstand all types of weather – snow, rain, humidity, sun, and more. Outdoor pillows and cushions also are treated with stain-resistant properties to protect against water stains, oil-based stains (like those from sunscreen), and more.
The type of material you choose depends on a few factors:
Where will the furniture be placed? What type of weather will it need to hold up through?
How long do you plan on keeping it?
How do you plan on protecting it?
Regardless of material, taking care of your outdoor furniture is crucial. Outdoor patio furniture covers can help with this. However, you should also take into account how much work you are willing to do when it comes to general cleaning and maintenance. Some materials require more work than others to keep looking great.
Synthetic Wicker
A high-quality synthetic wicker is made from HDPE (High Density Polyethylene). Natural wicker, or rattan, should only be used in covered spaces. Real wicker is not designed to hold up to the elements and will break down quickly if unprotected. Synthetic wicker is a great option and you can easily find high-end sets that mimic the natural wicker look. If you decide to use natural wicker furniture outdoors, keep it covered with a weather-resistant cover when not in use and also try to keep it in a covered area.
Synthetic wicker, also described as synthetic resin, is also quite durable. It's resistant to rust, won't crack or become brittle in the cold, and won't fade in the sun. In addition, it's resistant to most food and drink stains.
Inexpensive synthetic wicker sets are probably made of PVC. PVC has a shorter lifespan than HDPE and will typically break down within 1-2 years. If you're on a tight budget, purchasing one of these sets and taking care of it may be worth it. Move it out of the sun and rain when not in use and use affordable patio furniture covers to prolong its life.
The frames of synthetic wicker furniture is another factor of the price. Inexpensive wicker patio furniture will typically have steel frames. As a raw material, aluminum can be 2-3 times more expensive than steel. Steel is likely to rust and corrode over time when left outside in areas of high humidity and rain. Aluminum furniture frames are typically treated to prevent color fading and rust.
Wicker furniture is easy to clean and care for - you can typically spray it down with a hose and let it air dry for a quick clean. This makes wicker furniture a great option for families with small kids and pets.
Overall Cost: $$-$$$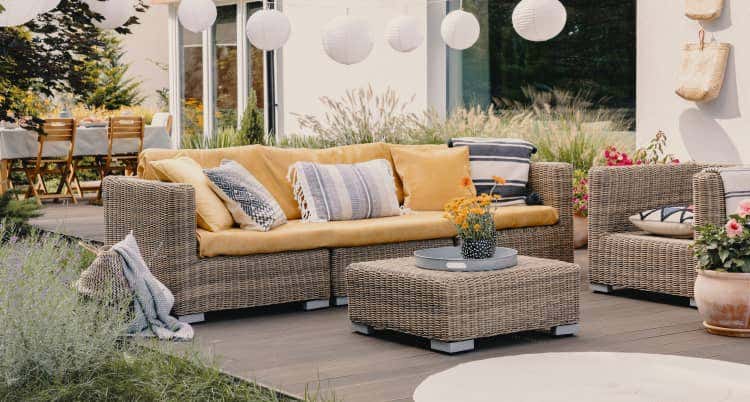 Teak
Outdoor teak furniture is versatile, stylish, and durable. However, many consumers don't know that there are three grades of teak which greatly affect the durability and price.
Grade A Teak is the highest quality and most expensive. The wood is taken from the center of the tree, giving it the highest concentration of natural oils. These oils help fight off the elements to prevent weathering and can repel insects. Grade A teak furniture is golden brown with a close grain and very few knots.
Grade B Teak is taken from an outer section of the tree. It has a small amount of natural oils, making it more susceptible to outdoor elements. Grade B teak furniture is lighter in color than Grade A with less shine and an uneven grain.
Grade C Teak is a low-quality wood taken from the outer section of a mature log. It has nearly no natural oils, making it easily damaged and not suitable for outdoor use.
Manufacturers will often treat Grade B and C teak with chemicals and protective coatings to make the furniture look as if made from Grade A teak. Even when specially treated, lower quality teak will not last as long as true Grade A teak furniture.
Grade A teak patio furniture will typically come with a long warranty period. Look for a trustworthy supplier to ensure you are purchasing true Grade A teak furniture and not treated Grades B or C. While durable, teak furniture still needs regular care and protection. Knowing how to properly winterize your outdoor teak furniture is important. Investing in a set of patio furniture covers can keep your expensive furniture looking like new season after season.
Overall Cost: $$$-$$$$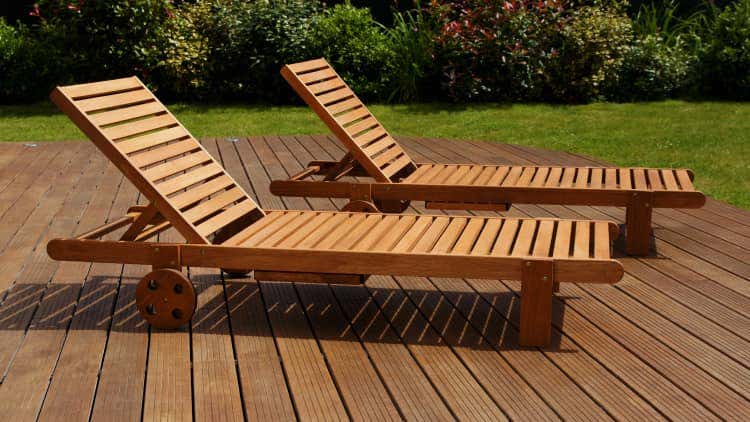 Metal
Metal patio furniture sets are functional and typically affordable. With durable metal frames, you can easily change up the look of your backyard by simply switching the cushion covers on your chairs and sofa.
Powder-coated aluminum is the best option for outdoor furniture is it won't rust. The powder coating will also help prevent any fading from sun exposure. However, aluminum is lightweight so it may not be the best option for high wind areas. Look for furniture with weighted feet to ensure it won't blow over.
Stainless steel frames are usually cheaper. Steel is heavy and low maintenance but may rust and gets very hot in the sun. You can also find powder-coated steel frames, but these still need to be covered to protect from rain and humidity.
Tip: apply a thin coat of car wax to get your outdoor aluminum and wrought iron furniture ready for winter.
Overall Cost: $-$$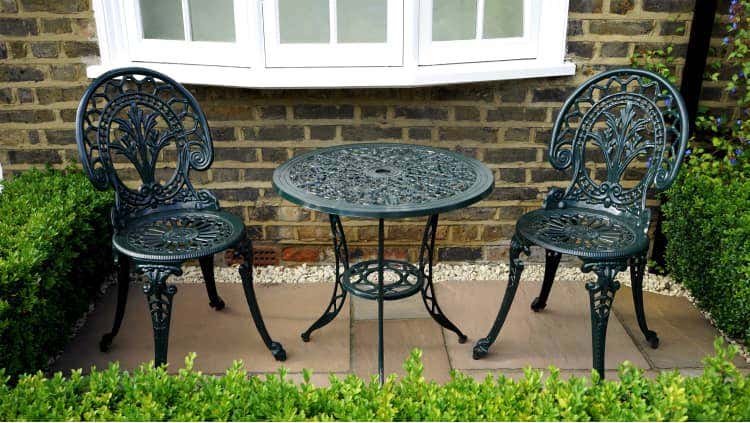 Wood
In addition to teak, there are a variety of wooden patio furniture options. Expensive wooden sets are likely made of naturally durable wood or treated to be more durable.
Here are a few popular woods used for outdoor furniture:
Shorea is more affordable than teak yet offers some of the same benefits due to its naturally high oil content.
Cedar is highly textured with deep colors, making it an outdoor classic. With proper care, cedar offers natural weather resistance that can last for years.
Acacia is a lightweight wood with natural oils to protect against rot.
Eucalyptus is a strong wood with a smooth texture and minimal maintenance needs. Be sure the company uses FSC-certified eucalyptus for an eco-friendly option.
Outdoor wood furniture needs to be regularly taken care of to protect against cracking, warping, and water stains. Care instructions often vary based on the material, so it is best to check with the manufacturer prior to purchase to make sure you are willing to put in the maintenance effort.
Overall Cost: $$-$$$
Plastic
Plastic outdoor furniture is usually treated with UV rays to avoid color fading. The more expensive set you buy, the longer it will look nice. The most expensive outdoor plastic furniture will be molded, which is when it looks like it is all one piece. This gives the furniture a modern and upscale feel but also increases the cost. Molded plastic furniture is durable and easy to care for, making it a popular option. Some companies also produce their furniture from recycled materials which also drives up the cost.
Overall Cost: $-$$
Concrete
Concrete outdoor furniture is rising in popularity due to its minimalist look. While concrete itself is cheap, concrete furniture comes at a price. Most cement furniture pieces are not made of pure concrete. They include fiberglass resin which increases the durability of the furniture and makes it look polished. However, this also increases the price.
Cheap concrete furniture typically does not include the fiberglass resin add-in, or very little of it. This makes it likely to crack under extreme temperatures and quickly gain a weathered look.
Overall Cost: $$-$$$$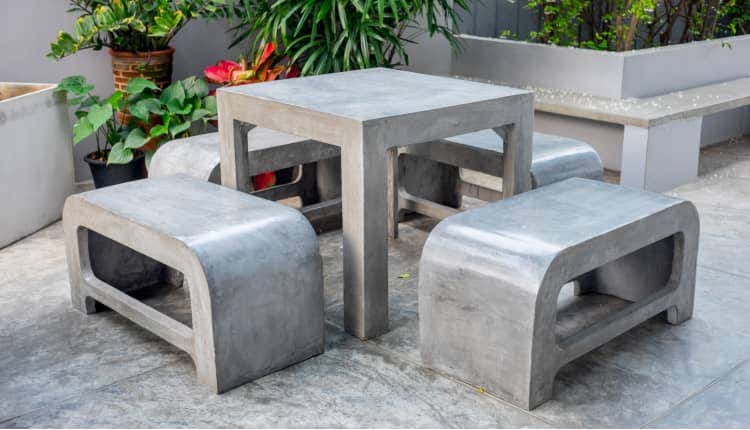 Cushions and Pillows
You may be surprised at the price difference between indoor pillows and cushions and those made for the outdoors. Outdoor pillows and cushion covers can be 2-3 times more expensive than their indoor counterparts! However, don't let the cost tempt you into using indoor items outside. Standard cushion and pillow fills can't be used as they don't properly drain liquid; one rainstorm or misaligned sprinkler could ruin an indoor pillow.
Outdoor cushions and pillows are more porous and designed to quickly drain and dry when they get wet. The fabric is also treated to withstand sun exposure to prevent fading and keep the colors looking fresh. Luckily, this makes caring for outdoor fabrics easy. Many can be machine washed or simply spot cleaned with dish soap.
Another factor that will drive up the cost of outdoor cushions and pillows is softness. If you are wanting a soft outdoor material rivaling indoor ones, you can expect to pay 20-30% more than a regular outdoor pillow or cushion.
Overall Cost: $-$$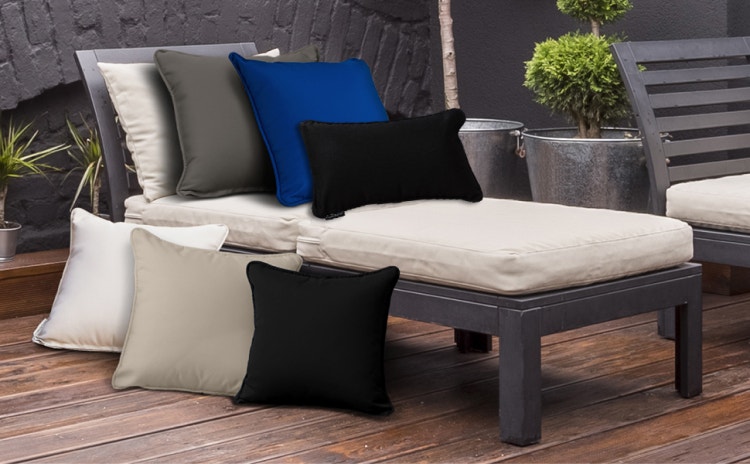 The Benefits of Buying Expensive Patio Furniture
As already covered, expensive patio furniture sets will last longer. High-end outdoor furniture is made from naturally durable materials that are specially treated to be weather-resistant. However, more expensive does not always mean better. You can expect to pay a premium for furniture from luxury brands and popular designers. If you are looking for an affordable, yet still high-quality, patio furniture set, focus on the materials and warranty term over the brand name.
How to Keep Expensive Patio Furniture Looking Great
Before you invest in a pricey furniture set, read the care instructions and learn more about the materials to make sure you are willing to put in the work to keep it looking like new. The easiest ways to care for your outdoor furniture are to keep it out of direct sunlight and rain, use a protective cover during inclement weather, and regularly clean it.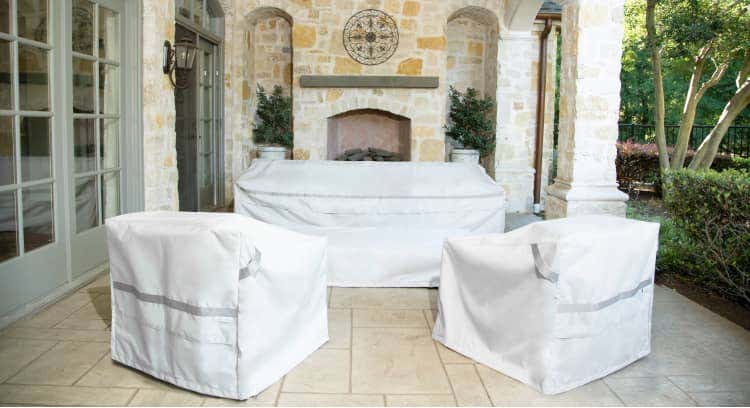 ---
Want updates on new blog posts, current sales, new product releases, and more? Stay in touch! Like our Facebook page, follow us on Instagram (@thecoverstore) and Pinterest, and join Cover Club!