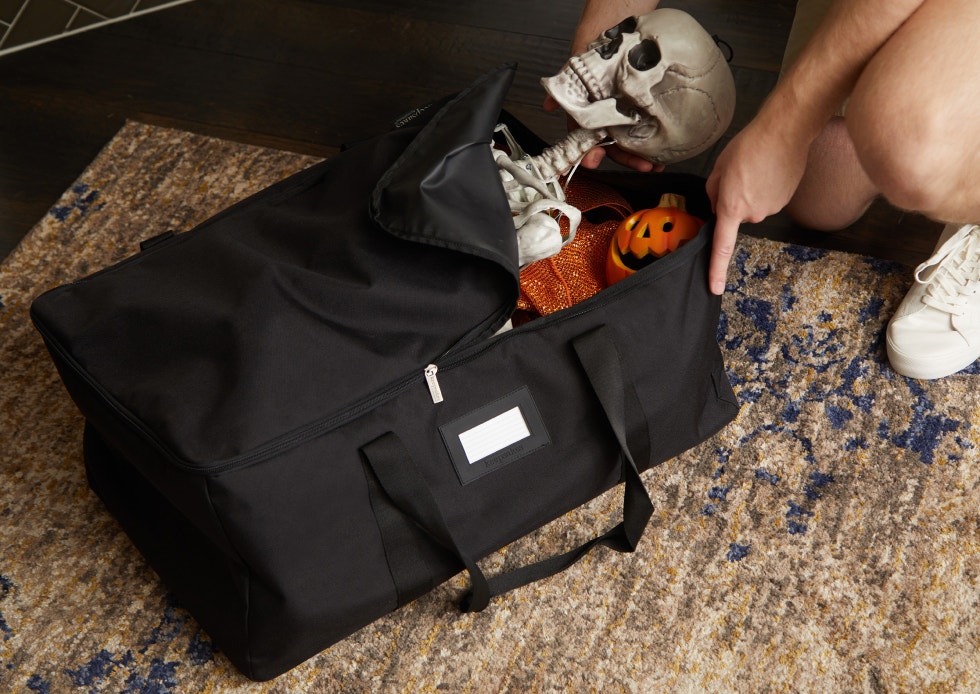 Halloween, the spookiest time of the year, has come and gone. As you pack away your beloved ghouls, ghosts, and goblins until next year, you might be wondering how to keep your Halloween decorations in like-new condition. Fear not, our Halloween decoration storage recommendations will help you preserve your spooky treasures and make next year's decorating a breeze.
Read on to see our top items with use cases, or skip ahead to shop our selection of Halloween storage options.
1. Custom Storage Bags: For Larger-than-Life Decor & More
The Problem: You've got a 12-foot skeleton, inflatable pumpkins, and other oversized Halloween decor that doesn't fit into standard storage containers, and the boxes they came in are damaged or hard to maneuver.
The Solution: Custom All-Purpose Storage Bag
When it comes to storing oversized Halloween decorations, custom storage bags are a game-changer. Our Custom Storage Bags can be tailor-made to fit nearly any size (from 15 inches to 8 feet long!) ensuring a snug and secure fit for your cherished oversized Halloween decor. No more struggling to stuff your 12-foot skeleton into a too-small storage bin or worrying about fragile inflatables getting damaged in the process.
Custom Storage Bags are designed with durable materials that protect your decorations from dust, moisture, and pests, ensuring they emerge from their storage slumber in perfect condition next year.
Plus, you can choose to get your custom storage bag with wheels, allowing for easy transport to and from storage.
2. Zip-Top Storage Boxes: For Those With Every Decoration
The Problem: You have an extensive collection of Halloween (and Thanksgiving, and Christmas, and 4th of July, and...) decor and struggle with keeping it organized.
The Solution: Zip-Top Storage Boxes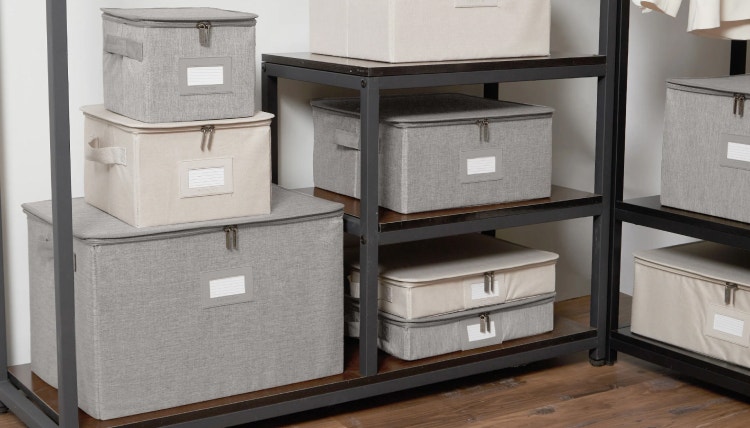 If you're a fan of organization, zip-top storage boxes are your best friend. These handy containers are not only stackable but also feature zip-top closures that keep your decorations securely stored and easily accessible. No more fumbling with lids or misplacing them. Plus, the included label slots make it a breeze to identify and sort your Halloween decor. Effortlessly find your witch hats, zombie hands, and vampire capes for next year's decoration frenzy.
3. Storage Duffel Bags: For All Types of Decor
The Problem: Your Halloween decor ranges in size and shape, from 8-foot inflatables to delicate spiderwebs.
The Solution: Storage Duffel Bags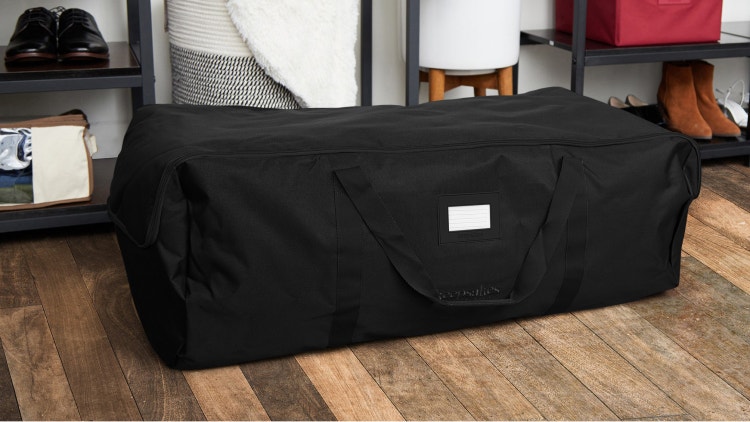 Sometimes, your Halloween decorations vary in shape and size, making it challenging to find suitable storage solutions. That's where storage duffel bags come into play. Available in multiple sizes, they offer the versatility you need to accommodate anything from bulky inflatables to delicate spiderwebs. These duffel bags are designed to keep your decorations clean and free from dust, while sturdy handles make transporting them a breeze. With multiple sizes available, you can mix & match the sizes you need, or opt for one large bag to store everything for the holiday together.
4. Wreath Storage Bags: (Not Just) For Wreaths
The Problem: You're struggling to find a proper storage solution for circular inflatables and your seasonal wreaths are getting bent out of shape.
The Solution: Round Storage Bag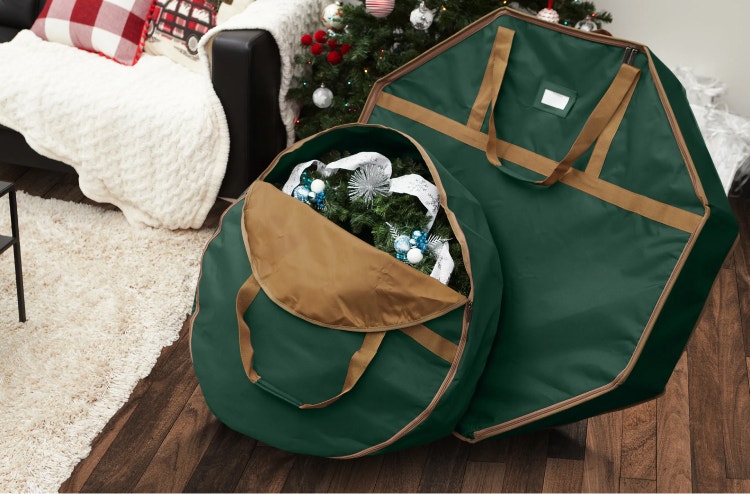 Wreath storage bags aren't just for wreaths! They are ideal for storing circular inflatables and other rounded Halloween decor items that can be collapsed. These specialized bags protect your decor from dust, moisture, and unwanted pests while maintaining their original shape. And, of course, these bags protect seasonal wreaths to keep them in tip-top shape season after season.
5. Costume Storage: For the Halloween Partier
The Problem: You want to ensure your Halloween costumes are clean and ready for next year's party.
The Solution: Costume Storage Bags
Halloween costumes can be delicate and easily damaged. To ensure your costumes stay in top condition for your next spine-chilling gathering, high-quality garment bags are a must. These bags protect your costumes from dust and other environmental factors while keeping them wrinkle-free and ready to shine. Say goodbye to last-minute costume crises and hello to a perfectly preserved ensemble that will have everyone spellbound. Plus, all of our garment bags include ID labels, so you can keep your costumes separated from other clothing and easy to find.
6. Halloween Storage Boxes: For a Variety of Items
The Problem: You need a versatile storage solution for all your seasonal decor that can stack in the garage, attic, or closet.
The Solution: Halloween Storage Boxes
For those who want a storage solution that can adapt to their ever-changing decoration needs, multi-use storage boxes are the answer. Stackable, durable, and equipped with ID labels, these boxes make it easy to organize decorations for any season. Whether it's Halloween, Thanksgiving, Christmas, or any other holiday, these versatile containers have you covered.
7. Halloween Storage Bins: For Everything Else
The Problem: You're looking for a simple solution that fits with your existing storage solutions.
The Solution: Halloween Storage Bins
Sometimes, sticking with the classics is the way to go. Cube storage bins are versatile and sturdy, perfect for housing a wide range of Halloween decor. These bins are designed with Halloween enthusiasts in mind, offering ample space to accommodate your decorations. They are the perfect choice for those who appreciate simplicity and durability when it comes to storage.
By investing in the right storage solutions, you can ensure that your Halloween decorations remain in pristine condition and ready to cast their spooky spell next year.
With the right storage products and a little TLC, your Halloween decorations will remain as eerie and enchanting as the first day you set them up. So, pack away your spooky treasures with confidence, and get ready for an even more hauntingly delightful Halloween next year!
---
Want updates on new blog posts, current sales, new product releases, and more? Stay in touch! Like our Facebook page, follow us on Instagram (@thecoverstore) and Pinterest, and join Cover Club!