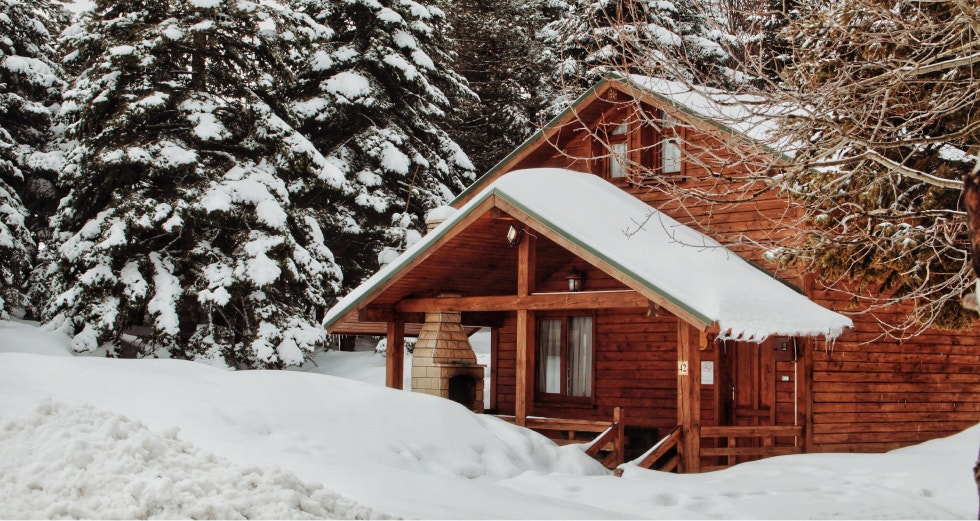 If you plan on leaving your cabin, lake house, or second home unattended for an entire winter, there are a few things you may want to consider before escaping to the warm sunshine. Unlike homes in warmer climates, winter cabins need to be appropriately prepared for the unpredictable weather that is to come. Whether this is your first winter away or a yearly tradition, we will review a few tasks you should consider before saying goodbye to your cabin.
What Will Be Covered:
Outdoor Winterization

How to Store Patio Furniture Covers
How to Avoid Freezing Pipes
AC Winterization
Importance of Clean Gutters

Indoor Preparation

Cleaning Check List
Kitchen Organization

Toss the Food
Saving Energy While Away
Eliminate Cabinet Clutter

Bedroom Linen Storage

Overview
Outdoor Winterization
The key to prepping your cabin or lakehouse for winter is to have your outdoor items secure and protected. Move whatever you can into a garage or shed and keep it locked. Any large equipment, like boats, tractors, and lawn mowers, should be cleaned, covered, and moved inside a shed or at least to the backyard. Keeping your valuables out of plain sight will deter theft and keep your equipment more protected from the weather.
How to Store Your Patio Furniture for Winter
When it comes to protecting your patio furniture from the elements, there are two choices: store it inside if you have a large enough space, or keep it outside and cover it. If you plan to store these items in a garage or storage shed, great, you will want to go with a lightweight cover to keep off any dust that might accumulate while you're gone. For most people, covering their patio furniture is either their only option or just the most convenient option for protection without moving heavy items.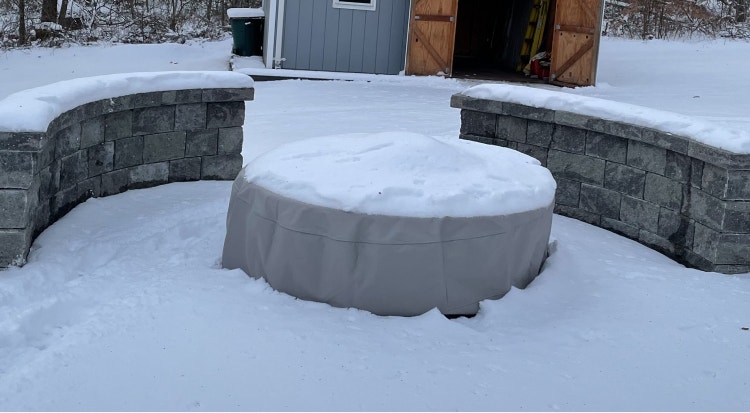 Before covering your furniture, we recommend cleaning it and letting it completely dry. Like anything else, we don't want to return to a filthy patio set and have even more work to do in the spring. Regardless of the material of your furniture, it is susceptible to rain, snow, and sun damage. This is why we recommend using a quality cover made of durable material with high UV and water resistance. Our Ultima and Prestige collections are top of their class and come loaded with various features like adjustable buckle straps and drawcord hems to keep the cover securely on while you're gone. Follow these detailed instructions on how to winterize your outdoor furniture.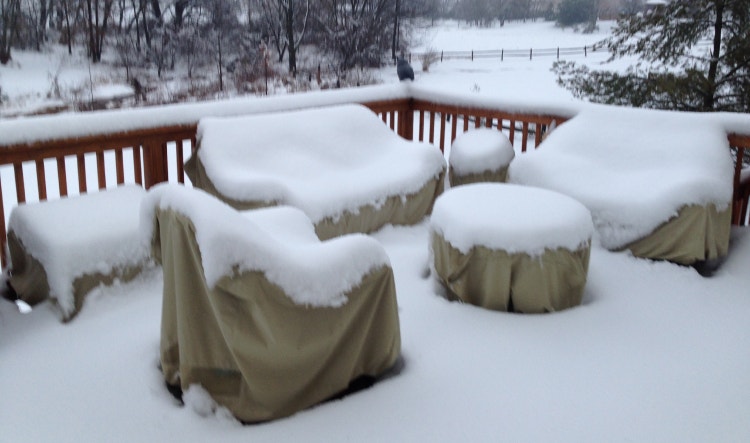 Finding the right size cover can be a bit of a learning curve if you've never shopped for one before. Follow our illustrated How to Measure Guides for help. Remember to purchase your covers several weeks before you plan on closing up the house for the winter. Look for a cover provider with fast shipping so you can ensure the covers are in place before your departure.
You may also want to invest in additional security measures for your covers, especially if you live in an area with high winds. Cover Clamps are a great accessory for extra peace of mind. If possible, move your furniture closer to your house, shed, or garage to provide it with a little more wind protection.
How to Avoid Frozen Pipes
Step 1: Turn Off the Water Supply
While you're gone, the last thing you want to find, and perhaps one of the worst fears as a property owner, is a burst pipe.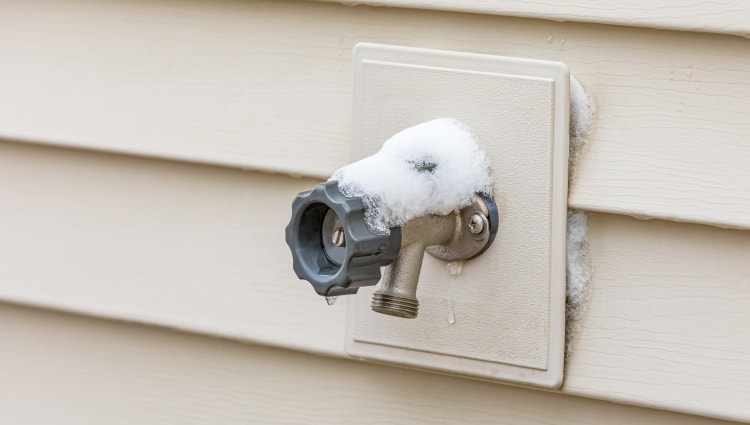 Step 2: Drain Waterlines
Go around the house, indoors and out, and turn on the faucets until no water remains. This is important because even though you turned off the water supply, lingering water can still freeze your pipes. If you are still getting a significant amount of water, you might need to revisit step one to ensure you turned off the correct valve.
Step 3: Winterize Your Faucet
With your water lines turned off, you should be safe from water in your faucets, but an insulated cover is the best practice. Faucet covers add an extra layer of protection and should be used whenever temperatures are near and below freezing. Simply slip the cover over your faucet and tighten the drawstring and you're all set.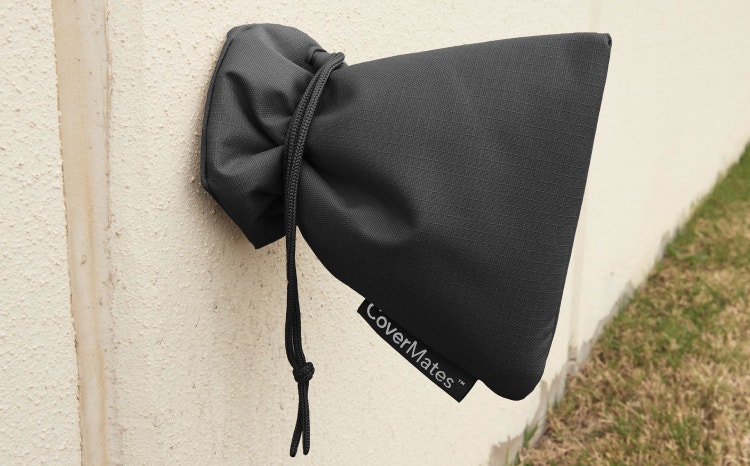 Air Conditioner Winterization
With your AC unit turned off for the winter, you'll want to use an AC cover to keep out rain, snow, and debris. Without a cover, you risk water freezing in the unit, causing permanent damage to the coils or fans. A water-resistant cover keeps debris like leaves, acorns, and icicles from falling into your unit. Protect your AC and avoid costly repair with a reliable cover. Our post on Air Conditioner Covers will answer all of your questions on whether a cover is right for you.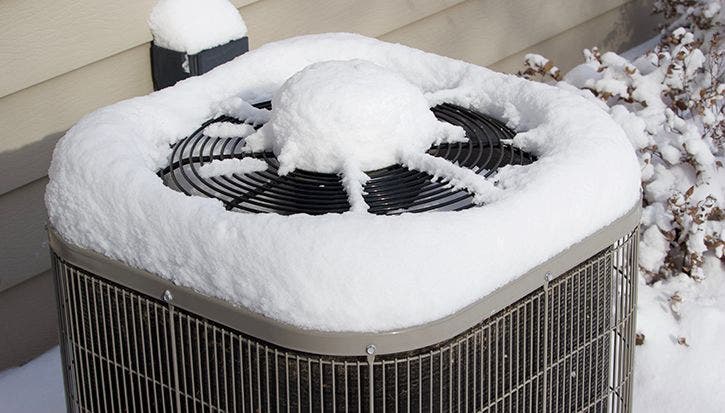 Importance of Clean Gutters
It may not be fun, but it is vital. Whether you do it yourself or pay someone to clean them, ensure your gutters are thoroughly cleaned to prevent lasting damage. The built-up dirt and debris combined with water and snow can make the gutters freeze and expand. The cost of replacing gutters can be $7 to $25 a foot, depending on your location, so don't skip this step!
Prepare the Inside of Your Cabin for Winter
There is much to do outside to prepare your cabin for winter, but preparation inside is equally important to ensure you do not return to a complete mess next spring.
Though it may seem too obvious to include on this list, giving your space a general cleaning makes a huge difference in not dreading your spring to-do list. From the floors and counters to the oven and bathrooms, it's best practice to give your cabin a thorough clean before leaving for an extended amount of time.
Cleaning Check List
Dust
Clean Ceiling Fans
Sweep
Vacuum
Mop
Clean Stove
Clean Oven
Clean Refrigerator
Clean Dish Washer
Clean Bathrooms
Wash Bedding
Kitchen Organization
Now that you've cleaned all the surfaces in the kitchen, it should be good to go – right? Not quite. A few more small tasks can protect your kitchen from critters and leave an organized kitchen for your return.
Toss Old Food
Start with your refrigerator and remove any items that could expire or attract insects and rodents while away. Make sure to look through all drawers to avoid missing any items that could result in a smelly mess when you return.
After cleaning out your fridge, repeat this throughout your kitchen to check drawers, cupboards, pantries, and jars. While going through your kitchen, it's also an excellent time to check the canned items to dispose of any forgotten food that may expire.
Saving Energy While Away
To avoid an unnecessarily large electric bill while you're gone, unplug everything, including the oven/stove, freezer and refrigerator, and any countertop appliances. If you unplug your fridge, wipe the inside down and let it completely air dry before sealing it to prevent mold development.
It's a good idea to store your countertop appliances in a cabinet to avoid them being covered in dust. An appliance cover is a great option if you have limited storage space or just want a quick and easy solution. They slip right over your toaster, coffee maker, air fryer, and just about anything else. Their soft washable material makes them easy to clean and protects your appliance's surface all year.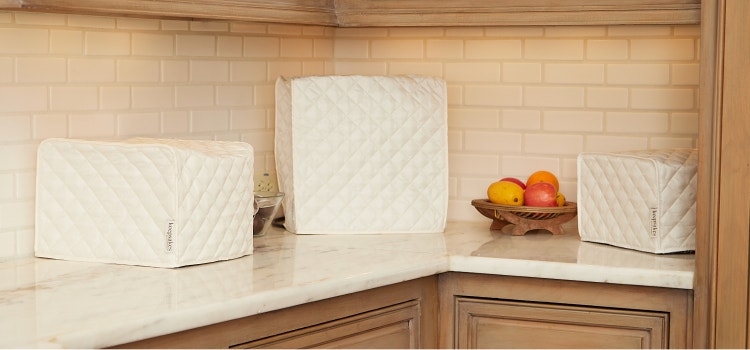 Don't forget to turn off the biggest energy consumer, the air conditioner. Most units will have a "vacant mode" that will halt all cooling and heat until you return. If you have a smart thermostat, you can even set a schedule for the unit to be off until the day before you come back, and this will let the cabin be built to your desired temperature by when you arrive.
Eliminate Cabinet Clutter
Returning to your cabin for a fun-filled summer to find your cabinets cluttered and dusty can be a bummer. Taking the time to organize and protect your dishware, silverware, and other knick knacks will keep them looking their best and free from dust and scratches. Keep your dishware protected with high-quality dish storage boxes and bags. Front-facing ID windows make labeling the contents of each box easy, so you can always find what you need without having to open each box.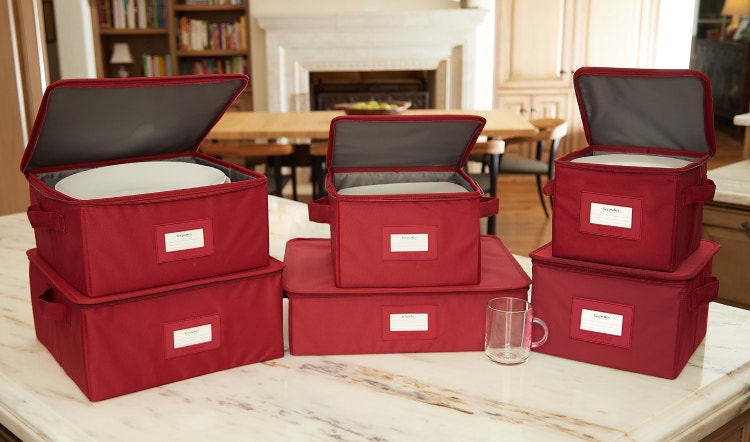 Finding a storage spot for loose items like snacks, aprons, or cookbooks can be challenging, but kitchen storage bins and storage boxes are convenient options. Their sturdy construction makes them suitable for any cabinet or shelving, and the carrying handles make transporting them from the car to the pantry a breeze. With these quick and easy tips, your kitchen will look better than it has in years.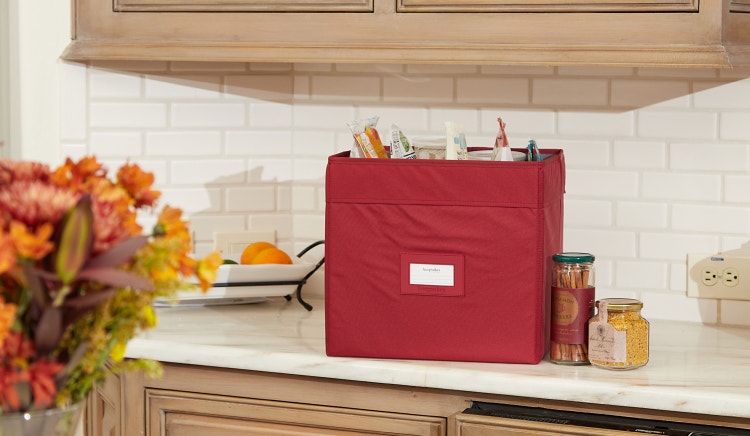 Bedroom Linen Storage
With the floors vacuumed and mopped and the bedding stripped and washed, what's left? If fabric items are left out and unprotected, they can develop an odor or, worse, be damaged by insects or rodents. We recommend using fabric-friendly storage bags and boxes of breathable cotton or polyester. Keep the bed and towel sets together to keep your linens as organized as possible. This will limit how many bags you have to open when searching for a particular item.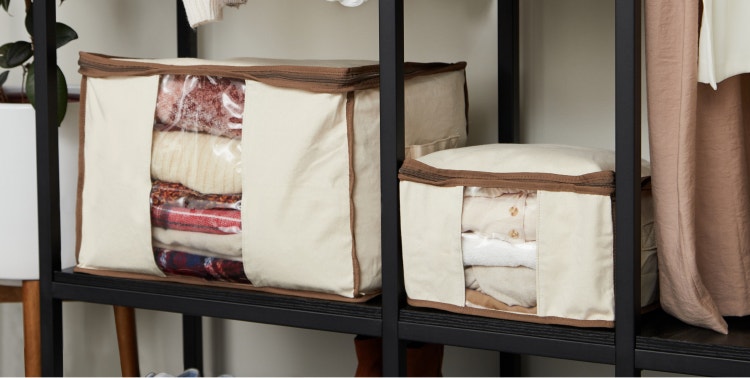 In Summary
How should I store my patio furniture during the winter?
Clean your patio furniture and let it dry.
Use the covers' buckle straps and drawcord to keep it secure.
How do I prevent frozen pipes?
Shut off the water supply.
Drain waterlines
Winterize your faucet with a faucet cover.
Do my gutters need to be cleaned during the winter?
Yes, not doing so can result in costly damage.
How do I organize my kitchen cabinets?
Store dishes and platters in storage boxes.
Label each box.
Organize boxes by type.
How can I save energy while away from home?
Unplug all unused appliances, including everything from the oven and fridge to the toaster.
Place AC on vacant mode until you return.
How to store clothing and bedding while on vacation?
Clean and organize all linens and clothes.
Store in breathable cotton bags.
Keep linen sets together when storing.
---
Want updates on new blog posts, current sales, new product releases, and more? Stay in touch! Like our Facebook page, follow us on Instagram (@thecoverstore) and Pinterest, and join Cover Club!