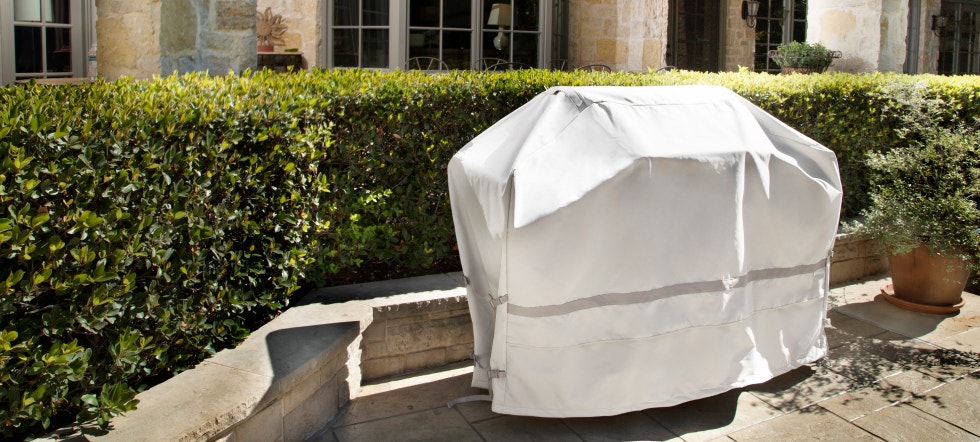 Finding the right cover to keep your grill clean and protected can be challenging when the market hasn't caught on to new grill models or kept older grill designs. Even if your grill originally came with a cover, most of them only last a season or two before they are filled with holes or lost to the wind. Our guide will walk you through all the essential aspects to consider when buying a new grill cover to ensure your grill will be protected all year long.
Why is a Grill Cover Important?
Besides the fact that grills can be a costly investment, they serve as a means to feed you and the people you love. With that in mind, they deserve to be kept clean and protected to continue looking and functioning their best. Coming out to find your gas grill, built-in grill, or any other variety covered in dirt, rust, or filled with water can put a quick halt on your plans. Considering all the time and money an easy-to-use cover will save you, why wouldn't you cover your grill?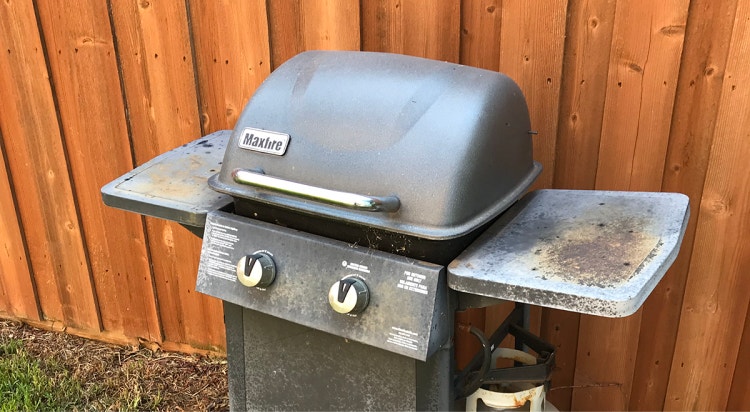 5 Questions to Answer While Grill Cover Shopping
What style of cover is right for my grill?
How do I find the right size grill cover? Would a custom size cover be better?
What's the best material for grill covers?
What features should I look for in a grill cover?
How do I know which grill cover has the best value?
Types of Grill Covers
The first step in finding the right cover to fit your grill is identifying the type of grill you have. If you are somewhat familiar with the grills, this step goes without saying. For those new to grills, if you are planning on buying your grill or recently bought it, look at the manufactures information to get the best information. Each style will have its own features and builds, from cart grills to island grills. This may seem easy, but some grill styles are very similar, and their corresponding covers will have slight variations.
Most Popular Grill Styles
How to Find the Right Size Grill Cover
Taking the time to measure your grill correctly is essential to getting a cover that performs at its best. Of course, a small cover won't fit, but a large cover has its own drawbacks. An excess of fabric causes material pockets to collect water, leading to mildew growth and moisture seeping through the fabric. If you don't have access to the manufacturer's exact dimensions, you can use our easy-to-follow guide on how to measure your grill.
For those with large or custom grills and smokers, you know how hard it is to find a cover that properly fits. Using a Custom Size Grill Cover offers the convenience of online ordering without the long wait times and hassle. You can follow a step-by-step how-to-measure guide, enter your dimensions, and have the cover made just for you.
Custom Grill Covers vs. Standard Sizes
Standard size covers are great for customers who want and need a cover as fast as possible and have grills that fit preset sizes. Finding a cover that is the adequate size is much harder for older grills, which tend to be much larger than today's grills, and custom grills, which are becoming more common.
Custom size covers also benefit those with more common grill designs by providing a more form-fitted look. This adds a great aesthetic and boosts the performance of the cover by minimizing sagging. Custom size covers also allow more options with various colors, materials, and grill types. Whether you have a gas grill, a flat top, or a custom-made island, Custom Size Grill Covers can keep your investment protected.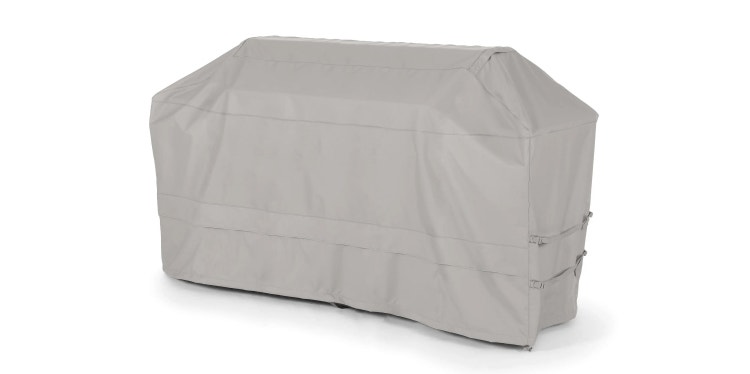 Benefits of Custom Grill Covers
More Color Options
Better Fit
Boost to Performance
Short Lead Times
Various Grill Types
Standard Cover Benefits
Ready to Ship
Various Size Options
Adequate Fit
The Best Grill Cover Material
Most covers in big-box retailers are made of low-quality vinyl and don't perform well in environments with heavy sun exposure. Average vinyl covers have a short lifespan, and you'll likely find yourself in a constant need for replacements. When picking a quality cover, look for thick and durable polyester that can stand up to many weather conditions. Unlike vinyl, polyester won't crack or peel in extreme heat or cold. A sign of a reliable and heavy-duty polyester is the weight, often referred to as the denier. A great weight to look for when shopping is any cover with 600 denier or more. If a manufacturer doesn't display this information, it's worth giving them a call to confirm, so you don't mistakenly get a low-quality cover.
Polyester Cover Benefits
Durable
Fade-Resistant
Crack-Resistant
Water-Resistant
Long-Lasting
More Color Options
Features Your Grill Cover Needs
While shopping for a new grill cover, you will notice that each comes with various features. You may be wondering if all of these added bells and whistles are necessary and worth the money. We suggest focusing on a few specific features that elevate the ease of use. One that is often overlooked but necessary is air vents. They allow for airflow, which aids in releasing any excess moisture under the cover. Keeping your cover secure daily is essential; look for covers with an elastic or drawcord hem and a few buckle straps to attach to the grill itself. No more coming outside to find your grill cover is missing. Lastly, consider purchasing a grill cover with handles; they make taking the cover off so much easier.
Key Features
Air Vents
Buckle Straps
Reinforced Handles
Drawcord Hem
Find the Best Grill Cover Price
The price of your grill cover will be subjective to each person and their budget. We recommend finding the best quality cover that fits you at an affordable price. Also, watch for sales and see what companies have to offer when signing up on their website. This may save you money on shipping or get you additional discounts that can be combined with current promotions.
Grill Cover Reviews
Coverstore has been in the grill cover industry for over a decade, so you can trust that you are getting the best quality and design when you choose one of our covers.
I needed a decent cover to protect a Lynx 36" Grill Cart. I couldn't stomach paying >$300 for the Lynx custom cover and this one fit the bill and my quality expectations very well. I sized this to fit with the side shelves in the down position, so it would not take up as much room when the grill is not in use. - Charles L., Custom BBQ Grill Cover
Extremely pleased with my cover! The measuring instructions were easy to follow so I was able to get a perfect fit for my odd-shaped grill. The blue is beautiful, complimenting my pool, and the quality excellent. I'm planning to order a second one in green for the Christmas season, since we can entertain in our yard year-round. - Carla W., Custom BBQ Grill Cover
The cover was made to specifications and fits great. The material looks like it will hold up well. Using the website to get the cover to specification was excellent. Overall I am quite pleased with cover and the process to get it. Website is far better than other competitors. - Beryl S., Custom Flat Top Grill Cover
Absolutely fantastic! My Weber Summit Grill Center did not provide a full cover. Coverstore was a perfect fit to protect against the elements!! - Nicholas C., Standard BBQ Cover
With this guide, you are now on your way to finding a high-quality cover that will keep your grill clean and protected year after year. If you would like to find out more on grill maintenance, check out our blog on how to clean your grill, so it's always ready to cook for your friends and family.
---
Want updates on new blog posts, current sales, new product releases, and more? Stay in touch! Like our Facebook page, follow us on Instagram (@thecoverstore) and Pinterest, and join Cover Club!