Originally published February 2019, updated October 2021
Most homes include outdoor faucets for hoses and sprinkler systems. While these are great to have in the spring and summer, outdoor faucets can cause serious damage to your home if you don't take the proper precautions.
Risks of Leaving Your Outdoor Faucets Exposed
Outdoor faucets are small and are often forgotten when homeowners winterize their homes. But this can lead to serious damage and costly repairs.
Frozen Pipes
Outdoor faucets are not insulated, which allows cold air to seep into the walls of your home. Leaving your outdoor faucets exposed can result in water freezing in the pipes within your exterior walls.
If you suspect your pipes are already frozen, the best course of action is to turn off the water supply and contact a plumber. You can check if your pipes are frozen by turning on your faucet. If water only trickles out, the pipes may be partially frozen. If you catch frozen pipes early, you can sometimes thaw them with a blow dryer. The Red Cross provides detailed instructions on dealing with frozen pipes.
Burst Pipes
Water pipes will burst from the pressure building within them. However, they won't burst at the point of freezing. Protecting your exterior faucets results in protecting the pipes within your home.
A broken pipe within your home will quickly flood your entire house. This results not only in thousands of dollars of damage but also ruins the interior of your home and makes living situations nearly unbearable.
If your pipes have already burst, immediately turn off your water supply and call a plumber. If possible, relocate to a friend or family member's home to stay safe and warm.
Price of Fixing Frozen or Broken Pipes
The price of fixing burst pipes can range anywhere from $50 to $1,500 and more. That is not considering the cost of repairing water damage and replacing ruined furniture. Non-emergency repairs will always be cheaper, but in cases of huge amounts of damage, that may not be an option.
For small leaks or breaks, you can buy DIY repair kits at hardware stores. Keep one of these on hand during the winter in case of emergency.
Cleanup for water damage averages around $15,000, but can reach up to $70,000. Be sure to look over your homeowner's insurance policy to see what types of damage are covered.
How to Protect Your Home Against Frozen Pipes
Check the weather for upcoming freezing temperatures and winter storms. The best way to avoid frozen and broken pipes is to be proactive.
Keep a list of local plumbers offering emergency services. If your internet goes out, you'll want to have a list of phone numbers ready.
Invest in protection for your outdoor faucets. Remember that any protection is better than none.
Hard Faucet Covers
These covers are typically made of Styrofoam with a hard plastic exterior. Installation is quick and easy, and they offer great protection for your outdoor faucets. These covers range from $2 to $10 each depending on the strength and type of plastic.
The main downfall of these covers is their bulk. Storing these covers during spring and summer can be a pain, especially if you don't have much space in your garage or outdoor shed. These covers are not flexible, so they cannot be used in tight spaces or hard-to-reach areas.
Soft Faucet Covers
Soft covers are made of vinyl or polyester and contain thick insulation for your outdoor faucets. They include long ties to secure the cover to the faucet and are very easy to install. These covers are around $5 to $7 each with the option to purchase in sets to save as a bundle.
Unlike hard covers, soft faucet covers are easy to store and flexible, allowing them to be used in difficult-to-reach spaces. You can easily store these covers in a drawer in your home or garage without worrying about them taking up too much space.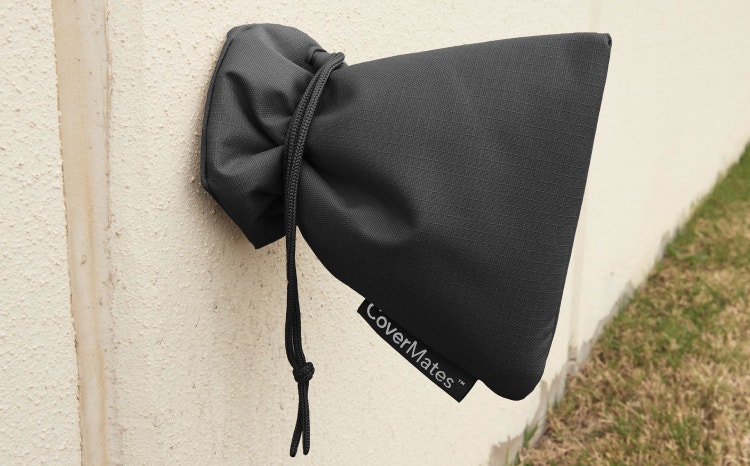 When shopping for soft faucet covers, be sure to look for the following features:
Long ties to allow for more security
Weatherpoof polyester or vinyl to protect against rain and snow
Flexible material to allow for use in tight areas
Insulation to keep faucet warm
We offer soft insulated covers in three different material collections, allowing you to select the one that works for your particular climate. Explore our faucet covers to protect your home.

DIY Faucet Covers
If freezing weather is already upon you and you don't have the time to buy a hard or soft cover, don't worry!
The easiest method requires only three materials: plastic bags, old t-shirts or rags, and packing or duct tape.
Unscrew any hoses or connections from your outdoor faucet.
Wrap the faucet with several layers of rags or t-shirts, making it as snug as possible.
Cover the fabric insulation with one or two plastic bags.
Secure the bags with the tape by wrapping them several times around.
If temperatures are dipping below freezing and will be staying there, remember to drip your indoor faucets and leave your cabinet doors open in the kitchen and bathroom. Running water will prevent pipes from completely freezing. Leaving the doors cracked will allow warm air to reach your interior pipes and will prevent freezing.
Quick Home Winterization Tips
We know the elements can damage way more than just your faucets and pipes. From your patio furniture to your fountain and AC unit, they deserve to be protected from the harsh winter.
Fountains
Much like faucets and pipes, your outdoor fountain can freeze, causing anything from a small crack to significant structural damage. Its important fountains are fully drained before freezing temperatures hit your city. It's a good idea to keep an eye on your weather forecast in your area, so you're never caught off guard. To learn more about keeping your fountain safe, read our guide on How to Winterize Outdoor Fountains.
Patio Furniture
We know what you're thinking, "It's outdoor furniture, isn't it supposed to stand up to the elements?". The answer is yes, and no. Though the furniture is designed to be kept outdoors, every material and fabric have their limit. Reading our How to Winterize Patio Furniture blog will give you a more in-depth look at how to clean and store your winter furniture, so it's ready when you are.
Air Conditioners, Vehicles, and More
When it comes to protecting the rest of your home, preparation is key. Taking the necessary steps to protect your home will save you time and money. Take a look at our 5 Tips for Winter Preparation to get you on the right track.
---
Want updates on new blog posts, current sales, new product releases, and more? Stay in touch! Like our Facebook page, follow us on Instagram (@thecoverstore) and Pinterest, and join Cover Club!