Having family and friends over for an evening outside doesn't feel quite the same without a TV that gathers everyone for a big game or a must-see movie. Long gone are the days of lugging a bulky TV from your living room with the help of a friend. Today, TVs are usually mounted under a patio, pergola, or on the side of your home. Most TVs are a considerable investment, so it's vital to keep them protected from rain, dust, and any other threats that may affect the performance of electronics.
Why Do Outdoor TVs Need Protection?
If you have a TV in your backyard or plan to install one, you can't expect it to last long without some extra protection from a TV covers or Enclosure. Even if your TV is designed to be outdoors or is located in a seemingly safe place, it could still be subject to dust, pollen, and condensation damage. Taking the proper steps to protect your television will relieve the headache of buying an expensive replacement.
Outdoor TV Protection Options
What are TV Enclosures?
When shopping for protection for your outdoor television, you are sure to come to see TV enclosures as a popular option, but what are they? Enclosures are intended to serve as a barrier between rain, dirt, and possible physical damage. They can be made out of a variety of materials including plastic, metal, and fiberglass. The enclosure is installed on a well and utilizes an intergraded TV mount to hold the television.
Features
Clear Front Window
Sturdy Outer Shell
Water-resistant
What are TV Covers?
The most popular option when shopping for outdoor TV protection is undoubtedly a TV cover, and for good reason. TV covers are typically made with heavy-duty polyester which makes them lightweight yet durable. Treated to be water-resistant, TV covers offer reliable protection at a fraction of a TV enclosure's size and price.
Features
Remote Pouch
Water-Resistant
Soft Interior Lining
Auto-Locking Drawcord
Water-Resistant Zipper
Touch Fastener Closure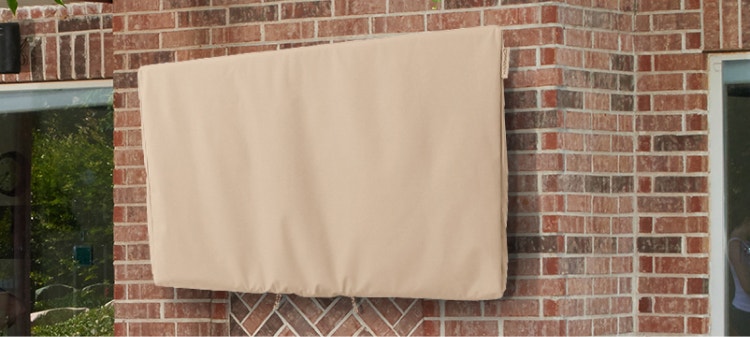 Key Differences Between TV Covers and Enclosures
Weather Protection
The most significant advantage enclosures have over covers is the waterproof feature. Though not all TV enclosures have this, they are an excellent option for wet climates with heavy precipitation. TV covers offer water-resistant fabric that keeps water and debris away, but a waterproof enclosure provides superior protection. With that being said, most customers don't need a waterproof enclosure unless their television will be exposed to the elements with no other surrounding structures. If your TV hangs underneath a patio roof, like most shoppers, the utility and protection of an outdoor TV cover will be a great match.
Convenience
TV Covers are undoubtedly more convenient to install, remove, and use. Enclosures will require some knowledge of power tools and TV mounting or hiring someone to do the job. TV covers utilize touch fastener closures, zippers, and drawcords to provide a snug fit without any struggle. TV covers also come in a few different styles, so you are sure to find one to fit your patio aesthetic and lifestyle. The three main outdoor tv cover types are full covers, flip covers, and half covers. Each cover offers protection from the elements with its own unique features.
Price
Price is always reflected in the size of TV you intend to cover; the larger the screen, the higher the cost. A standard TV size in most backyards is about 50", making an outdoor TV enclosure price range from $600 to $1200. The price can be higher or lower depending on whether you want specific features like waterproofing, a clear front panel, or an internal fan for ventilation. On the other hand, an outdoor TV cover will cost $36 to $120, depending on the fabric.
Is a TV Enclosure or a TV Cover Better?
Most people have their TV under a patio or other structure, making a high-quality TV cover the best option for protection. If your TV will be completely exposed to the elements, it may be wise to invest in a sturdier enclosure. Check out our 3 Steps to Protect Your Outdoor TV for more tips and tricks to keep your television safe from the elements.
How to Pick the Right Outdoor TV Cover
When it comes to picking the best TV cover for your space, it's crucial to consider size and material in order to get a cover that offers year-round protection.
Size
TV covers are much more low profile when compared to enclosures. Covers take up little to no space when on or off your device, so there is no need to account for that when purchasing. You will still need to take accurate measurements of your television to get a properly fitting cover. If you need help with measuring, check out our quick how-to-measure guide. Now, if you run into the issue of not being able to find the size you need or would just like the best fit possible, you can opt for a custom size cover. Custom sizing offers all of the great features and materials of standard covers with the added bonus of a perfect fit.
Material
Choosing the best material to fit your living conditions can seem overwhelming but we're here to help. The two most popular materials for outdoor TV covers are vinyl and polyester. Both have unique advantages, but we recommend a high-quality polyester, somewhere between 600 to 900 denier. Polyester comes in a variety of weights, referred to as denier, which directly correlates to the durability and longevity of the fabric. Choosing a heavy-duty fabric will ensure your TV is protected from the elements for years to come. Explore our collection comparison chart to find a material that fits your needs.
---
Want updates on new blog posts, current sales, new product releases, and more? Stay in touch! Like our Facebook page, follow us on Instagram (@thecoverstore) and Pinterest, and join Cover Club!