It's that time of year where we gather with our family and friends to share love, laughter, and lots and lots of food. Luckily, we have a staff more than happy to share their favorite holiday recipes with our extended family of customers. We may have not gone far to find our sources, but we can assure you that throwing these festive desserts into your holiday spread will guarantee a dinner to remember.
S'mores Hot Chocolate
by Audrey Perkins | thegluttondiaries.wordpress.com
Perfect for a chilly night in with the family, this is a versatile recipe that can be adjusted to suit whatever flavor profiles you like. Thick and creamy, we served this recipe in a s'mores style. However, other topping variations like crushed peppermint candy, peanut butter, or even a simple sprinkling of cinnamon would also be delicious.
Ingredients:
2 cups milk

1 Tbs. corn starch

&2 Tbs. cocoa powder

1 tsp. sugar

1 tsp. vanilla extract

¼ cup dark chocolate chips

Small pinch of salt
Toppings:
Salted caramel sauce

Large, roasted marshmallows

Crushed graham crackers
Directions:
Heat milk in a saucepan on medium high until it reaches a gentle boil. Stir occasionally.

While the milk is heating, mix the corn starch, cocoa powder, sugar and salt with a little water until you achieve a thick, creamy liquid.

When the milk starts to boil, add the corn starch mixture. Stir gently until the milk starts to thicken. The mixture should be thick enough to thinly coat the back of a spoon.

Add the chocolate chips and vanilla. Stir until the chocolate melts into the liquid.
Finishing: If you do the S'mores toppings, follow these steps. Pour a little caramel into a shallow dish. Press the mouth of a thick, clear glass cup into the sauce. Rotate the cup a few times to evenly coat. Then, remove the cup from the caramel and press into the graham cookie crumbs. Next, drizzle a little caramel onto the interior sides of the cup. Pour in the hot chocolate and top with your roasted marshmallow and more caramel.
Rum Cake
by Jana Kennedy
My mother-in-law makes this every year and I always look forward to the experience. This is such a blend of flavory goodness and will be a huge hit at the family dinner. When you're looking for something different than traditional pie, turn to this gem. You can't go wrong!
Ingredients:
Cake:
1 box yellow cake mix

1 package instant vanilla pudding (3.4 ounces)

4 eggs

½ cup vegetable oil

½ cup rum

½ cup water

½ cup chopped walnuts
Glaze:
¼ cup water

¼ cup rum

½ cup margarine

1 cup sugar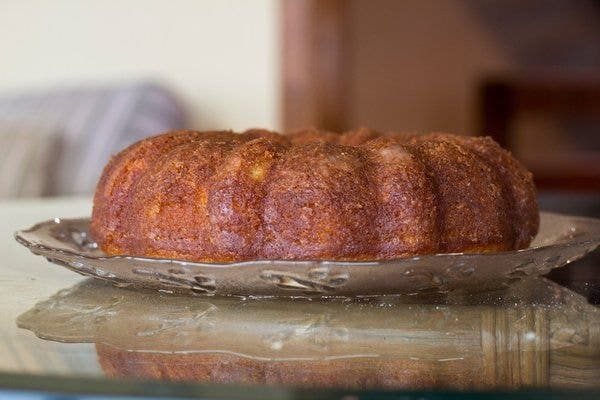 Directions:
Cake:
Grease bundt pan

Mix all cake ingredients except walnuts

Place walnuts in pan and pour batter on top

Bake 50 - 55 minutes at 350 degrees

Remove from pan and let cool before applying glaze
Glaze:
Combine all ingredients together in saucepan

Heat until boiling; allow to boil for 2 - 3 minutes

Pour over cake and let stand 30 minutes before serving
Organic Peach Cobler
by Lacey Jones
Ingredients:
1/2 cup organic butter

1 tablespoon organic baking powder

1 cup organic unbleached flour

1 cup natural sweetener

1 teaspoon salt

1 cup organic low-fat milk

4 cups organic peaches

1 half organic lemon (squeezed for juice)

Organic nutmeg

Organic cinnamon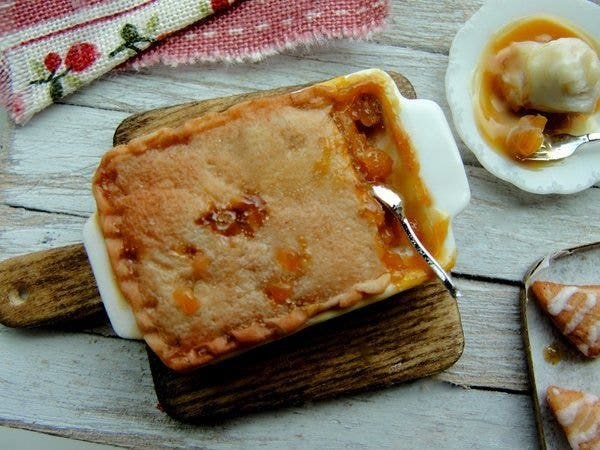 Directions:
Preheat oven for 375 degrees.

Heat butter in sauce pan until melted. Pour into 13x9" dish.

In separate bowl, mix baking powder, flour, ½ cup sweetener and salt. Add milk and fold together. Pour batter into dish. Do not stir.

Bring ½ cup sweetener, lemon juice and peaches to a boil. Stir for 2 minutes before pouring into dish. Do not stir. Sprinkle cinnamon and nutmeg over top.

Place dish in oven and bake for 40 minutes. Makes about 8 servings.
---
Want updates on new blog posts, current sales, new product releases, and more? Stay in touch! Like our Facebook page, follow us on Instagram (@thecoverstore) and Pinterest, and join Cover Club!