Does My Outdoor TV Need to be Covered?
Any television set that spends any time outdoors needs protection from the elements. Even if a TV is brought for a couple of hours outside during a family gathering, it's best to keep it protected. Possible threats include dirt, water, snow, pollen, and more. With most TVs costing over $700, taking the risk of possible damage could be a costly mistake. If your television is under a pergola, under the patio roof, or anywhere outside, you need a quality cover to protect it.
Topics We Will Cover
When Should I Use a Full TV Cover?
Full TV covers are a great protection option for those with a television that will often be exposed to the elements or left unattended for an extended period. Full covers are suitable for almost any environment with their reliable all-around protection. Keeping your TV on a covered patio or canopy with provide optional protection from water, wind and more.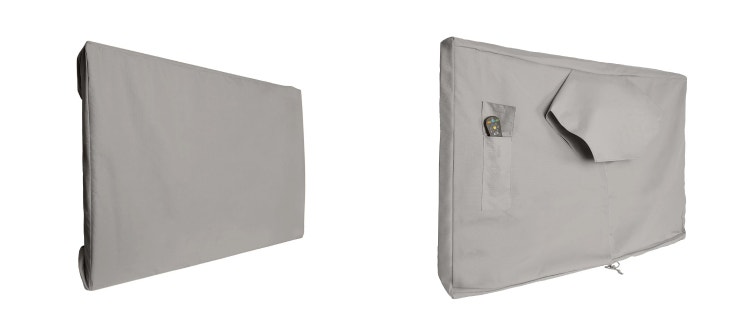 Full TV Cover Benefits
As the name suggests, full coverage outdoor TV covers will enclose the entire TV, so you know it will be protected all year long. The cover also has a wall mount opening with a protective flap, allowing you to mount it without leaving it exposed to the elements. Each cover includes water-resistant zippers and touch fastener closures to make taking the cover off easier. Other notable features include a remote control pouch and a front-facing fleece lining to keep the TV screen scratch-free.
Pros:
360 Coverage
Front Fleece Lining
Water Resistant Zipper
Velcro Closure
Accommodates TV Mount
Great for Any Environment
Cons:
Cannot Be Used While TV is On
Takes Longer to Remove than Other Cover Types
Cannot Accommodate Large Wall Mounts
When Should I Use a Half TV Cover?
Half TV covers work best with larger wall mounts that utilize two connection points on the back of the television. With an open-back panel, it's advised to use half covers on TVs against a solid wall and roof to avoid attracting moisture or dirt to the back components of the TV.
Half TV Cover Benefits
When it comes to partial-coverage outdoor TV covers, the beauty is in the simplicity and ease of use. If you use your patio TV often, the adjustable drawcord allows easy removal and installation. The drawcord is fed through rust-free grommets that allow easy drawcord adjustment without causing wear and tear to the cord or the cover.
Pros:
Easy to Install and Remove
Rust-free Grommets
Adjustable Drawcord
Accommodates Large Wall Mounts
Cons:
Less Coverage
Cannot Be Used While TV is On
When Should I Use a Flip-Top TV Cover?
Flip-top TV covers offer excellent protection from the elements with a full-coverage design, similar to the full TV cover previously discussed. The reliable protection and wall-mount access make flip-top TV covers perfect for almost any environment. Keeping your TV on a covered patio or canopy with provide optional protection from water, wind and more.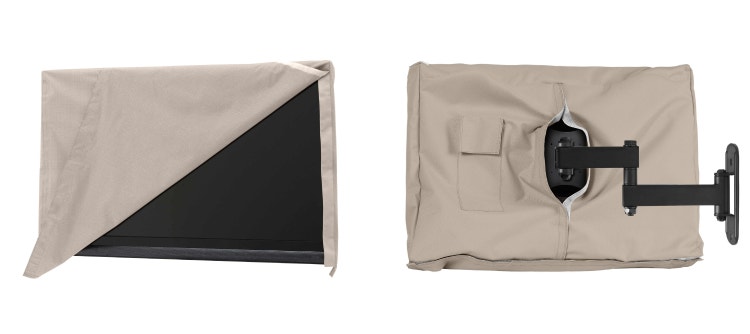 Flip-Top TV Cover Benefits
The convenience of the flip-top TV cover is unmatched. The front panel of the cover comes equipped with touch fastener closures on both sides and the bottom seam. This unique design allows the front panel to be rolled up and set at the top of the TV so you can view the screen without removing the cover. A touch fastener opening along the back allows the cover to be used alongside various TV mounts. Finally, the back pocket keeps your remote or other accessories safe year-round.
Pros:
Can Use While TV is On
Velcro Closures
Accommodates TV Mount
Great for Any Environment
Rollable Front Panel
Remote Pocket
Cons:
Cannot Accommodate Large Wall Mounts
When trying to find the right size outdoor TV cover, there's no need to stress. Taking the time to record a few measurements will put you on your way to finding a great fitting cover that will keep your TV protected.
Measure across the front of the TV from left to right including the bezel.


Measure the side of the item adjacent to the width previously measured.


Measure from the bottom to the top of the TV.


Measure across the front of the TV from left to right including the bezel.


Measure the side of the item adjacent to the width previously measured.


Measure from the bottom to the top of the TV.


A custom outdoor TV cover is a perfect solution if you have a large TV or simply want the best fit. Not only do custom covers offer personalized sizing, but they also come in various colors and materials to fit any space. Custom covers are available in each style including full TV cover, half TV covers , and flip-top TV covers . The additional options available for custom covers are great storage solutions for someone who desires the best look and protection for their outdoor entertainment. Simply enter your dimensions and get excited about your new cover.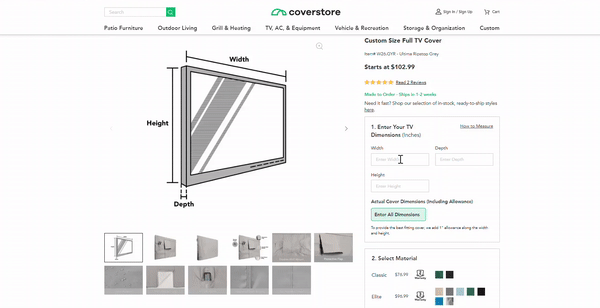 Comparing different materials to find what works best for you can be overwhelming due to the industry jargon and the number of options. To keep it simple, we will focus on two types of material: vinyl and polyester.
Vinyl is a commonly used fabric for outdoor patio protection, including our Classic collection. Vinyl is a great lightweight fabric with high water resistance but is valuable in high UV areas. Over time, if left in the sun, vinyl can start to crack and become brittle.
On the other hand, our top three collections, Elite, Ultima, and Prestige, are made with durable woven polyester. Woven polyester provides long-lasting strength without having to worry about cracking. When shopping for polyester covers, you often come across the term denier. Denier refers to the weight of the material and corresponds with the fabric's durability. We suggest looking for a cover with no less than 300 denier but preferably 900 for the best protection. If you are looking for the best protection for your TV, polyester covers are the way to go.
Vinyl TV Covers:
Low Cost
Water-Resistant
Low UV Resistance
Limited Color Options
Polyester TV Covers:
High Water Resistance
High Durability
Fade-Resistant
More Color Options
Crack-Resistant
Higher Cost
Long-Term TV Storage
For those protecting a TV at a second home, or on a rarely used patio, we recommend a full-coverage Prestige Outdoor TV Cover. The 360° protection design provides more than adequate defense against the elements. Combined with the 900 denier polyester, your TV will be safe all year.
Frequently Used TVs
If you are constantly using your TV for family dinners or parties, we recommend the Ultima Flip-Top TV Cover. The easy-to-roll front panel makes covering and uncovering the screen more straightforward than other cover types. The Ultimas 600 denier fabric is durable enough to protect your TV while remaining lightweight.
Large TVs
Large and over-sized televisions can be difficult to find a cover for. We recommend any of our Custom Outdoor TV Covers, available in all three of our coverage stypes.
"Fits like a glove. All of my outdoor furniture is covered by Coverstore. Excellent quality! Classy look!" – Jill, Full TV Covers
"Love our outdoor TV cover. It was easy to order online & when calling customer service, KI was wonderful to work with. The cover material is substantial, the zippers are solid, and the color we choose matches our stucco." – Belle, Full TV Covers
"Purchased this for our outdoor TV in our covered veranda. I was very pleased we ease of putting it on, and it fit perfectly. Love that there is a pouch in the back to hold the remote. Nice color and material feels durable." – Andrea, Flip-Top TV Covers
"Great TV Cover. I had a Coverstore cover on the TV before, and I was pleased with its quality and performance, but it wasn't a custom fit. This one fits like a glove and looks great! The color on this one is a much better match for my house color. I highly recommend it." – Laura, Custom TV Cover
"Cover fits great and is of good quality. We are repeat customers and will continue to be!" – Nicole, Half TV Covers
"The last cover we owned was extremely hard to put on/take off and had to be completely removed to watch TV. This cover is a game changer!…the velcro front allows us to flip it open and shut with ease." – Lori, Flip-Top TV Covers
---
Want updates on new blog posts, current sales, new product releases, and more? Stay in touch! Like our Facebook page, follow us on Instagram (@thecoverstore) and Pinterest, and join Cover Club!