Having an outdoor TV requires careful thought and consideration. Deciding on the size, brand, and placement can be difficult on its own, but what about protecting your new screen when all is said and done? We've engineered outdoor TV covers of all sizes and styles so finding the protection you need is easier than deciding what to watch. For most of our TV covers, you can choose between our Classic, Elite, or Ultima collections.
The Classic collection covers are made with commercial-grade, 12-gauge Vinyl with a Polyester-lined interior to offer quality and protection at an affordable price.
Our best-selling Elite collection covers offer all-weather protection. Made from durable but lightweight Polyester, Elite makes it simple to put your cover on and take it off. This outdoor TV cover is double stitched to protect against dust, dirt, insects and other foreign matter that can affect the performance of your TV.
Made with solution-dyed 600 denier Polyester, our Ultima collection covers will take anything Mother Nature can throw at it while keeping your TV safe. It has twice as much water and fade resistance as our Elite covers, and the lightweight material makes it easy to handle.
Depending on your needs and the location of your TV, we have three different cover styles for you to choose from: Half, Full, and Flip.
Half TV Covers
Simple to use, these covers wrap around the front and part of the back of your TV, keeping it well protected through all seasons. Our Half Covers come in multiple sizes to fit almost all styles of flat panel TV's on the market. Using them is easy — they slip on and off and can be secured to your TV with the grommets and heavy drawcord on the back. Whether your part of the country gets a lot of sun, rain, or wind, these covers will keep your screen protected from damage and ready for use.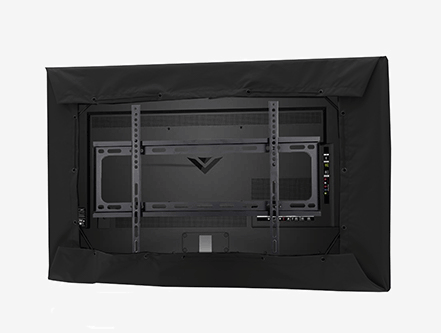 Features:
Versatile protection from outdoor elements
Easy on/off with drawcord feature
Ideal for TVs mounted flush to wall
Fits all styles of TV mounts
Not recommended for locations where the back of the TV is in direct path of outdoor elements
---
Full TV Covers
Our Full TV Covers wrap completely around the front and back of the TV and have a Velcro closure in back for a nice custom-fit. Our TV Covers offer an easy, low maintenance method for extending the life of your flat panel LCD or Plasma TV. You already made the investment - why not cover it?
We have Outdoor TV Covers in all the most popular TV sizes, so we have one that is sure to meet your needs.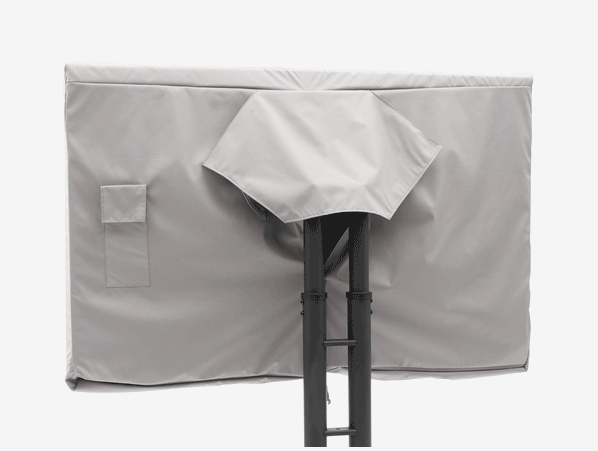 Features:
Weatherproof TV cover with 360-degree coverage
Built-in back pouch for TV accessories
Ideal for TVs where back is accessible
Fits single arm, full motion and ceiling mounts
---
Flip TV Covers
It can be a hassle always taking your cover off, folding it up and storing it each time you want to watch TV, then putting it back on when you're done. That's why we've created our Flip Top Full Outdoor TV Cover. It's the cover that goes on and never has to come off.
Our Flip Covers were designed so you can stay protected while enjoying your favorite shows. When you want to watch something, just roll the front up and flip it over the back of your TV, or hold it in place with the Velcro strips at the top.
Features:
Full coverage protection from outdoor elements
Allows viewing without removing entire cover
Built-in back pouch for TV accessories
Fits single arm, full motion and ceiling mounts
Whether you're looking for some basic, easy-to-use protection, or full, heavy-duty coverage, our covers are designed for your needs. Keep those outdoor movie nights safe with Covermates.
---
Want updates on new blog posts, current sales, new product releases, and more? Stay in touch! Like our Facebook page, follow us on Instagram (@thecoverstore) and Pinterest, and join Cover Club!