We know that when it comes to shopping for outdoor grill covers, the options are endless. As experts in outdoor protection, we believe it's our job to educate our customers on why our products stand out from the competition. From the variety of sizes and materials to the extra steps we've taken to ensure quality, we're confident we have the perfect protection for your grill.
Our Collections
We offer three material collections for grill covers: Classic, Elite, and Ultima. We know that what works for someone living in Florida might not work for someone in Oregon, which is why we want to give you the power to choose a material perfect for your grill. Depending on what you're looking for, all of our collections offer features that are sure to exceed your expectations. Please note that features may vary based on specific grill model.
Ultima Collection
As our top-rated material, Covermates Ultima covers will survive through just about any weather condition. Ultima covers are designed to protect through moderate to high rain, sun, snow, and humidity, as well as extreme wind gusts. Constructed with heavy-duty material, you can rest assured Ultima will protect your outdoor investments.
Two Handles
Strategically placed handles at the top of the cover ensure it won't snag or get caught on the grill when removing it.
Vents
Covered mesh vents optimize air circulation to reduce the risk of mold, mildew, and rust forming.
Water-Resistant 600D Ripstop Polyester
Ultima covers are engineered with heavy-duty 600-denier polyester with a ripstop grid pattern, offering superior protection from rips and tears.
Buckle Straps and Draw Cord
Ultima grill covers come with a middle buckle strap, as well as dual side buckle straps to keep the cover on through any weather condition. Along with that, a draw cord in the bottom hem provides a secure, tight fit.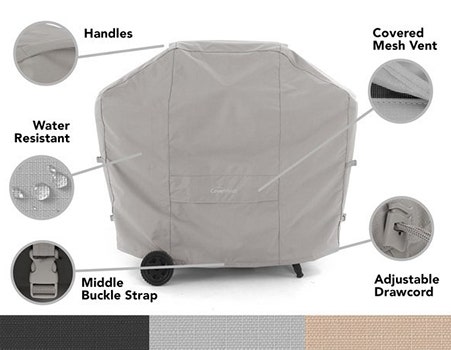 Fleece Lining
We added fleece lining to the inside of the Ultima covers to protect the grill hood and controls. This helps keep the finish of your grill looking its best and protects from small bumps like acorns or other debris. We only cover the hood and controls due to the fact that fleece at the bottom of the cover would promote rodents chewing the fleece off and using it for nesting.
Elite Collection
Our best-selling material, Covermates Elite covers are ideal for climates with low to moderate humidity, moderate sunlight, and moderate to high wind gusts, rainfall, and snowfall.
Vents
Covered mesh vents optimize air circulation to reduce the risk of mold, mildew, and rust forming.
Water-Resistant 300D Polyester
Elite covers are made from 300-denier polyester, making them heavy-duty, lightweight, and easy to put on and take off.
Buckle Straps and Draw Cord
Elite grill covers include a middle buckle strap as well as side buckle straps to ensure security during high winds. For extra protection, we've included an adjustable draw cord along the bottom of the cover for a tighter fit.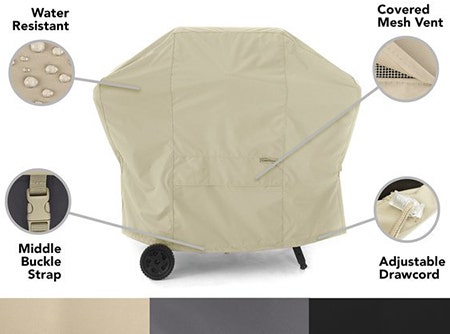 Classic Collection
Cost-effiencent while still durable, Covermates Classic covers are designed for climates with low humidity, moderate sunlight, minimal to moderate wind gusts, and moderate to high rain and snowfall. Lightweight and versatile, you can rely on Classic to protect your outdoor investments.
Water-Resistant 12-Gauge Commercial Vinyl
Classic covers are constructed of thick 12-gauge commercial vinyl, making them easy-to-clean, lightweight, and durable against all weather conditions.
Polyester Lining
An abrasion-resistant polyester layer lines the inside of Classic grill covers. This helps the cover remain its shape, drape, and overall structure. The polyester's natural abrasion-resistance will keep your grill from getting scratched or scuffed by the sturdy vinyl outer layer.
Elastic Hem
An elastic hem is sewn into the bottom of our Classic grill covers, providing a secure, tight fit.
Storage Bag
The time when a cover gets most damaged is when it is removed. Grill covers are bulky and difficult to store without something to hold it in. Our storage bag, which you'll find with our Elite and Ultima Covers, allows you to easily put away the cover, keeping it safe and clean. The bag is even attached to the cover so you never have to worry about losing it.
Variety of Styles and Sizes
Your grill's style and size is unique and you need a cover that accommodates it. Whether you own a BBQ grill, smoker, kettle, kamado, built-in, or island, we have exactly what you need to stay protected. By using our online search tool, you can find the cover that best fits your exact make and model of grill.
Warranty
No matter the collection you choose, we have warranties ranging from 2-7 years so you don't have to worry about not being covered. If you notice a manufacturing defect with your cover, we will replace it at no charge to you as long as it is within the warranty period.
---
Want updates on new blog posts, current sales, new product releases, and more? Stay in touch! Like our Facebook page, follow us on Instagram (@thecoverstore) and Pinterest, and join Cover Club!