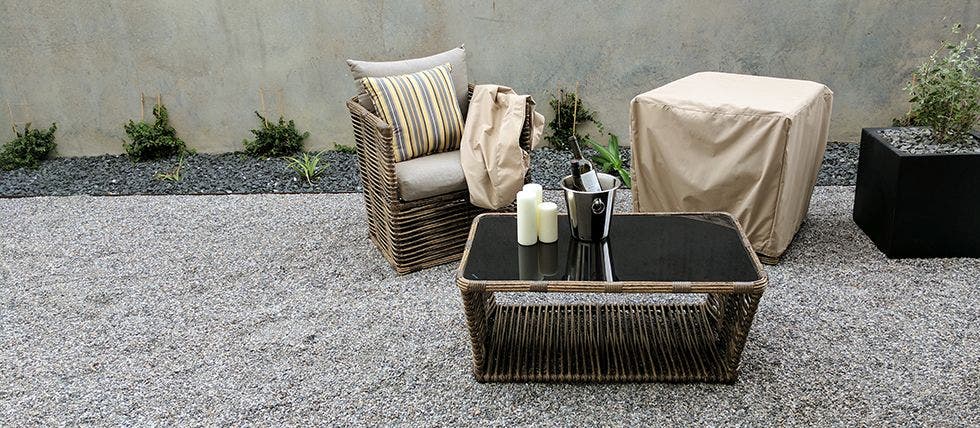 Is your patio still plagued with ugly wrought iron chairs and that tattered umbrella? It's time to redecorate! At Coverstore, we know even the smallest patio can be stylish and comfortable. Make your small patio the perfect place to entertain family and friends, or transform your patio into a private retreat to get away and relax.
Pick a Theme
With a small patio, it's especially important to go in with a plan so the space doesn't become cluttered. Think about what's important to you and your family. Are you looking for a place to entertain guests? To spend time with the family? For alone time?
7 Small Patio Themes
Romantic Getaway
Clink wine glasses with your special someone. Use your patio to get away from the everyday stresses and into intimate conversations. Design your small patio with you and your significant other's interests in mind by placing small, but durable, mementos of your relationship around the space.
Put those shells you brought back from your beach honeymoon in a decorative bowl on a side table. Decorate your chairs or sofa with throw pillows in your wedding colors. Put your favorite plants in pots that you painted together.
You can also make or purchase plaques with your names, inspiring romantic quotes, or your anniversary to create a loving vibe.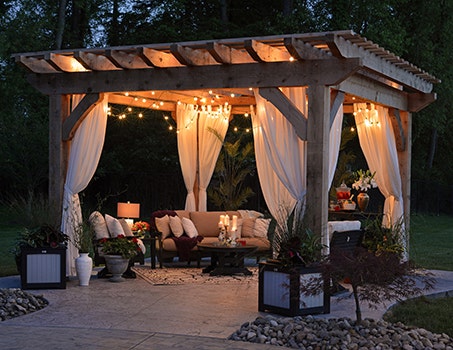 Intimate Eating Area
When the weather is nice, enjoy every moment possible soaking up the sunshine. Transforming your outdoor patio into an eating area is great for every small event from barbecues to brunch. Or, just enjoy the morning and evening sun with an intimate meal for one. Invest in an outdoor table and chairs, and maybe a bar cart you can wheel out for easy access to drinks and appetizers.
Casual Fun
Didn't think you could have it all? Fun and sun can even win on game day. Watch the big game outdoors or enjoy a movie while grilling and entertaining guests. You can also use your patio to entertain a small Super Bowl party or a family movie night.
Having an outdoor TV is also a great way to get the kids to spend more time outdoors. Set up their video game consoles on the patio and have other outdoor games to encourage them to get out and enjoy the sun.
Camping
Enjoy the fun of camping without the pain of sleeping in a tent and lack of a shower. Place a fire pit in the center of your patio and let the fun begin! Roast hot dogs and marshmallows over the open flames and cook up some ghost stories to have a fun night with friends. Don't forget to have blankets on hand for when the night turns chilly, and you can always use one of our canvas storage bags to keep them clean.
Beach
Bring the beach to your backyard. Put shells or sea glass in a mason jar to create an ocean themed center piece. Hang glass floats in nets from your patio roof.
If you're feeling really creative, (and your patio isn't right outside your door) put down a layer of sand to sink your toes into. Pop up a colorful umbrella, set out a lounge chair, and it's almost like you're really there!
Garden
Turn your patio into a little tea (or coffee) garden. To keep the space from getting too crowded, choose a few larger plant pots rather than multiple smaller pots. You should also focus on having vertical plants or hanging baskets to make your space seem larger and draw the eyes upwards.
Don't limit yourself to just flowers and succulents. If you live in an apartment, you can use pots to grow small fruits and vegetables. Think bell peppers or strawberries. Or plant a little spice garden with basil, mint, thyme, and parsley to spruce up your cuisine. Putting big pots on wheels means your garden can chase the sun or move out of the way whenever you want.
If your patio has a pergola, choose a climbing vine like wisteria or honeysuckle to wind its way up the lattice.
An added bonus, a plethora of plants cools down your house in the summer months. They can even be used to shade outdoor AC units to cut down on costs.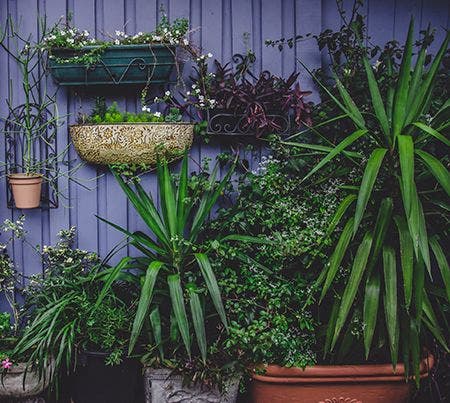 Personal Retreat
Transform your tiny patio into a place of meditation, reflection, or just unwinding after a rough day at work. Designate your patio for practicing yoga or make it your personal spa. Set up an outdoor lounge chair for quick naps and reading your favorite books. For a little added respite, add an outdoor tabletop or wall fountain.
Think About Colors
Neutral colors are always a safe option when it comes to outdoor patio furniture. But that doesn't mean your patio has to look drab. Use accessories, such as outdoor rugs or throw cushions with a bright accent color to lighten up the space. You can also switch these out based on the season to give your patio a fresh look.
Choose Patio Furniture
With a small patio, furniture that saves space is a must. Think about the shape of your patio. A circular table will be a perfect fit for a circular patio. For a rectangular patio, use a narrow table. Place couches, chairs, or benches along the perimeter of your patio or build a bench into the wall.
Choose ottomans, tables, or benches that double as storage space. Look for nesting tables and chairs that can stack to accommodate just the amount of people using the space. Or, build a bench that can be used for seating or table tops against the fence. When you have extra guests, use folding chairs and floor pillows to add extra seating.
If you're looking to purchase patio furniture, read about the best times to buy.
Make a Mock Layout
You need a plan to take advantage of every inch of space without overcrowding your patio. Measure the size of your patio before you start choosing furniture. Then, visualize how much room each piece of furniture will take.
If your patio area is made of concrete, use a piece to chalk and a tape measure to draw the size and shape of each piece of furniture you plan on purchasing.
Another option is to place similarly sized furniture in each spot. Make sure there's enough space to comfortably walk through the patio.
If you are a paper person, use graph paper and assign one foot to each square. This is super helpful when shopping online.
Don't Get Burned
Don't let the sun ruin your fun! Choose an option for shade so you can enjoy your patio all summer long.
Retractable awnings attach to your roof and provide you with a full sheet of shade.
If you're searching for a less expensive option than a retractable awning, use shade sails. You just need to have spots to attach the cloth to, like your roof and a pole on the opposite side of your patio.
Umbrellas are easy to set up and add a pop color to your space. Consider investing in an offset umbrella so you can angle it to get the shade right where you need it.
Keep It Light
Keep entertaining into the night with the right lighting. Choose lighting that fits with the theme and atmosphere of your patio.
Accentuate a romantic atmosphere with candles or battery powered tea lights.
Looking to create a tropical paradise right in your backyard? Think Tiki torches. (But keep them away from flammable objects and your house—including enough space should they fall.)
A fire pit is perfect for any home camp-out, but make sure it is far enough from your house and other flammable objects.
Bistro lights or fairy lights can help you entertain friends long into the evening.
Hurricane lanterns and mason jars make wonderful centerpieces for small tabletops.
Consider Accessories
Outdoor rugs add a splash of color to your patio.
Hang a mirror against the wall to make the space feel like it has more depth.
Potted plants improve air quality and bring nature to you. Think of plants that will stay small like succulents or add some perennial flowers for some natural color.
Throw pillows give your guests a little extra comfort and add color to your patio.
A music playing device can help set the mood, whether this be a portable speaker to plug your phone in or a record player to play your favorite hits. Make sure you move these items back inside after you are finished to avoid rain and sun damage.
Even if your patio is tiny, the only limits to redecorating your patio is your imagination. Now you're ready to make your patio the place of your dreams.
---
Want updates on new blog posts, current sales, new product releases, and more? Stay in touch! Like our Facebook page, follow us on Instagram (@thecoverstore) and Pinterest, and join Cover Club!