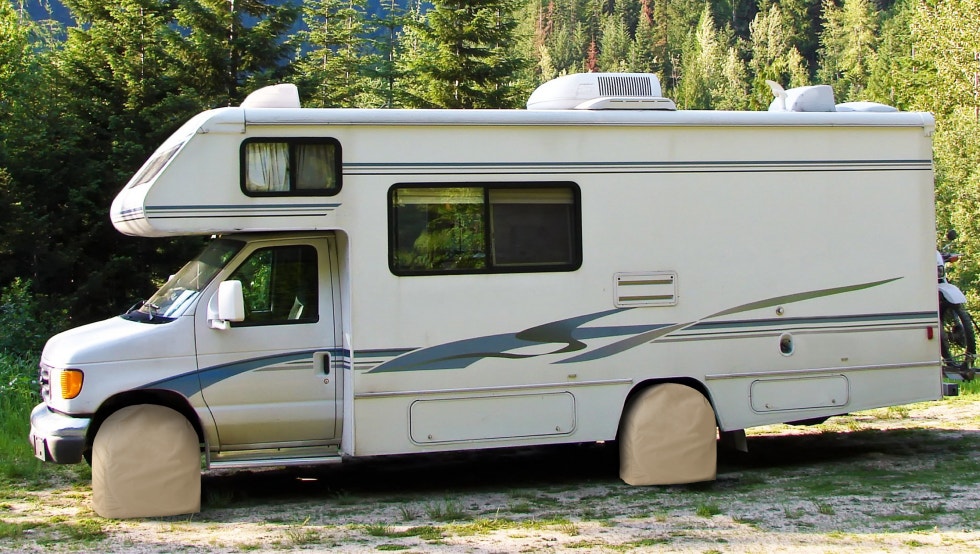 What are RV Tire Covers?
RV Tire Covers are designed to protect and extend the life of your tires. Some of the most common materials utilized include canvas, polyester, or vinyl. They are often attached to stationary tires with an adjustable buckle strap or bungee cord that keeps them secure during windy days.
Do RV Tire Covers Really Work?
The short answer is yes. While you may think a tire cover is just another unnecessary accessory, consider how crucial tires are to your safety and your ability to travel to all of your favorite destinations with friends and family. Tire covers serve as a protective barrier against rain, snow, and sun that can eat away at your tires while they are stationary. Not to mention RV tires aren't cheap, averaging $220 per tire. A small initial investment in protection now can save you hundreds down the road.
RV Tire Cover Benefits
UV Protection
Tires left uncovered will not only have a shorter life span than covered tires, but they can be dangerous. UV light from the sun can weaken your tire's structural integrity and cause dry rotting. This is especially prevalent in RVs in states like Arizona, Florida, and other high sun and heat states.
Wheel Protection
Your tires may not need protection from rain, snow, and ice, but your wheel hub and bearings will significantly benefit from reliable protection. Over time, the metal can begin to rust if left uncovered, especially if your RV is stored outside year-round.
Aesthetics
If you've ever cleaned an RV, you know how dirty they can get and how much time and effort it takes to clean them. Once your rig is clean, a cover will keep your tires looking their best while you plan your next road trip.
How to Choose RV Tire Covers
Tire Size
To find a cover that will adequately fit your tires, you'll want to take an accurate measurement of the diameter and depth. The cover should be as close to the actual size of your tire without being too small. Any exposed rubber due to a small fitting cover will be affected by the UV light that constantly shines on it.

Material
RV Tire Covers come in various materials, and it may seem overwhelming when reviewing all of the options. Due to its durable and lightweight construction, the most popular choice is a weather-resistant polyester. A polyester cover is an excellent option for rain, snow, and UV protection, keeping your tires protected no matter where you travel.
Vinyl is another popular option, offering excellent rain protection but lacking durability in high sun exposure. Though they come in at a lower price point, polyester's longevity and reliability make it the top choice.
Color
When choosing the color of your cover, it's all up to your personal preference. Most manufacturers will have various colors to choose from, and you are sure to find one that compliments your RV.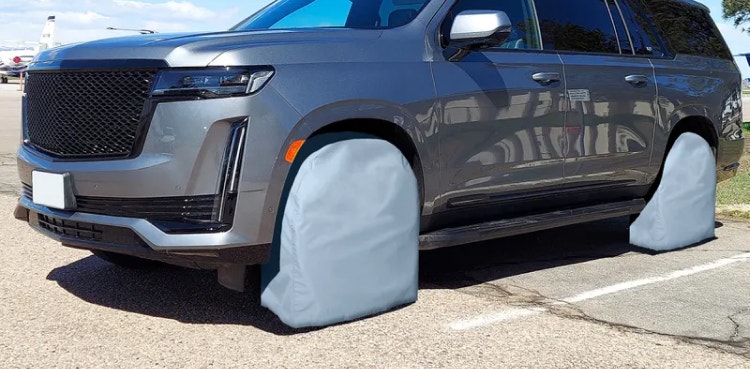 FAQ
Are there alternatives?
Some common alternatives include tarps and cut-out plywood. While they certainly offer protection from the elements, they are unreliable and inconvenient. These options provide ill-fitting coverage that may leave your tires exposed to the elements in some areas. An odd-shaped piece of plywood or bulky tarp also presents the inconvenience of taking up valuable RV space.
When should I use RV tire covers?
You should use your tire cover whenever your RV is not in use for an extended amount of time. Leaving your tires uncovered for a few days will not cause damage, but the more you cover your tires, the longer they will last.
Do tire coves take up a lot of space?
Traveling or living in an RV means that every inch of space needs to be accounted for and maximized. Self-made covers can be challenged to store when they are bulky and odd-shaped. Made from a lightweight fabric that easily folds up and can fit into a small bag, our RV Tire covers can fit in small discrete spaces.
Where to Buy RV Tire Covers
At Coverstore, we offer a variety of high-quality covers designed to protect what you love. Our RV Tire Covers come in an assortment of colors and fabrics to fit your needs. Backed by our manufacturer's warranty of up to 7 years, you can rest assured our covers will keep your tires protected in any weather.
---
Want updates on new blog posts, current sales, new product releases, and more? Stay in touch! Like our Facebook page, follow us on Instagram (@thecoverstore) and Pinterest, and join Cover Club!