Outdoor Living
Adding a touch of elegance to your backyard with fade and water-resistant outdoor décor ensures you can relax all year long. While relaxing, don't forget to protect those sometimes forgotten backyard items like cantilevered patio umbrellas, garden fountains, and fire pits. Our breathable yet highly water-resistant covers provide unmatched protect water, rain, and snow.
The Coverstore Difference
At Coverstore, we believe in protecting what you love. With innovative design and high-quality materials, our curtains, pillows, cushions, and shades will take your patio to the next level.
30-Day Returns
Up to a 2-Year Warranty
Family-Owned Since 2005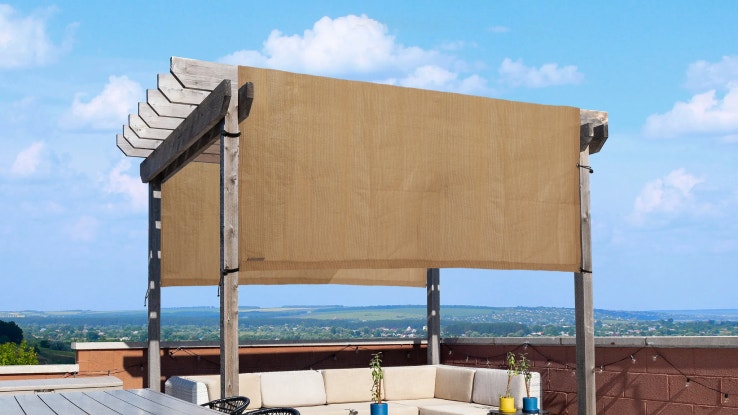 Outdoor Living Made Easy
With our selection of standard and custom products, elevating your patio has never been easier. Whether you are looking for a pop of color, extra shade, or refreshed furniture, Coverstore's LuxeGuard and SolarArc collections have what you need.
Outdoor Living Frequently Asked Questions
What Types of Outdoor Pillows Do You Have?

Our selection of outdoor decorative pillows includes three sizes and multiple colors. Whether you are looking for outdoor lumbar pillows for the sofa or colorful outdoor chair pillows, we have what you need to elevate your patio.

Patio furniture pillows are a great way to add life and personality to your backyard. Stick with one color for a consistent look, or opt for a variety of colors of patio pillows for a fun, eclectic vibe.

What Types of Outdoor Curtains for Patios Do You Have?

We offer three types of outdoor curtains, available in both standard and custom sizing! The Outdoor Grommet Curtain is a great option for the traditional patio. These patio curtains include rust-free grommets for easy hanging and longevity. Another style of porch curtains is the Outdoor Tab Top Curtain. These have a touch fastener closure at the top allowing you for easy installation and removal. Lastly, the Outdoor Grommet Top and Bottom Curtain is ideal if you want complete privacy on your porch. These double grommet curtains are mounted using two curtain rods and are an excellent choice for porches and pergolas.

What Colors of Outdoor Pillows Are Available?

From black and white outdoor pillows to soft striped brown hues, you'll be sure to find a color that fits your style with the LuxeGuard collection of outdoor patio pillows. We also have blue outdoor pillows, available in both a solid and striped patterns.

Do You Have Waterproof Outdoor Curtains?

The LuxeGuard collection of patio curtains is highly water-resistant, dries quickly, and is made to last for years. Our outdoor curtains also maintain a soft feel and elegant drape, which is often not found in materials that claim to be 100% waterproof.

Do You Have Outdoor Cushions?

We are happy to offer custom outdoor replacement cushion covers in the same high-quality material as our outdoor curtains and pillows.