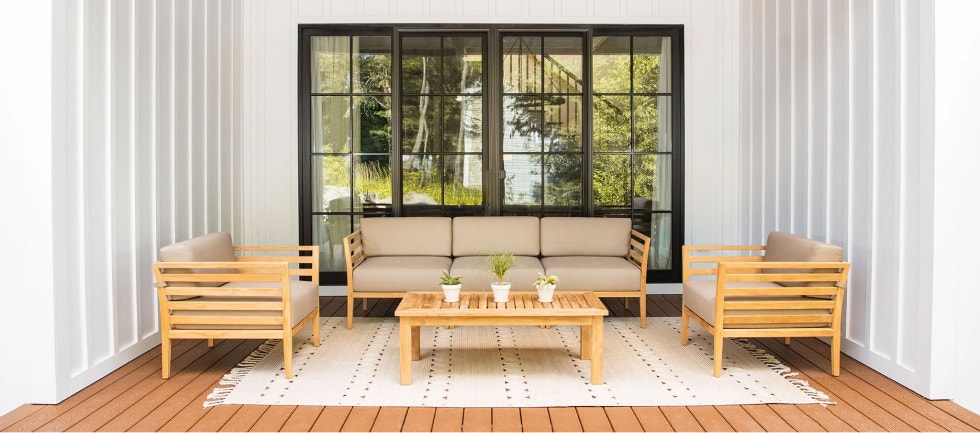 Creating an inviting outdoor seating area is a fantastic way to enhance your outdoor living space and enjoy the beauty of nature. Whether you have a spacious patio, a cozy balcony, or a sprawling garden, designing the perfect outdoor seating area requires careful consideration of various elements. Here, we will explore four key aspects to help you create the perfect outdoor seating area that suits your style and preferences.
How to Choose the Right Outdoor Furniture Style
The style of furniture you choose sets the tone for your outdoor seating area. Consider the overall aesthetic you want to achieve and select furniture that compliments it. There are numerous styles to choose from, including modern, classic, contemporary, rustic, and eclectic. Each style brings a distinct charm to your outdoor space.
Modern furniture with clean lines and streamlined designs is an excellent choice if you prefer a sleek and minimalistic look. On the other hand, contemporary furniture combines elements of both modern and classic styles, offering a balance between simplicity and sophistication.
When selecting the style of furniture, consider the existing architecture and landscaping of your outdoor space. Harmonizing the furniture style with the surroundings creates a cohesive and visually appealing seating area.
The Best Outdoor Furniture Materials
The choice of furniture material is crucial for both the aesthetics and durability of your outdoor seating area. Outdoor furniture is exposed to various weather conditions, so selecting materials that can withstand the elements is essential. Here are some popular options:
Wicker: Wicker furniture, usually made from synthetic materials like resin or PVC, is popular for outdoor seating areas. It adds a touch of warmth and natural appeal. Wicker furniture is lightweight, easy to maintain, and resistant to fading and moisture.
Teak: Teak is a hardwood known for its durability and natural resistance to decay and rot. Teak furniture develops a beautiful silver-gray patina over time, adding to its charm. It requires minimal maintenance and is an excellent choice for a classic or rustic outdoor seating area. Here's an example of a durable, teak outdoor sectional made with FSC-certified, Grade A teak.
Teak & Rope: Teak and rope outdoor furniture combine two highly sought-after materials widely used for outdoor settings. A stunning wood, teak offers durability, natural weather resistance, and effortless maintenance. Meanwhile, an all-weather rope is designed for outdoor use, boasting a resilient resin fiber core that enhances strength and provides UV resistance.
Wood: Natural wood furniture, such as cedar or eucalyptus, provides your outdoor seating area with a warm and organic feel. However, it requires regular maintenance, including sealing and staining, to protect it from weathering.
Selecting Outdoor Furniture Layout & Location
The location and layout of your outdoor furniture play a significant role in creating a comfortable and functional seating area. Consider the available space and how you plan to use it. Here are a few popular arrangements:
L-Shape Sectional: An L-shaped sectional provides ample seating space and encourages conversation. It is ideal for larger outdoor areas and can be accompanied by a coffee table or ottoman in the center.
Club Chairs & Sofa: This arrangement works well for a more traditional seating area. Place two club chairs facing a sofa to create an intimate gathering spot. A coffee table in the middle completes the setup.
Bistro Set: Perfect for smaller spaces, a bistro set typically consists of a small table and two chairs. It is ideal for enjoying a cup of coffee or a cozy meal outdoors.
Daybed: A teak outdoor daybed offers a luxurious seating option for the ultimate relaxation. It can be placed against a wall or under a pergola, accompanied by cushions and throw pillows for added comfort.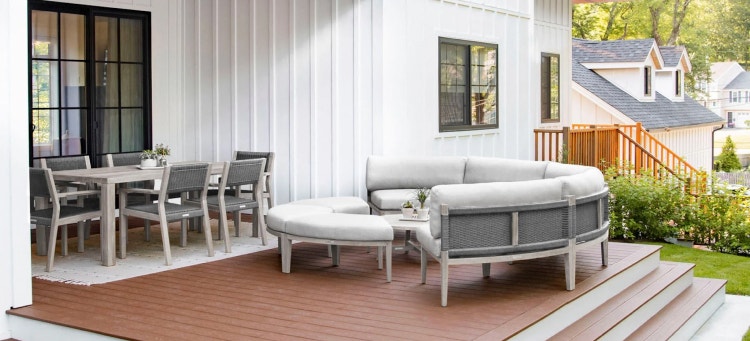 Remember to leave enough space around the furniture for easy movement and ensure it is arranged to take advantage of desirable views or focal points in your outdoor space.
Picking the Right Outdoor Accessories
Accessories add the finishing touches to your outdoor seating area, enhancing functionality and aesthetics. Consider the following:
Furniture Covers: Invest in high-quality patio furniture covers to protect your outdoor furniture from harsh weather conditions and prolong its lifespan. Covers help prevent fading, moisture damage, and dirt buildup.
Side Tables: Side tables are essential for providing a convenient surface for drinks, snacks, and other items. Choose tables that complement your furniture style and are the appropriate height for easy access.
Ottomans: Ottomans serve multiple purposes, functioning as footrests, additional seating, or even storage units. They are versatile and can be easily moved around as needed.
Lighting: Incorporate ambient lighting to create a cozy and inviting atmosphere in the evening. String lights, lanterns, and solar-powered pathway lights are popular options that add a touch of charm to your outdoor seating area.
Cushions and Pillows: Enhance comfort and style with cushions and outdoor pillows. Opt for weather-resistant materials that can withstand outdoor conditions. Select colors and patterns that complement your furniture and overall design theme.
By carefully considering the style of furniture, furniture material, layout, and accessories, you can create the perfect outdoor seating area that reflects your personal taste and provides a delightful space for relaxation and entertainment. Enjoy the beauty of the outdoors in comfort and style!
---
Want updates on new blog posts, current sales, new product releases, and more? Stay in touch! Like our Facebook page, follow us on Instagram (@thecoverstore) and Pinterest, and join Cover Club!